Top Sexiest Beaches
Baie Longue, St. Martin
A favorite retreat for the rich and famous, Baie Longue, or Long Bay, is a quiet and romantic beach in French St. Martin. Long Bay is named for its seemingly endless stretch of white sand and crystal waters that runs from La Samanna's Hotel Resort on the left to Pointe du Canonnier on the right. Perched above the beach, multi-million homes overlook the ocean, far enough away to maintain a very private and secluded atmosphere for sun worshipers below. Celebrities like Mariah Carey, Eddie Murphy and Courteney Cox come to this area to unwind amidst the soothing scenery.
Expand visit website
Top Sexiest Beaches
Top Sexiest Beaches
Platja d'en Bossa, Spain
Platja d'en Bossa is the longest beach on the island, an expanse of golden sand and glorious sunsets that has attracted the likes of Kate Moss, Cara Delevingne, Kyle Minogue, Valentino, Mischa Barton, and Penelope Cruz. Visitors can be seen unwinding on cozy sunbeds, swimming or snorkeling. When the sun goes down, beachgoers start exploring the wild side of Ibiza's world-renowned nightlife that hits its peak from mid-June through the end of September. Dubbed the 'party capital of the world,' vibrant Ibiza brings the heat, day or night.
Expand visit website
Top Sexiest Beaches
Las Terrenas, Dominican Republic
When in the Samaná province of the Dominican Republic, a visit to the beaches of Las Terrenas is a must. White and gold sand wind around the peninsula, surrounded by towering palm trees and pastel colored boats drifting off shore. Playa Bonita, Playa Cosón and Playa Las Ballenas are all popular for their private, quiet setting, yet proximity to nearby hotels and restaurants. With picture-perfect scenery and balmy weather year-round, it's no wonder everyone from Bill Gates to the Kardashian family, and the King of Morocco have vacationed on the beaches of this beautiful country.
Expand visit website
Top Sexiest Beaches
Rincon, Puerto Rico
There's no denying the beaches of Rincon, Puerto Rico are muy caliente, with two distinct experiences to choose from. The north side is a surfers dream, boasting some of the best waves in the world as the currents of the Atlantic Ocean and Caribbean Sea collide. The south side offers a more laid back beach day, with calmer waters for swimming or standup paddleboarding. With rolling green hills that overlook glistening gold sand, romantic waterfalls and amazing sunsets, expect to be awed by Puerto Rico's beauty. Get to know this 'undiscovered Caribbean' location where the weather stays hot all year long and there's something to captivate every kind of traveler.
Expand visit website
Top Sexiest Beaches
Angra dos Reis, Costa Verde, Brazil
One of the most untouched beaches in Brazil, Angra dos Reis in Costa Verde offers spectacular scenery and tons of privacy. Here, the tropical rainforest merges with the Atlantic, peppering the coast with thick palm trees, providing pockets of secluded beach along the 175 miles of golden coastline between Rio de Janeiro and Sao Paulo. Small fishing villages can be found around the beach, and in the distance, private yachts of Brazilian celebrities are spotted sailing toward peace and quiet. Angra dos Reis is the kind of beach where you can escape the crowds and have your own little piece of paradise.
Expand visit website
Top Sexiest Beaches
The Republic of Maldives
What could be more tranquil than a beach surrounded entirely by crystal clear, blue water? Maldives, an island cluster consisting of thousands of tropical isles, is known for its premier diving, coral reefs and bespoke resorts. The water is so clear in fact, that swimmers can see any of the 1,000 species of fish from over 165 feet away. The ideal time to visit is during the dry season from November to April when average temperatures stay between 77-84 degrees Fahrenheit. With nothing but the vast Indian Ocean in the distance, it is the perfect locale for a relaxing, exotic getaway.
Expand visit website
Top Sexiest Beaches
Punta Cana, Dominican Republic
As one of the most popular Caribbean vacation destinations, Punta Cana caters to families, couples and solo travelers with a wide variety of dining options, casinos, spas and all-inclusive resorts. But the crystal clear water, white sand and swaying coconut trees beg to be relished in as well. With warm ocean water and gorgeous weather year-round, it is a true tropical island paradise. During the day, visitors can be seen kayaking, parasailing, water skiing, golfing, or simply relaxing. By night, the casinos, lounges and nightclubs heat up as the city's nightlife scene comes alive.
Expand visit website
Top Sexiest Beaches
Shoal Bay West, Anguilla
Less accessible to tourists, Shoal Bay West, situated next to Maunday Bay, offers a more intimate way to experience the natural beauty of Anguilla. The calm waters are great for snorkeling and swimming, with coral reefs and marine life just waiting to be explored. Fringed with lush palms and blanketed with pretty sea shells, the white sandy beaches are also an invitation to many professional photographers and their models, as well as stars like Jay-Z and Denzel Washington who have enjoyed some R&R here.
Expand visit website
MOST POPULAR IN CATEGORY
Rincon, Puerto Rico
Platja d'en Bossa, Spain
The Republic of Maldives
Top Sexiest Beaches
The Republic of Seychelles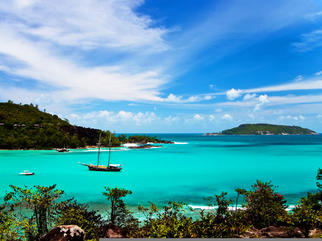 PLAY VIDEO
READ ARTICLE
It's no surprise that exotic Seychelles is a holiday hot spot. With exotic vegetation, sparkling sands and endless azure waters, Seychelles has been a honeymoon haven for A-list celebs such as William and Kate, David and Victoria Beckham, and even Jennifer Aniston and Brad Pitt. This Indian Ocean destination is made up of over 115 islands overflowing with regional wildlife, including beautiful coral, majestic whales, giant tortoises and of course, playful dolphins.
Expand visit website
Top Sexiest Beaches
Ipanema Beach, Brazil
Continuously topping distinguished lists for World's Sexiest Beach, Ipanema is a longtime favorite of sexy party-goers and colorful, bikini-clad beachcombers. Many travelers flock to Brazil's Copacabana Beach, but if you're looking for something a little more upscale, world-renowned Ipanema will answer that call. Known for its athletic and tan citizens and lively tourists, Ipanema is the spot for a chic beach holiday. Also a popular celebrity destination, Marc Jacobs, Ashton Kutcher, and Kim Kardashian are just a few of the big names that have been spotted frolicking on the city's fine shores.
Expand visit website
Top Sexiest Beaches
Bondi, Australia
One of Australia's most well-known beaches, Bondi, and its larger-than-life waves, attract thousands of people year-round. Say G'day to the 2007 Guinness World Record holder for the largest swimsuit photo shoot ever, with over 1,010 bikini-clad women in participation. Everyone from backpackers to billionaires take to the golden sands of this beautiful beach to walk, jog, or just soak up the sun. As a place for topless sunbathing, swimming and great surfing, Bondi is an internationally renowned holiday destination; especially for Christmas and New Year's celebrations.
Expand visit website