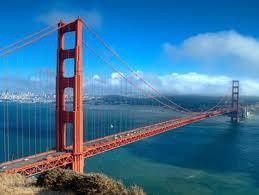 ams-net.org
There's no better way to experience the sights of San Francisco than to take one of their deluxe bus tours in comfort. Take the time to see all the wonderful and historical places that have made San Francisco such a cultural and beautiful city. Grab your camera and enjoy the freedom you will have to take memorable photos that will last a lifetime. Check with the company to see which hotels have available pick up and drop off services for your convenience. What a better way to see the city than from the comfort of a luxury bus.
All ages alike will enjoy the numerous scenic, architectural, and historical places you will be taken. The list of places you will see is extensive. From the Golden Gate Bridge Vista Point, Knob Hill, Fisherman's Wharf, Precidio National Park and many more. You will be able to see views of Alcatraz, Bay Bridge, Golden Gate Bridge, Coit Tower and the cities cable cars that have been made so famous around the world. At several points of interest you will have the opportunity to exit the bus and take photos, stretch your legs, and take in the sights.
These tours run 7 days a week and start at 9am, 11am, or 2pm, with each tour lasting approximately 3 1/2 hours. Meals are not included in this tour. Be sure to check with the tour company if you have any special requirements or needs. If your running a little late, last minute reservations will be accepted depending upon availabilty.
You might also be interested in:
gosanfrancisco
cityprofile.com