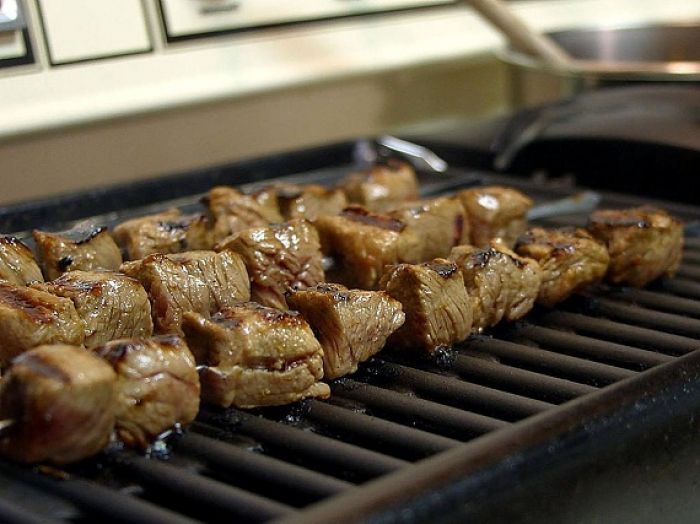 Jon Sullivan
According to the Hearth, Patio & Barbecue Association, nearly 15 million grills were shipped during 2011. Each year, for more than the past decade, there has been a similar volume of grill shipments. We are a nation that loves to barbecue, and three of our most popular grilling days are just around the corner - July 4th, and Labor Day. While many people have grills, not everyone knows the best way to get the most out of their grill, each and every time they cook.
"Outdoor grilling is kind of like an art form," explains Chef Scott Jenkins, the executive chef at Arlington-based Extra Virgin restaurant. "It produces some amazing food, but you really have to take a few steps to make everything just right in order to achieve that. More goes on behind the scenes of a great barbecue than meets the eye."
Here are 10 grilling tips that every cook should know in order to have a great barbecue experience:
1. It's important to completely thaw the food that will be cooked. If it's not thawed completely, the food will not cook evenly. Ideally, leave the food in the refrigerator until it has completely thawed.
2. Keeping what you are going to barbecue cold, and thoroughly cooking through are essential to healthy barbecue eating. Before cooking, the food should be kept at 40 degrees Fahrenheit or below, according to the United States Department of Agriculture (USDA). Meat should then be cooked to a minimum internal temperature of 145 degrees Fahrenheit, ground meats to 160 degrees, and poultry to 165 degrees. Using a food thermometer is essential.
3. Foods that will be barbecued should always be marinated in the refrigerator, rather than on the counter. And when reusing the marinade, it needs to be brought to a boil first, in order to kill bacteria.
4. The healthiest way to barbecue your food, according to the USDA, is to place it in the center of the grill, and put the coals off to the side. This will keep the juices from the food from dripping onto the coals. Also, any charred portions of meat should be removed and discarded.
5. During the summer it is easy to cook and leave food sitting around outside, but it can be dangerous to do so. A good rule of thumb is not to let the food sit out longer than one hour if the temperature is at or above 90 degrees Fahrenheit.
6. Cut the vegetables to allow for maximum surface area on the grill; this allows for easy turning and flipping with minimal slip through the grill grate. You can cut the vegetable down to a smaller size if needed when removed from grill.
7. Use the smallest amount of oil when tossing vegetables with oil spices before grilling. The oil coating the vegetables is what causes flash fire and leaves a black soot residue on your grilled vegetables.
8. Avoid oil and use a light marinade after the grilling; once grilled toss with your oil spice blend and hold until ready to serve.
9. Try and arrange/divide the heat whether that's gas or charcoal into two separate sections of the grill providing both a direct (over heat) and indirect heat source (nothing under but just the warm heat under the grill cover.) This allows you to move your food to a cooking section and resting section.
10.Providing a rest is a secret key that is mostly overlooked. Allow for 5-8 minutes before cutting into any meats or vegetable when they come off the grill. Allow time for the natural juices to redistribute to the interior of the grilled item. When cooking those natural juices travel to the outside of the grilling item, you need to give those same juices time to return and rehydrate before cutting into the vegetables or meats.
It's also important to be patient and not overturn or move food. Once you place it on the grill, you should just let the grill do its magic, only turning vegetables and meat just once, twice at the most. Also, never press down on the food, which will squeeze the flavor out of it.
"Everyone wants to have a great barbecue, whether it's with family or they have invited friends over for the meal," adds Chef Jenkins. "But it's important that those who will be grilling follow these tips so their food gives people a fabulous experience."
Extra Virgin has an olive-oil-inspired menu and décor, and specializes in modern Italian cuisine. The restaurant, which is located in Arlington, which hosts a variety of live entertainment acts, featuring jazz music, and offers late-night dining. The restaurant Options include such specialties as wood-fired pizzas, pastas, meat, poultry, and seafood, as well as vegetarian options. The restaurant offers lunch specials, as well as new weekly menu specialties.
Try Chef Jenkin's Special Marinade for Your Next Barbecue
marinade
1 cup merlot
1/2 c soy sauce
1/2 c olive oil
1 tbs black pepper
1 tbs minced garlic
1 tbs fresh rosemary
1 tbs dry oregano
Mix all together and submerge your favorite beef or lamb and marinade for 3 hours; unbelievable flavor and ease. Adds a lot of flavor and tenderness to BBQ cuts from the butcher.