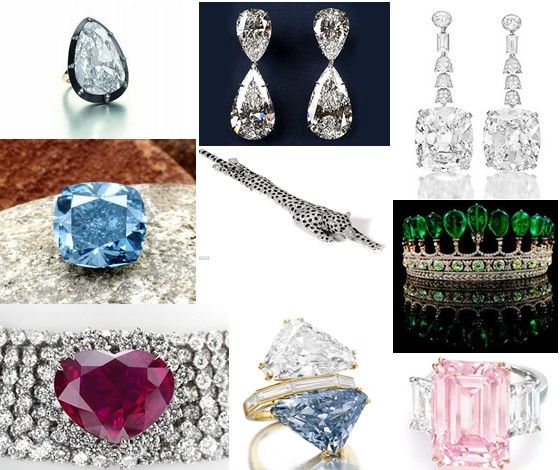 Jewelry
Well I'd just like to start out saying that just as food is the way to a man's heart, diamonds or any jewelry is the way to a woman's and the more expensive the gift, the more enthralled the woman will be. That said, owning expensive jewelry is also a means of ensuring and securing social status. In the old ages, a woman's worth was signified by the amount of consequential jewelry she owned and though the times have changed, the customs and ways have not. But, as diamonds, rubies and emeralds etc. have grown rare; collecting these precious jewels has become a conquest to be won by all having the means to afford it. I've made a list of the 15 most expensive pieces of jewelry in the world and who currently owns them.
At no.15 I give you SOTHEBY'S GOLCANDA DIAMOND RING costing $6.5 million
This diamond originally found in the mines in Golconda, India weighs about 30.31 carats. The Pear-Shaped Golconda Diamond Ring is among the finest diamonds which were appreciated and worn by the kings and royalty in ancient times. Currently it is presumed to be owned by Roman Abramovich and costs around $6.5 million.
At no. 14 stands the BLUE DIAMOND BY SOTHEBY'S costing $7.98 million
This rare and exquisite blue diamond is one of a kind. Originally discovered in 1905 it was cultivated from the mines in Cullinan, South Africa. It is unique because of the way it shines brighter and the color tends to seem lighter in direct light. It weighs 6.03 carats and is estimated to cost $7.98 million. it has not been sold yet but it is going to be auctioned off in Hong Kong this October.
At no. 13 we have DIAMOND DROP EARINGS BY HOUSE OF HARRY WINSTON estimating $8.5 million
Created by the House of Winston in 2006, this pair of earrings containing four pear shaped diamonds weighs in at 60.1 carats altogether. They are mounted in platinum and are not visible unless closely inspected. They are estimated to be around $8.5 million and are currently on sale at the House of Harry Winston.
At no. 12 stands the GOLCANDA DIAMOND EARINGS costing $9.3 million
These beautiful earrings, weighing in at 23.11 each, have also been called the Imperial Cushions because of the cushion-shaped diamonds. They were found in the mines in Golconda, India. They were sold at Christie's Magnificent Jewels Spring Sale in Hong Kong and were bought by an anonymous bidder for $9.3 million.
At no. 11 is the WALLIS SIMPSON PANTHER BRACELET costing $12.4 million
Once owned by Wallis Simpson, an American socialite and wife of Prince Edward Duke of Windsor, this Cartier designed diamond and panther bracelet reached $12.4 million at a Sotheby's London auction in 2010. Madonna was reported to have purchased this priceless bracelet.
At no.10 stands the EMERALD AND DIAMOND TIARA costing $12.7 million
Previously owned by Princess Katharina Henkel von Donnersmarck, this stunning Emerald and Diamond Tiara features 11 rare Colombian emerald pear-shaped drops that weigh in at over 500 carats. it was sold at $12.7 million although to whom is unknown.
At no. 9 we have the HEART OF THE KINGDOM RUBY estimating $14 million
Renowned as the most expensive necklace in the world, this stunning piece was crafted by one of the oldest jewelry companies in the world – Gerrard & Co. A large heart-shaped Burma ruby weighing 40.6 carats is mounted on the roof of the 155 carat diamond necklace. What makes this magnificent piece of jewelry absolutely priceless is that it is one of the largest rubies out there and this exquisite necklace also doubles as a tiara. Its price is estimated to be $14 million and is offered for sale through British jeweler Garrard.
At no. 8 is the BULGARI BLUE DIAMOND RING costing $15.7 million
This Bulgaria's two stoned ring is quite a masterpiece. It features two triangular diamonds; one a colorless diamond weighing 9.87 carats and the other a blue diamond weighing in at 10.95 carats. It was designed by the legendary Bulgari house in the 1970's and was sold at Bonham's Fine Jewelry auction sale in London for $15.7 million. It was reportedly bought by British jeweler Laurence Graff.
At no. 7 stands the CHOPARD'S BLUE DIAMOND RING costing $16.26 million
This rare and eye capturing ring was made in the 1860's.The Chopard Blue Diamond is a massive blur oval diamond mounted on a white gold ring with medium small bright white diamonds. The flawless blue diamond weighs in at 9 carats. Its cost is presumed to be $16.26 million and is currently owned by the Scheufele family.
At no. 6 we have THE HEART OF THE OCEAN costing $20 million
This necklace was modeled after the fictional blue diamond heart necklace featured in the 1997 blockbuster Titanic and weighs in at 15 carats. It was made by Harry Winston and is estimated at $20 million.
At no.5 is THE PERFECT PINK costing $23.2 million
The Perfect Pink comprises a rare 14.23-carat, Fancy Intense Pink rectangular-cut diamond and is flanked on either side by rectangular-shaped D flawless diamonds weighing 1.73 carats and 1.67 carats respectively. All three diamonds are mounted on an 18k rose and white gold ring. It was auctioned at Christie's Hong Kong saleroom where it was purchased by an anonymous bidder for a staggering $23.2 million.
At no. 4 stands the WHITTELSBACH-GRAFF DIAMOND estimating $24.4 million
this 31.06 carats flawless blue diamond originated from Golconda, India and was purchased by King Philip IV of Spain as part of his daughter, Infanta Magarita Theresa's dowry in 1664.Three hundred years later, it was purchased anonymously at auction in 1964.Then for more than a half a century, its whereabouts was unknown until it appeared at auction in 2008. There it was bought by British jeweler Laurence Graff for $24.4 million.
At no. 3 we have the DIAMOND BIKINI costing $30 million
The Diamond Bikini was designed by Susan Rosen in collaboration with Steinmetz Diamonds.it features 150 carats of D Flawless Steinmetz Diamonds all of which are free from inclusions or nature's birthmarks. it has no fabric, just diamonds. Worn by Molly Sims for a centerfold of the 2006 Sports illustrated swimsuit issue, the bikini valued at $30 million and was rumored to have been bought by Tiger Woods.
At no. 2 is the WHITE DIAMOND costing $30.6 million
White Diamond by Sotheby's is one of the most beautiful diamonds in the world that weighs 100 carats and is mounted on a ring. The flawless white oval diamond (which is roughly the size of an egg) was discovered in South Africa. it was sold in an auction in Hong Kong and was sold at a whopping amount of $30.6 million although the buyer remained anonymous.
And now finally at no. 1 I give you THE GRAPH PINK costing an amazing and by far the largest amount of $46.2 million
this breathtaking piece of jewelry comprises a rare 24.78-carat pink diamond mounted on a platinum ring set between two shield-shaped diamonds.it was formerly owned by Harry Winston but was sold at auction for a staggering $46.2 million in 2010 to diamond dealer Lawrence Graff, of Graff Diamonds, who named it Graff Pink.it has been assessed as Diamond type IIa, placing it in the top 2% of the world's diamonds.
Well, as the above given article proves it; these precious jewels have been exchanging hands over the millennium for various reasons. So, whether it be for the sake of collecting them anonymously for their beauty or buying them with the most money can buy to show the world you can or just to gift to a loved one, these priceless gems are by far a most entrancing sight to behold. Inlove with the jewelry or looking for a good engagement ring for your girl, here is the guide!