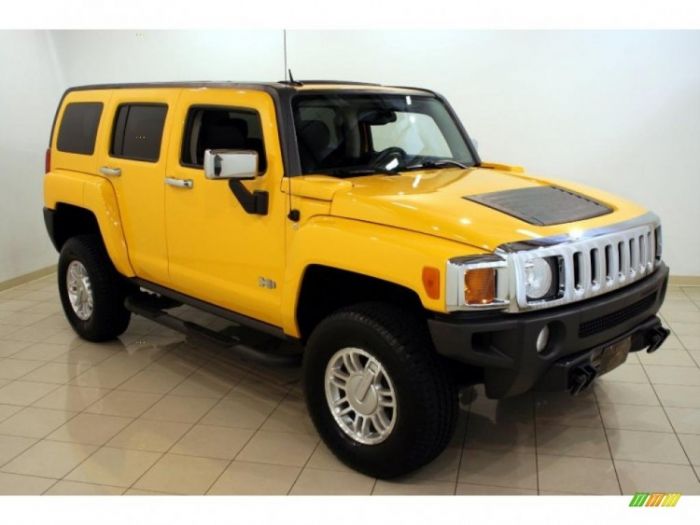 http://carlotbot.com/car/23985
Hummer 2007 H3 is way smaller than its counterpart Cadillac Escalade, Ford Explorer and Toyota Highlander; however, has not lost the luxurious panache the larger SUV's have. Hummer 2007 H3 was restructured to have a kinder and gentler Hummer look perfect for the contemporary requirements of today's world. It boasts features like 16 mpg of fuel-efficiency in cities and 20 mpg on highways without having to compromise the off-road prowess of its nearest relatives- the H2 and H1 respectively.
†
The Role In The US Army's Battles:
†
Once upon a time, critics did not like this model for being expensive, ostentatious and bog. But the power-trippers can already own this well-equipped unique truck for not more than $30, 000. Aside from this, its comfortable seats made out of leather, spacious cabin and engine that is run by a 220 horsepower machine make H3 the most sophisticated truck leaving all other SUVs running behind.
†
In history, Hummer's beginning could be traced back to the year 1979 when the military forces of the US were looking for an all-purpose vehicle that is efficient enough to replace the Jeep brand. Though Jeep was the sole motorized representative of the US army during the Korean War and the WWII, it has become obsolete by the year 1970. With these, a cry for the need for High Mobility Multipurpose Wheeled Vehicle that can meet an entire army's need for light equipment and troop transport increased.
†
In the year 1980, an AM General's Hummer was selected over two other contractors: Teledyne Continental and Chrystler Defense. With a based created out of a steel frame and body of fiberglass and aluminum, the very 1st Hummer sported an independent suspension and 370-inch general motors v8 diesel engine. It operates on a 150 horsepower and was able to reach 60 mph speed.
†
Its automatic transmission placed power on the ground by way of a wheel drive and geared hub system. The propelling tires were 36 in tall with an adjustable air pressure powered the vehicle. With this, the very first Hummer was engineered and designed with such marvel. Today, there're 20 plus version each one modified for all kinds of military purposes.
†
The Role In The Modern World's Requirements:
†
It was in the year 2007 when the H3 was redesigned substantially to meet all of the needs of both the general public and the army troops. H3 is one of the most accessible vehicles which is easy to hop into and navigate. When you're behind the wheel, you'll most probably imagine that you're driving a more expensive Range Rover.
†
There is enough space for 5 adults. It has H3 bucket seats that provide extensive support and comfort especially for long travels. The rear seats could be curled up to bring about a 55.7 cubic feet of space. Its comfortable interior with a rugged exterior makes H3 a desirable SUV niche.
H3 2007 Hummer is a tight vehicle in terms of responsiveness on both rough and smooth terrain. The ladder-type and welded frames are based on the Chevrolet Colorado to make Hummer H3 will handle tighter than the usual. A driver will not be able to hear rattles which are more often experienced with utilitarian vehicles. H3 Hummer was successful enough in bridging the gap between urban living and rural trails.
†
Hummer H3 2007 gets its power from its 220 horsepower, 3.5 liter engine which puts economy and performance all together. H3 can achieve a 16 mpg and 20 mpg in the city and highway respectively. Its manual transmission on 5-speed is its standard but the 4-speed automatic transmission is optional to be able to deliver an impressive 225 lbs-feet 2800 RPM low-end torque. Through providing more torque within a lower rpm count, anyone could feel more control in off-road terrains and other hard to handle paths. The wheel clearance which is 17-inch makes it very possible for 2007 Hummer H3 to reach destinations that are only impossible for other SUVs.
†
If there is a drawback in purchasing a Hummer 2007 H3, this is the fact that its 4-wheel drive is engaged permanently and its control for stability is not offered as a standard feature but as an available option. So, before buying of Hummer H3 itís a good idea to try it by renting. Check http://www.carrentalsmarket.com/ for a free Hummer in you city.
†
Hummer 2007 H3 could be bought with an ABS (anti-lock brakes), strong frames designed for better safety and front dual airbags. Its side-bags and head curtains are available but as good options only.