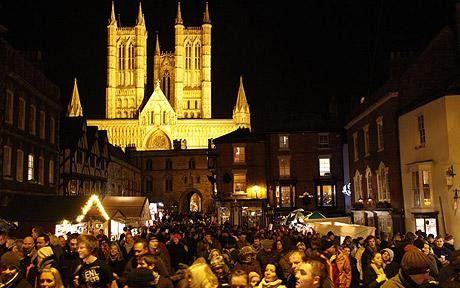 http://www.flickr.com/photos/1
Christmas is coming to town and the UK's High Streets are once again bedecked with lights, tinsel and seasonal decorations. Yes, the holiday season will soon be with us and the late night shopping sprees have already begun.
With only 28days left till the big day it's time to start planning extracurricular Xmas activities for you and the whole family to enjoy…
Ice-skating
Ice-skating is believed to have originated in Finland over 3,000 years ago. As technology evolved, so did ice-skating, and in the 14th century Dutch enthusiasts added steel blades to the shoes, allowing the skates to cut into the ice, rather than glide on the top. Skating was first brought to the UK by James II, who became a fan of the sport during his exile in the Netherlands.
Today ice-skating is enjoyed millions of Brits, though due to the climate much of it is conducted on specially built indoor rinks, rather than out in the open. During the Xmas period most major towns and cities tend to construct an outdoor rink especially for the holiday season. If you're feeling a little devil-may-care this year and you enjoy spending time sliding around on your derriere, there's nothing better than a family day-out at the ice-rink.
Christmas Markets
Rather than heading to the virtual High Street this year, why not get a bit more traditional and head down to your local Christmas market. Every year hundreds of seasonal markets open up across the country, allowing small and independent venders to tout their wares from booths and stalls.
There are a huge range of Christmas markets up and down the country, some of the biggest of which can be found in cities, such as Leeds, Birmingham and Lincoln. If you do happen to pop by you'll find a huge selection of goods on offer, not to mention mulled wine & cider, along with other seasonal treats, such as roasted horse chestnuts and homemade mince pies.
If you're interested in visiting one of the big markets you may want to consider booking yourself a place on an organised Christmas market break. A wide range of different tours are currently available both on and offline from coach holiday operators and travel agents. Typical packages vary from day-trips, to overnight stays, or weekend breaks. Tours generally come complete with travel and accommodation, depending upon the individual package purchased.
Go Off-piste
If you've really had enough this year and you can't stand another Christmas at home in damp old dreary England, then it's time to get away. For most of us Christmas isn't really Christmas without the snow. After years and years of rain, overcast skies and freezing temperature, all most of us want is a white Xmas (unless of course you have to travel somewhere, though it provides you with the perfect excuse to not visit the in-laws).
This year don't hang around gloomy old England, get on a plane and head to Switzerland, Austria, Norway or Finland for a true taste of the winter wonderland. Instead of spending the entire day cooking & cleaning, opening presents and sleeping in front of the TV, ski your way down a mountain in the sunshine, before stopping off at an alpine bar for some much needed schnapps and a bite to eat. If you're feeling extra flush this year then head north to Lapland for the ultimate family Xmas experience.
Shopping Abroad
Shopaholics come ye gather and behold this seasonal time of indulgence! Deep down everyone enjoys a bit of retail therapy now and then, and Christmas is undoubtedly the time to get involved. If you're looking for something a little different this year, then why not organise a Christmas break away and indulge your shopping habits somewhere new, like New York, London or Barcelona…
With thousands of shops, outlets, boutiques, malls and shopping plaza's to choose from you really can't beat New York for that ultimate Xmas shopping break. Of course if that's a little too far or too cold for you, then Europe's capitals are only a short flight or coach ride away, and offer some of the best shopping experiences known to man…