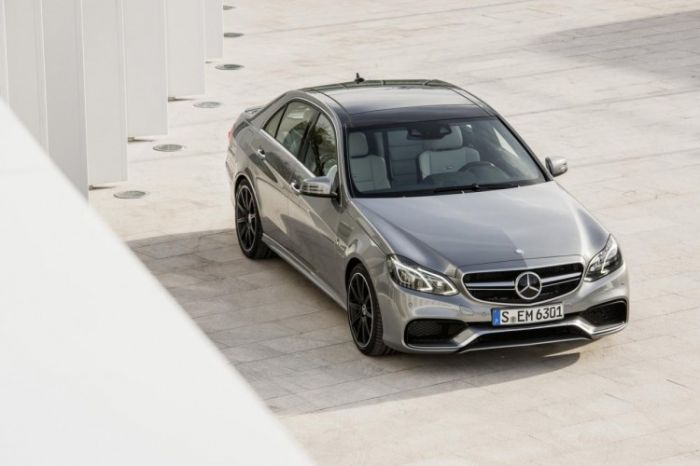 Worldcarfans
Brabus has expanded its catalog with the introduction of an upgrade kit for the 2014 E63 AMG Wagon at this year's Essen Motor Show in Germany. In standard guise, the E63 AMG is motivated by a 5461cc V8 twin-turbo engine delivering 585 HP and 800 Nm in the more expensive and more powerful S-Model which represents the range-topping E-Class variant.
However, the engineers from Brabus thought there was room improvement and indeed it was as they were able to bump output of that AMG engine to no less than 850 HP and 1,450 Nm. It should be noted that the German tuner has decided to electronically limit the maximum torque available to 1,150 Nm so that it will not have a negative impact on the AMG engine.
If you were wondering how was the impressive power bump possible, they did it by increasing the displacement of the V8 engine from the series 5461cc to 5912cc. In addition, SpeedCarz mentions Brabus mounted custom turbochargers with bigger compressors, as well as specially-made exhaust manifolds. These engine modifications can be had for both rear-wheel drive and 4MATIC all-wheel drive versions of the sedan and wagon 2014 E63 AMG.
After Brabus applies its know-how, the high-performance vehicle will complete the 0-62 mph (0-100 km/h) task in as little as 3.1 seconds, before topping out at 186 mph (300 km/h) which is in fact an electronically-limited top speed. However, customers who select high-performance tires will be able to hit a remarkable 217 mph (350 km/h).
The E63 AMG Wagon from Brabus received more than just a power upgrade, as this particular model also benefits from a bunch of carbon fiber bits and pieces, like the diffuser insert and the front spoiler lip. In addition, the super wagon now has a quad exhaust arrangement and can be ordered with wheels in sizes of up to 20 inches. The German tuner is also offering lots of ways to spice up the cabin, such as aluminum shift paddles and various premium materials including Alcantara and leather.
Not like it matters a lot in such a car, but the Brabus 850 6.0 Biturbo has a fuel consumption of 14.4 liters / 100 km in the city and 7.9 liters / 100 km when being driven on the highway. This means that in the combined cycle the Brabus-tuned E63 AMG Wagon will consume 10.3 liters / 100 km which represents a very good number taking into account the extremely powerful engine and the weight of the car. According to the German tuner, their version of the E63 AMG Wagon has CO2 emissions of 242 g/km which belongs to the F class in terms of efficiency.
Lastly, it is important to mention that customers can contact Brabus to order this as a complete car or they can take their E63 AMG and apply this kit or lesser packages offered by the German tuner depending on the amount of power wanted and the available budget.
Worldcarfans
2014 Mercedes-Benz E63