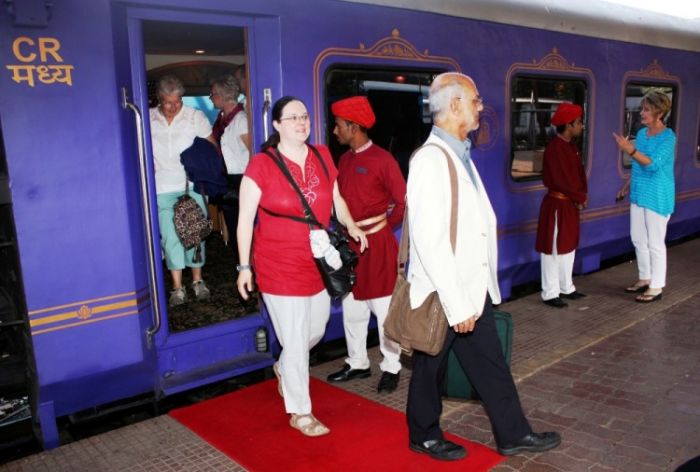 Maharashtra Tourism Development Corporation (MTDC), managing the Deccan Odyssey, one of the Indian luxury trains along with Indian Railways has made an announcement of 25% discounts on the next journey of the train which is going to leave on 30th January and return on 6th February. This is a perfect chance to book your journey on-board the train which has an impressive itinerary.
The train will commence from Chatrapati Shivaji Terminus, Mumbai for its journey covering historical and cultural marvels of Sindhudurg, Goa-Vasco, Kolhapur, Aurangabad and Nashik. The journey will end in Mumbai, itself. Travelers will be able to enjoy sightseeing, cultural performances, shopping during the day while the journey will be covered during the night.
The train has 12 well-equipped, air conditioned cabins offering all 5-star luxuries on-board the train. There are 2 multi-cuisine restaurants, a bar, a sitting lounge, a conference car as well as a health spa.
The Deccan Odyssey, after its maiden journey in the year 2005, has had successful journeys will date. If you want to book your journey too then you can do so from the comfort of your home through Deccan Odyssey India, an online travel portal, where you can find each and every detail about the train, its journey and so on.
About the Company:
Indian Holiday Private Limited®, a National Tourism Award winning company recognized by Ministry of Tourism, Government of India, offers booking for Deccan Odyssey Train. You can rely on us as a trusted resource with 22 years of domain experience. We are also associated with travel bodies IATO, PATA, ASTA and IMTA.
Contact Details :
Rakesh Agrawal
70, L.G.F, World Trade Centre
Barakhamba Lane, New Delhi-110001
Tel: 91-11-4777 3434,
Mobile Num - 9811204347
Fax: 91-11-4777 3400
Email Id : query@thedeccanodysseyindia.com
Website : thedeccanodysseyindia.com