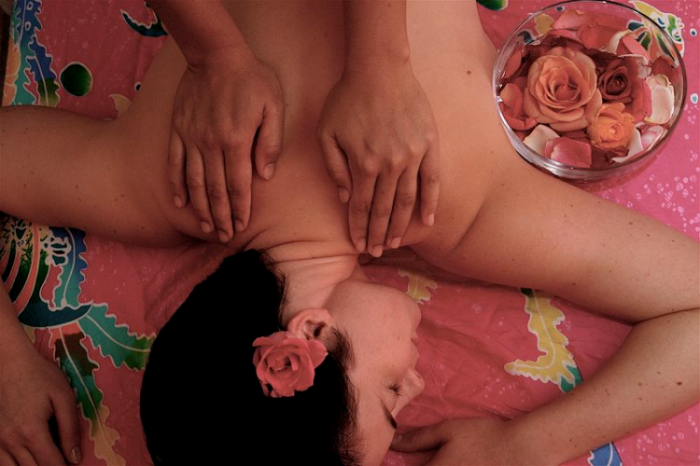 Picture
The stress gathers in your neck and shoulders and your back begins to ache.† You feel a great deal of pain when you try to walk or do tasks that usually are quite easy to accomplish.† If you are feeling any of these symptoms, itís time that you treated yourself to a massage so that you can experience the benefits that accompany the healing touches of a massage therapist.† On the website massagetherapy.com, itís revealed that ďexperts estimate that upwards of 90% of disease is stress related.Ē Learning the benefits of a session with your licensed massage practitioner will show you the way to relieve your problems and enhance your quality of living.
Benefit #1-Youíll increase your range of motion and relieve back pain.† Your therapist will know which muscle groups need work to alleviate the stress and strain that they are under.† Their firm but comfortable touch can be used to work out knots, ease the tension in problem areas, and increase the blood flow to these areas that are being impacted negatively by stress.
Benefit #2-Your immunity will be enhanced.† When therapists stimulate your bodyís natural defense system, youíll notice that your immunity system works more efficiently and youíll have fewer instances of sickness.† Oxygen and other nutrients will be pumped into your tissues and organs to improve the circulation in your body.† All of these factors work together to improve your health and well-being.
Benefit #3-Your anxiety and stress will be reduced.† Stress causes you to age quicker and it can also interrupt your healthy sleep patterns. By having a relaxing massage, youíll lessen your levels of stress, enjoy deeper and more peaceful sleep, and have higher levels of energy.
Benefit #4-Your concentration will improve.† Sometimes you are so overwhelmed that you canít see the forest for the trees and an exceptional massage causes your concentration and focus to increase.† Your emotional balance will be restored and youíll be able to see things more clearly and with a renewed perspective.† Massage therapy is just as good for your mind as it is for your body.
Benefit #5-Your levels of fatigue will be reduced.† A good massage therapist will intuitively know where your problem areas are at first touch and can then work to alleviate your stress.† Youíll find that a good massage rejuvenates your outlook and attitude and gives you a new zest for tackling the challenges at hand.† Your body and mind will respond to the chemical changes that occur as a massage is being given and provide you with profound effects that are added benefits to those already mentioned.
From the comfort of one of the modern massage couches to the stress-relieving touch of your trained therapist youíll experience relaxation and rejuvenation for both your body and mind.† The medical community is rapidly discovering the therapeutic value of touch to patients who need relief from overworked muscles and stressed backs.
Treat yourself to better health and well-being with an exceptional massage from a licensed therapist right away.