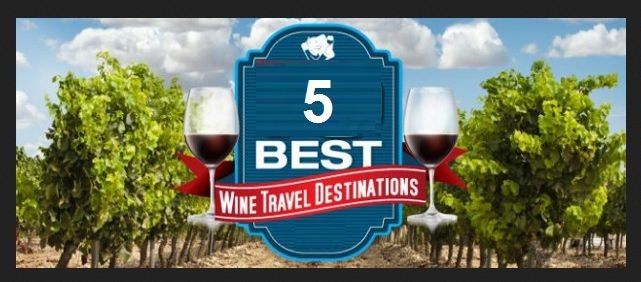 buggl.com
"One should always be drunk, that's all that matters... But with what? With wine, with poetry, or with virtue, as you chose. But get drunk" – Charles Baudelaire
The summer season has arrived and brought along an opportunity, an opportunity for you to leave behind your stressful daily life for some splendid wine tasting. Wine tasting is quite popular nowadays, popular enough that people chose their holiday destinations in relation to it. But picking the right wine growing region can be a rather daunting task; especially since there are so many different types of wines that are only produced in one region and not the other. Well, fret no more, as this article will help you pick the perfect location.
Bordeaux, France
The second greatest thing about France is its wine, the greatest being the sheer beauty of the Paris night sky.
There are many regions of France that are known for producing great wine, this article however will focus on Bordeaux.
It is one of the most popular wine producing regions in the world; it produces all kinds of wine, from delicious table wines to some of the most expensive and respected bottles. It is the largest French AOC winegrowing region and is known to produce over 860 million bottles (89% red and 11% white) per year.
Bordeaux is home to grapes that are renowned all over the world, most notably Cabernet Sauvignon, Merlot and Sauvignon Blanc.
Red wines in Bordeaux are blends of Cabernet Sauvignon, Merlot and/or Cabernet Franc, and white wines are Sauvignon Blanc and of Semillon.
But great wine is not the only reason to visit. The scenery of Bordeaux will surely sweep you of your feet, and the extremely well cared for 18thcentury buildings will awaken your inner historian. The vineyards of Saint-Emilion are a must see. They are located in a scenic medieval town that boasts an amazing wine by the same name, whichwillchange your world.
Tuscany, Italy
Like Bordeaux, the Tuscany region is known to be one of Europe's finest wine producers. This is where Chianti is found, which is often considered the paragon of Italian wine.
The great thing about Tuscany is that you'll have the rare option of tasting the "no-name" creations which you cannot try at your regular old liquor store. Rural wineries are found aplenty here, visit some and sample wine that produced from local grapes.
This is true old wine country; winemakers here still crush grapes with their feet and store them in long, vaulted basement cellars carved right out of the mountain.
Douro, Portugal
This famous region of Portugal is definitely worth a visit, the terrain might be a little rough and the summers will scorch you. But it's quite worth it, as its home to the ever exquisite port wine, which is a fortified wine (wine with an added distilled beverage i.e. brandy) exclusively produced in the Douro region and aged in its cellars.
This wine is unique because of its huge range of varieties, with a vast richness and intensity of aroma, and a high level of alcohol content (19%-22%).
Wines from this region are gaining fame and are considered to be some of the finest in Europe. The area is mostly known for known its great reds but also produces some excellent whites.
Porto is a great place to explore, but being the second largest city of Portugal with a staggering population of 237,500 citizens, it can be fairly easy to get lost in it, consider keeping a travel guide on your smart phone as you delve into Porto's exotic depths. Porto and the Douro Valley can give you all that and turn your trip into an unforgettable experience!
Mendoza, Argentina
Argentina has moved up the ladder during the recent decade, and is now quite well known for its exceptional Malbec, as well as its Cabernet Sauvignon and Syrah. Mendoza now has 850 wineries that produce more than 10 million hectoliters of wine per year, making it the most important wine centre of South America.
It also accounts for 70% of Argentina's annual wine production. Mendoza's wine producing history is nearly as old as the colonial history of Argentina itself, so you can be sure to find quality wine that has been produced by methods perfected over the span of centuries.
Napa valley, USA
The Napa Valley is only 35 miles long and encompasses eight main regions, including Calistoga, St. Helena, Yountville and Napa, all with a hundreds of wineries to explore. With a history of welcoming visitors that stretches back to the late 1800s, the Napa Valley was that began the trend of wine tourism.
There are more than 430 wineries in Napa Valley, 95 percent of which are family owned and operated. The region produces a variety of wines including Cabernet Sauvignon, Merlot, Cabernet Franc, Pinot Noir, Zinfandel, Chardonnay, and Sauvignon Blanc.
The above list may not have your favorite winegrowing region, but as we all have different preferences, this list was produced by carefully considering the quality of wine produced and activities that tourists can take part in.
I hope this has been helpful and informative.
buggl.com
winefood.png
buggl.com
Best-wine-destinations-around-the-world-wine-barrels.jpg