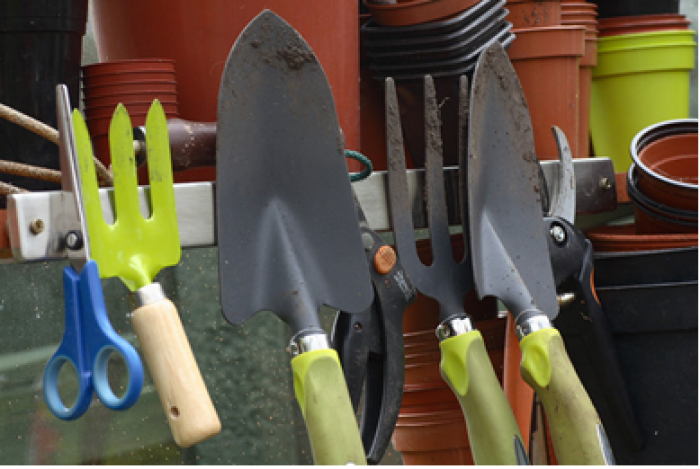 Image By Paul Albertella
Sometimes a trowel, a pot of perennials and a pair of gardening gloves aren't enough. Occasionally you have to go the extra mile to set your garden above the rest. Once in a while you even have to eschew the sage advice of Titchmarsh and company and attack your green space with a more opulent and luxurious vision. Yes, it's possible to go from digging to decadence in a few simple steps.
So if your horticultural indulgences have frequently yearned for a more opulent angle, you could do worse than taking a leaf (pun totally intended) out of the books of some of the more glamorously green-fingered amongst us.  Have your flexible friend on emergency standby, though; some of these are slightly more expensive than a packet of seeds from the garden centre.  
1) Garden Shower by Viteo
Those of us living in the UK know that the chances of having to cool off during a British, erm, heat wave are pretty minimal. But for countries blessed with temperatures that occasionally exceed 20 degrees, a Viteo garden shower should do the trick.  A cursory glance makes this look like three large white discs stuck in the ground – but they're connected to the home's water supply, and a firm tug of the hose releases a jet stream of H2O that gives you just the cooling rinse you need.
2) Veuve Clicquot Globalight
There's nothing more relaxing than sitting in the garden on a balmy summer's eve, surrounded by the chattering ambience of friends and family, and cradling a pint of real ale. Or, if your penchant is for a classier drink, a flute or two of champagne. And champagne means not just style but temperature, so here we have a classy cooler to match champagne's classy perceptions which keeps drinks a perfectly chilled temperature for two hours.  As the saying goes, there's nothing worse than warm champagne. Well, now you need never worry about that dilemma again.  
3) Gucci Rubber Gardening Boots
Who says that sploshing about in mud and soil can't be sexy? Wellington boots are practical things, but Gucci have upped the ante with their range of rubber footwear that is as gorgeous as it is garden-friendly.  With excellent traction and colours (they're available in green, black and bright pink,) you can literally follow in the footsteps of Hollywood's elite – Julia Roberts wore them out and about like normal shoes.  Aahhh, those crazy, kooky multimillionaires, eh?
4) Gardening Tools by Hermes
Gardening – the best kind, at least – should involve a certain amount of messiness, so you'll want to make sure you're equipped with the best tools for those digging endeavours.   The Hermes gardening set - elegantly monikered "Quadrille Jardin" – comprises a heavenly triptych of garden fork, hand spade and scraper. Made of top-class stainless steel and wallet-squeezing rosewood handles, they'll give your gardening heave-ho and ground cover plants a more upper class and sophisticated edge.  There's even a classy set of garden gloves so you can get dirty – but not THAT dirty. 
5) Open Flame by Planika
Candles can be a particularly romantic and evocative way to set up a pleasant summer's evening on the patio – but all it takes is an unexpected gust of wind and those tea lights are out faster than you can say 'summer breeze'. Step forward the genius of designer Christophe Pillet who has solved all of man's windy woes with a jar that incorporates revolutionary Glassfire technology that keeps the flame flickering until the (easily refillable) liquid runs out.
So if you ever doubted the word luxury could sit as comfortably as the words gardening and perennials in the same sentence, these five opulent garden additions will surely make you realise they certainly do. 
Have you got any luxury garden accessories of your own? Share in the comments below.