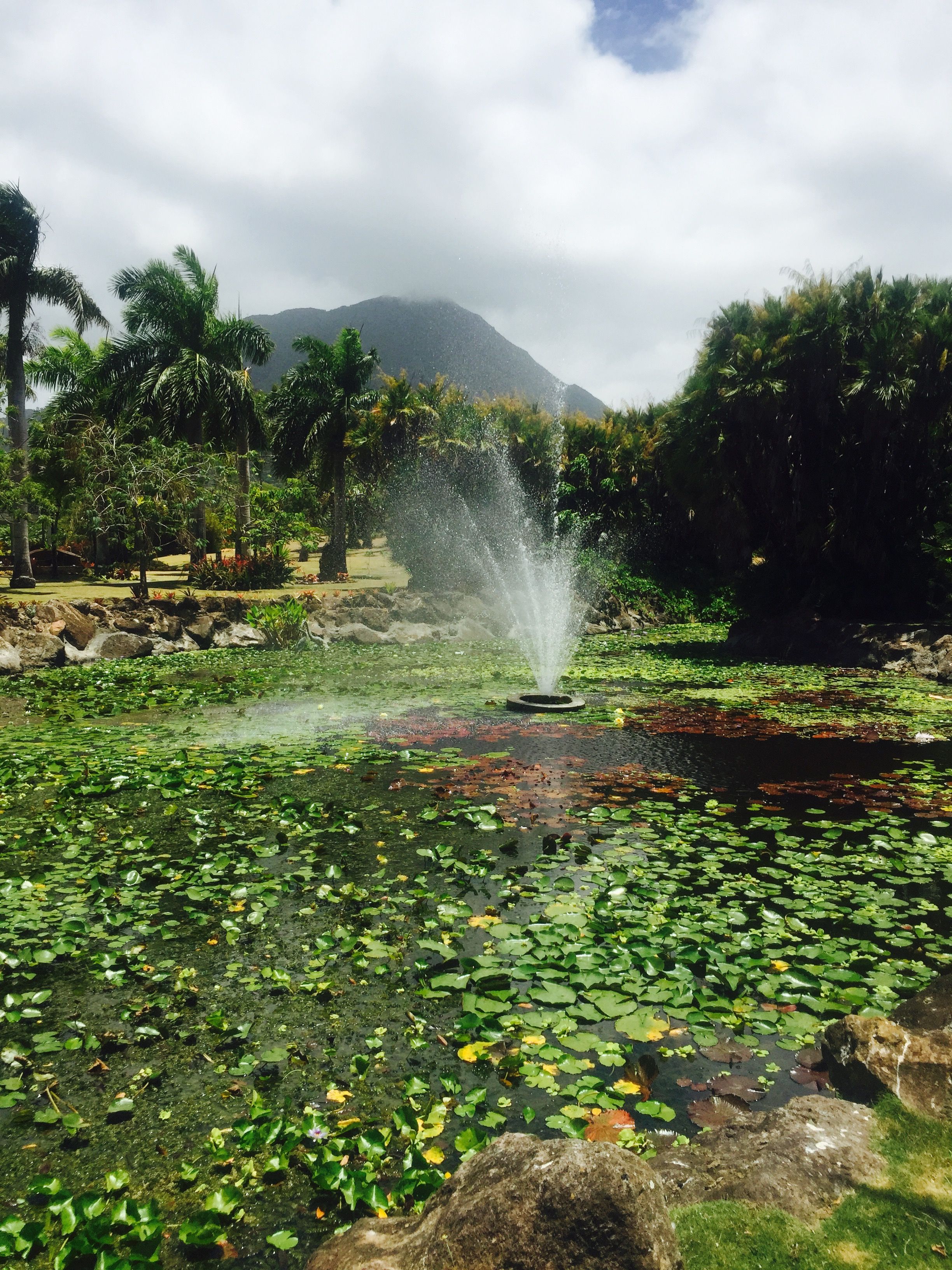 Photos Credit: Kimberly Fisher
If you are thinking of escaping to an island for a romantic getaway, nothing beat the little known island of Nevis in the West Indies. The colorful island is the neighbor of St. Kitts and the oldest British Colony in the Caribbean.
A perfect getaway to experience a mountainous volcanic landscape, lovely beaches and unique culture. Home to only 12,000 residents, you are little to run into local monkeys as opposed to overcrowded areas and traffic jams.
With such a beautiful backdrop, Nevis can have many romantic moments. If you are looking for some of the best spots, check out our list here:
Overlooking the 360 degree views at The Botanical Garden.
Situated on the Montpelier Estate, the gardens are the perfect place to take a romantic walk hand in hand. With lily ponds, terraces and fountains, and tropical plants from all over the world, leisurely spend the afternoon enjoying the pristine grounds with over 100 species of palm trees, 70 species of orchids, bamboo grove, cactus garden and mesh conservatory housing rainforest plants and parrots. Before you go, make sure you carve your name into the leaf of the Autograph/Pitch Apple Tree. http://www.botanicalgardennevis.com
Over Drinks at Indigo at The Montpelier Plantation and Resort.
Have a romantic evening and order a decedent Coconut Martini or any of the boutique cocktails at this former 18th Century Sugar Plantation, while overlooking the pool and mountains. The casual vibe is relaxed, and the service is never underestimated at this AAA Diamond experience. The quiet mountaintop retreat has been a sanctuary for Princess Diana as well as other English royalty, and the 60 acres of tropical gardens give off a vibe of freedom in the natural surrounds. www.montpeliernevis.com
Walking through the capital of Charlestown.
A gorgeous historical site and the heart, soul and capital of Nevis, Charlestown retains its 18thcentury look with the help of restoration projects. Some examples of the unique island architecture include the Nevis Historical and Conservation Society, the police station, Bank of Nevis, the post office and the Treasury Building. In the center of town grows a bright orange flowering tree, known as the Flamboyant Tree. Under the leafy, full blossoms is the perfect place for a quick peck. www.nevisisland.com/historical-sites-landmarks/charlestown
On a yacht during the Booby Island Regatta.
What is more romantic than watching the sailboats between the Nevis and St. Kitts? 7 years ago, The Booby Island Regatta was started by locals and is dubbed "the most relaxed yacht race in the world". Come and enjoy the 3-day festival surrounded by sailing and celebrations. and gives anyone a chance to enter and win. Watch from the relaxing spectator yacht, where all cocktails are included. www.boobyislandregatta.com.
Over a candlelit dinner at Bananas Bistro and Art Gallery.
Venture into the hills above the historic Hamilton Estate to a lovely restaurant and art gallery known as Bananas. Be surrounded by lush landscape, stonewalls and traditional plantations-style architecture lit by torches. The romantic ambiance is comfortable yet refined, and features dark wood, candles, gorgeous chandeliers and Caribbean artwork. Head to the rooftop to catch a sunset and steal a kiss, and maybe even nibble on Nevian specials such as conch salad and coconut cake. www.bananasrestaurantnevis.com