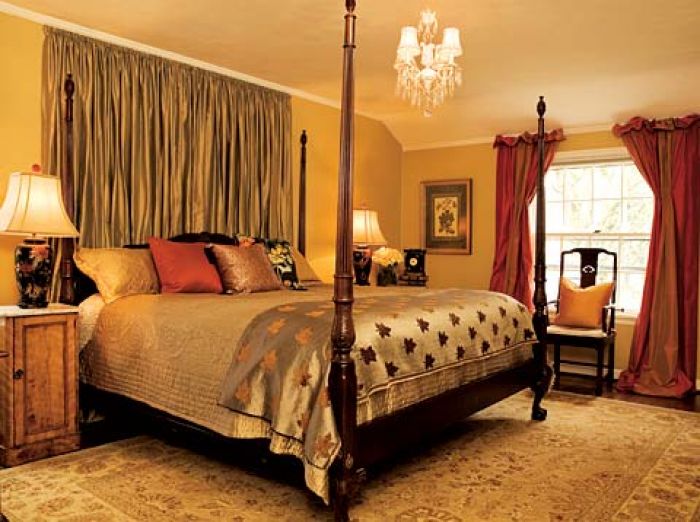 http://www.elledecor.com
When did you last think about how your bedroom looks like? Although you probably renovated it a couple of years ago, you got used to its atmosphere already. Just because something wrecked, it does not mean that you have to give it up. Instead, the routine and boredom are responsible for the need of a change. You constantly need new things, regardless of how good your bedroom looks like. This is one of the reasons wherefore you can no longer find high quality and lifetime items in the market.
You do not have to radically change the entire bedroom from ceiling to floor. In order to change the atmosphere in a room, you might have to concentrate on the lights or the dominating color only.
Textiles
The textile materials may represent a very valuable idea. Have you ever thought about decorating your windowless walls with curtains? Building a canopy around your bed and using some silk curtains may also represent some good ideas. The curtains, drapes and bed spreads are quite large in size, so they have the power to change the entire room. Make a comparison between the costs for painting the walls and a few curtains to cover them.
Decorative pillows
If you do not have too many decorative pillows on the bed or around it, perhaps you should purchase a few. Although they are small, they have the property to turn a regular bed into a comfortable and chic one. Of course, it depends on their models and shapes. Remember that you must not overcrowd the space, otherwise, your bed will look like a booth in the bazaar.
If you already have a few pillows and you want something new, try to replace the covers only. The idea is simple, easy and cheap. You may do it on your own if you have a sewing machine and you love crafting.
Lights
The bedroom is specifically designed to relax and the atmosphere inside must be calm, warm and sleepy. The light is an essential factor in ensuring such a mood. The powerful lights will never help you rest, while the windows must be covered with opaque drapes and curtains. The artificial light sources should be placed around the bed. Changing the reading lamps is not so complicated, especially since you can find plenty of models on the market. Another idea implies mounting some light spots above the bed, but only if you do not have enough room for bed tables.
Bed
If your bed is not too comfortable, it is absolutely normal to change it. Most
beds
consist of a mattress and a support. Try to identify the problem and replace the defective part only. Sometimes, you may feel like changing the bed even when you can still use it, just because you want something new. Cover it with a new blanket first and find a color to match the drapes or curtains. If the results are not too encouraging, renovate the wooden skeleton. Whether you apply some lacquer or a new paint, an old bed can adopt a completely new appearance with just a little effort. There is only one step between a black sad bed and a white imperial one.
Furniture
A crowded room will automatically lead to a heavy and overwhelming atmosphere. If you already have a bed, a night table, a wardrobe and a few armchairs, any other things may be in the wrong place, so try to find other rooms for them. In order to decide what has to go, think about the activities you do not perform in the bedroom, then eliminate all the respective tools and objects. For instance, if you do not use to apply the makeup in your bedroom, all your cosmetics should be taken to a different room. The bathroom is a perfect idea. An armchair you never use might be more appropriate in the living room.
With such ideas in mind, giving your bedroom a fresh look is only a matter of time. Your dedication is extremely valuable in the process too.