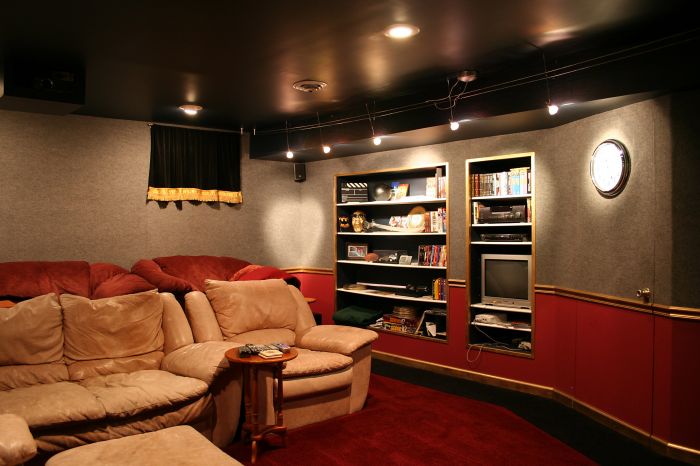 Photo Credit: Creative Commons
Today's entertainment centers involve much more than a simple television and DVD player. It's more of a luxurious statement piece, and your lavish entertainment center should have luxury equipment, including:
Smart TV Network: Gone are the days of relegating your entertainment to a single room. Today, it's not unusual to have internet-connected TVs in multiple rooms. It should be easy to not only have access to your favorite programs, but also move the action to a different screen when you leave the room.
Surround Sound: Whether you have a sound bar or an all-inclusive system of stereos and speakers around the room, if you're an entertainer, your surround sound system is a must.
Gaming Systems: This one is entirely based on your preference, but whatever brand you choose should be top of the line. Today's gaming systems connect automatically to the internet and your television network, to keep you both connected and entertained.
Each of these equipment pieces is fabulous to have in your entertainment center, but they can be an eyesore. There must be a better way to organize your television, gaming systems, video players, movie collection, and sound system than a jumble of cords. An entertainment center is a must for any home, but it should also match the décor and functionality you've put in place. Here are some suggestions.
1. Mask the Metal Boxes
If your entertainment center is decked out with Blu-ray player, gaming systems, speakers, cable box, and other devices, you must find a way to mask them. A great solution is to hide the boxes inside a cupboard behind a door equipped with a secondary receiver eye. This will allow a transfer of the signal components, even when the door is closed.
2. Build a Wall-Sized Entertainment Center
The most prolific trend in entertainment centers is undoubtedly cabinets that span the length and height of the wall for your television and devices. It's perfect for making a statement and hiding your cords. Most won't have enough tech to fill the whole cabinet, but they can use the remaining space for décor items.
3. Work Your Devices into a Bookshelf
It's also trendy to turn a regular bookshelf into an entertainment center. You can either set your television on top of a shorter bookshelf and place your devices on the shelf below, or have a custom-made bookshelf with a large cutout in the center to house your television and devices. The remaining space can be filled with books and complementary décor.
4. Hide Your Entertainment in a Cupboard
If you're forced to have your entertainment system in the same vicinity as your sitting room, you can mask the black boxes and cables by hiding it in a cupboard. You can commission an entertainment center with the appearance of a regular, showpiece cabinet when the doors are closed. When the company is gone and it's time for on-screen entertainment, you can open the doors and slide them in on either side of the television for unhindered viewing access.
5. Make It Flat Faced
Another popular design trend is making everything in your entertainment center at the same level. You can hide the boxes inside cupboard doors using secondary signaling technology, and keep everything else flat faced. It's a very sleek, modern look for a well-designed luxury entertainment center.