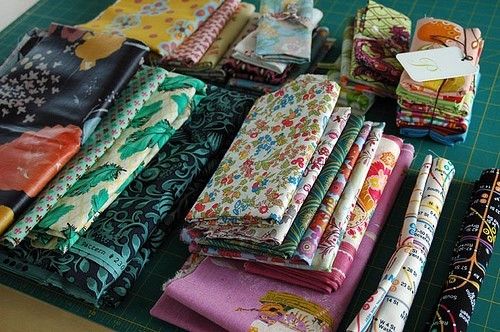 Via Flickr by gina pina
Just because your landlord won't let you paint your walls, it doesn't mean decorate to make the place your own is out of the question. Try these 5 ways to decorate when you can't paint your walls. They'll add personality and charm to your home.
5. Hang Fabric on Your Walls
Hanging attractive fabrics on your walls make a good substitute for paint. You can choose large pieces of solid colors, or you can look for intricate designs that will really make your home look special. Regardless, make sure you hang the fabric in a way that doesn't permanently damage the walls. That way, you can take it down whenever you move out of your rental.
You can also frame large pieces of fabric. This creates a unique feel that adds color and texture to your walls. It's like turning a piece of fabric into a work of art.
4. Find Drapes That Brighten the Room
If you don't want to go through the hassle of hanging fabric on the walls, then you can simply put up drapes that brighten the room. Your rental apartment or house probably already has rods where you can hang drapes. If not, they're easy to install. You can even take them down when your lease ends.
Drapes can add color to your room in several ways. If they're made of thick material, then they'll cover your window with color. If they're made of thin fabric, then they can filter the light, allowing it to enhance the colors in your room.
3. Put Down a Big Rug
When you can't do much for your walls, look down to the floor. If you have hardwood floors, then you can put down a large rug that adds a splash of color and style to your room.
You can find inexpensive rugs at most retail and home supply stores. If you're willing to spend more money, visit a store that specializes in rugs. They should have a huge selection of exotic designs. Throw one of those on the ground to add personality to any room to add color and style even when you can't paint the walls.
2. Use Floor Lamps to Decorate the Room
Light plays a crucial role in your home's appearance. Floor lamps are especially good for decorations because they add light, a vertical object, and a shade to your room.
If you want to influence the color of your room, try using Hue lights made by Phillips. These bulbs can emit any color imaginable. Plus, you can operate them from your smart phone to suit your mood, whether you want to have a romantic date night or a crazy dance party.
1. Paper and Paint
Forget the landlord. Just because you can't paint directly onto the wall doesn't mean you can't add some color to them. Instead of painting the walls, put up large sheets of paper. Then you can paint, draw, or sketch until your heart's content. It's like being three again. But this time no one will scold you.
Follow these tips, and your apartment will feel personalized and invigorated with new life. They would also be great to spruce up apartments for rent in Chicago. What other methods do you have for customizing your living space without painting?