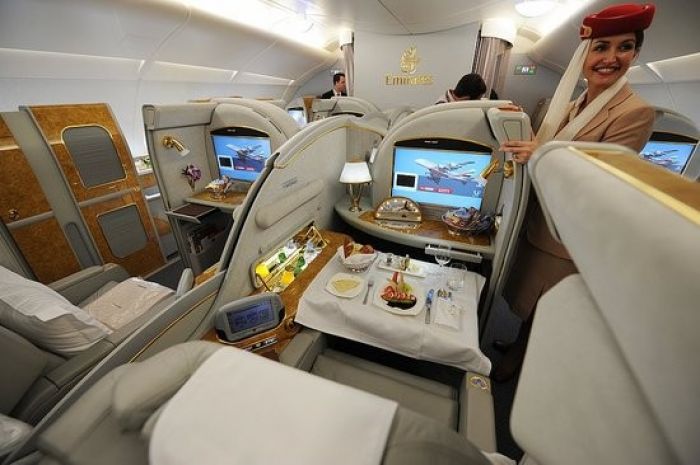 Emirates
Traveling for work can take it out of you. At first it seems glamorous and exciting, but after three trips away in a month it can start to get tiring. You miss your partner, your kids, your dog. You start to miss your normal routine and the comfort of your own home. Heck, pretty quickly you even miss your own bed, sheets and pillows!
But it's not all doom and gloom and homesickness. Business travel can have its perks. So here are a few ways you can make the most out of your trips when you travel for work.
1. Earn frequent flyer points
If you have to travel a lot for work, you might as well rack up the points. If your company prefers to travel with a particular airline, get yourself a membership in their frequent flyer program. For many programs you can even claim points retrospectively - so be sure to keep a track of the travel you've done in the past so you can claim those trips. Some organisations (like government departments) may have a policy against using business travel to earn personal points, so be sure you know the rules of your workplace before you try this one out.
2. Take leave at the end of your stay 
If you're boss is okay with it (and it can't hurt to ask), arrange to take some holidays at the end of your stay so you can enjoy your destination for all its 'tourist' qualities. Traveling for business can mean you often fly in and out of places without really ever seeing what that place has to offer. If you don't have enough leave built up, or if it's too busy at work to take any, then try and arrange your business trip so that it ends on a Friday - then you may be able to stay the weekend and fly back late Sunday night to be back at work on Monday. You'll probably have to cover the accommodation for the weekend yourself, but at least you get a weekend away somewhere different and the flights don't cost you anything.
3. Have your partner meet you 
If you do arrange to take some leave afterwards, or if you arrange the trip to include a weekend, arrange for your partner to travel in and meet you. After the business part of the trip is concluded you can spend some romantic or adventurous time together exploring the place. In the hecticness of life (especially if you are a frequent business traveller), it can be hard to find pockets of quality time together. Use your business travel as an opportunity to connect. The hidden benefit of this plan is that you get a holiday away together but you only have to pay for one person's flights!
4. Make the most of the hotel's facilities
Most people don't have a 24 hour catering service or fully decked-out gym in their home. Hotels are jam packed with facilities to keep their guests occupied and happy. Order room service, go for a long on-the-spot bike ride, wander around in a bath robe, treat yourself to a massage.
If you're lucky enough to get booked into a hotel room with a bath or spa, take some time out to relax in the warm water with a good book to let the stress of the work day unwind.
5. Try out great restaurants in new places
There are hidden food treasures all around the world - there are amazing dining experiences to be had. If you get a meal allowance as part of your travel then know the limits of it and make the most of it. Check out some great online resources for eating recommendations like TripAdvisor (which has apps for iPhone and Android) and UrbanSpoon (which also has apps).
The important thing to remember with all of these ideas is to remain professional. Know the limits of your workplace and its policies and don't stretch the friendship. If your workplace has clear travel policies then be sure to familiarise yourself with them. If you cross the line, it could be your backside on line, so be sure that what you're doing is kosher.
And next time you have to travel for work - make the most of it!
Article by Richard of Odyssey Training