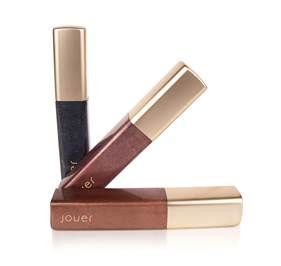 Jouer
If you're looking for a modern twist to a 1960's look, Jouer has got you covered.
Jouer Cosmetics is channeling the iconic beauties of the 60's and taking a modern spin on its styles with their collection. The colors are classic and wearable and truly help your natural beauty shine through. Check out these fab products available at JouerCosmetics.com.
Liquid Shimmer Eyeliner - $22
These revolutionary longwearing soft shimmer liners are silky, smooth in texture allowing for fool-proof ease in application. The water-based, paraben-free formula is rich in Vitamins A & E , while Green and White Tea Extracts gently moisturize, without irritating eyes. The highly pigmented, shimmer shades do not crease or fade keeping look polished throughout the day…and night. Available in: Fox - navy charcoal, Sable - sheer aubergine, Mink - rich taupe.
Everyday Classic Wear Mascara - $20
This irresistible, clump-resistant mascara conditions and volumizes to create naturally defined lashes. The everyday wear (smudge-proof!) formula wraps each lash with a humidity-resistant seal for all day hold. Vitamins E & C moisturize and condition, while formula allows for layering as need. Available in: Noir – rich black, Brun – black brown
Hydrating Lipstick in Dusty - $22
Nothing says classic with a mod twist like a strong nude lip. Meet Dusty, the latest and greatest shade to the Jouer Ever-so-popular and perfectly named Lipstick line up! Dusty is a sheer true nude that can be worn day and night to provide your pout with beautiful natural-looking full coverage. Infused with Brazilian Cupuacu Butter, this long wearing, creamy formula delivers extreme moisturizing benefits.
Jouer