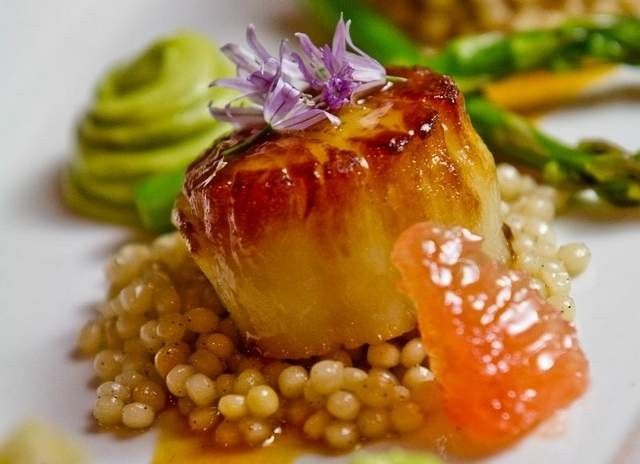 Courtesy Dish Creative Cuisine
The sixth annual Restaurant Week returns May 31-June 16, 2013, with its signature "Eat. See. Stay." experience, featuring exclusive dining deals, hotels packages, and even a chance to win an ultimate desert oasis getaway for two.
Produced by The Palm Springs Desert Resorts Restaurant Week Association, the tasty 17-day "week" provides guests with a unique opportunity to explore extra meals in Palm Springs and its neighboring communities at an exceptional value. Diners can choose from three-course, prix fixe dinner menus available for $26 or $38 per person at over 70 participating restaurants in La Quinta, Palm Springs, Indian Wells, Desert Hot Springs, Rancho Mirage, Palm Desert, Cathedral City, and Indio. Participating hotels will offer an array of perks exclusive to Restaurant Week, including specialty room rates, upgraded in-room amenities, and more. Local attractions — from spas to The Living Desert and the Palm Springs Aerial Tramway — will also offer special rates and perks available exclusively during Restaurant Week.
Newcomers this spring include dish-Creative Cuisine in Cathedral City, Workshop Kitchen & Bar in Palm Springs, and lovely Korakia Pensione, along with the recently opened Mastro's in Palm Desert, and Cork & Fork in La Quinta. Restaurant Week favorites like Circa 59at Riviera Palm Springs (a personal favorite, thanks to Executive Chef Jesse Souza's inventive seasonal menus), Copley's on Palm Canyon, Sirocco, TRIO, Ruth's Chris Steakhouse, Cello's Bistro, Kaiser Grill, PS Follies, Indian Wells Resort Hotel, and the always-fun Ace Hotel & Swim Club — alongside its Feel Good Spa — return with dining deals and special offers. A full list of participants is available at: www.palmspringsrestaurantweek.com. For a full guide to where to stay and play in the area: www.visitgreaterpalmsprings.com
Since 2007, Palm Springs Desert Resorts Restaurant Week Association – led by members representing dozens of prominent restaurateurs and hoteliers – has beautifully showcased the diverse dining and leisure opportunities in Palm Springs and the greater Coachella Valley. In just six years, this annual event has grown from fewer than 30 participating restaurants, hotels, and attractions to more than 100.
In addition to Circa 59, the finest dining experiences I've personally had over the years include the garlicky Steak Sinatra at the charmingly old-school Johnny Costa's Ristorante; the lightly-exotic Chilean Sea Bass at Tropicale Restaurant & Lounge; a never-fail assortment from the extensive tapas menu at Alicante, casual Spanish Mediterranean cuisine; a classic Lasagna Bolognese with homemade pasta at Piazza Triluzza Ristorante; and some of the desert's best Mexican food at Las Casuelas Terraza, where margaritas on the patio is a people-watching must on warm evenings.
For lighter mid-day meals, I've discovered that you can't go wrong with any of the organic and artisanal options served by King's Highway at the Ace Hote (in an old Denny's space, of all things – no Grand Slams here, thank God, just grand options and a chill vibe); Cafe Des Beaux-Arts for Chef Chino's egg dish of the day or classic ham and cheese crepes with Bechamel sauce; and the freshly-updated classics at Escena Lounge & Grill, perhaps the best golf club food I've ever had in the desert, and definitely the coolest, thanks to its modern lines and sweeping view. You may find it difficult to stop eating the complimentary house-hade potato chips, so make sure you order a cucumber-infused Escena Martini to wet your whistle.
What's on my Palm Springs restaurant bucket list? The chef's tasting and wine pairing at Iron Chef Jose Garces' Tinto restaurant at the colorful Saguaro; any of Chef Michael Beckman's artful creations at Workshop Restaurant & Bar; swanky comfort food at The Parker's five-star diner, Norma's; a classic rack of lamb at the venerable Vicky's of Santa Fe, especially if there's a special guest like Sally Kellerman performing in the lounge; cioppino at the friendly community table of Cello's Bistro in Cathedral City; a return visit to sexy Circa 59 for a dirty martini and second helping of mushroom stroganoff with seared scallops; Copley's on Palm Canyon to dine on Oh My Lobster Pot Pie and herb ice cream (!) while Jackalope Ranch smokehouse in Indio; Seafood Napoleon and a wine flight at Cork & Fork; Chef Jean-Paul Lair's house-smoked salmon at Le Vallauris, Palm Spring's French cuisine landmark; and a table for two at Hog's Breath Inn La Quinta with owner Clint Eastwood. A hungry girl can dream, can't she?
Courtesy Riviera Resort & Spa
Circa 59
Courtesy Copleys
Copleys on Palm Canyon
Courtesy Korakia Pensione
Korakia Pensione
Courtesy of Alicante
Alicante
Courtesy Jackalope Ranch
Jackalope Ranch
Courtesy of Workshop
Workshop Kitchen & Bar
Courtesy of Vickys of Santa Fe
Vickys of Santa Fe
Courtesy of The Parker
Normas