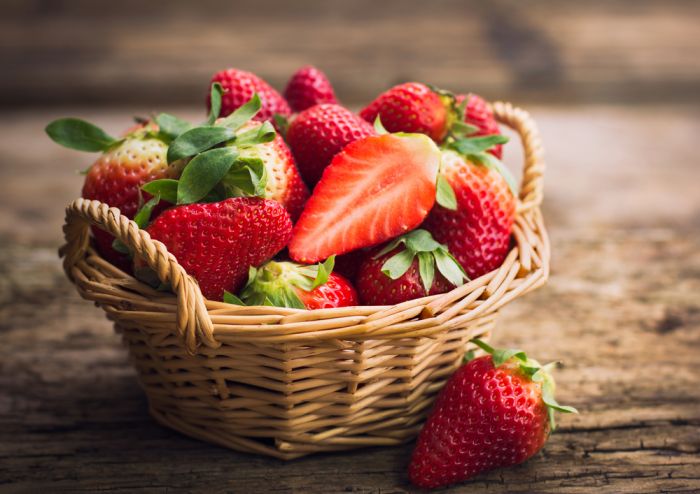 Strawberries might possibly be the most beloved of all the berries with their romantic heart shapes, their luscious red hue, their sweet juicy flavor, and their delectable aroma that makes one nostalgic of summers spent berry picking with the family. Not only is this popular fruit delicious by itself, in yogurts and parfaits, in smoothies and shakes, on top of ice cream, and dipped in chocolate, but it also provides so many benefits to your overall health. And to make them even more appealing, strawberries also offer many exceptional beauty benefits for your skin, hair, and teeth.
5 General Ways That Strawberries Benefit the Skin
1. Anti-aging Benefits: Ellagic acid, the antioxidant that prevents collagen destruction, is contained in strawberries. This antioxidant is helpful for preventing wrinkles from appearing on the skin by slowing the production of the enzymes that aim to destroy collagen.
2. UV Protection: The Ellagic acid present in strawberries also provides protection for the skin against the harmful ultraviolet rays from sun exposure.
3. Reduce Oily Skin: Strawberries are rich in Vitamin C which is wonderful for nourishing and revitalizing skin. Along with their natural acids, a face mask made from Vitamin C-rich strawberries will help remove any excess sebum on the skin making it less oily.
4. Prevent Acne and Heal Acne Scars: Acne breakouts which are often caused by the excess sebum accumulating on the skin can be prevented by using face masks and scrubs that contain strawberries.
5. Skin Lightening Properties: The juice of strawberries is useful in helping to diminish the appearance of acne scars and different types of hyperpigmentation. The ellagic acid in strawberries reduces darker spots on the skin. Simply apply strawberry juice directly to dark spots and blemishes and rinse thoroughly.
9 Exceptional Beauty Benefits of Strawberries
1. Treat Acne
The salicylic acid present in strawberries is a main active ingredient used in many acne treatments. This acid clears away dead skin cells and minimizes pore size which helps reduce the occurrence of acne breakouts. The other vitamins and nutrients provided by strawberries will repair existing skin damage including various types of acne scars. The leaves of strawberries also contain properties that are helpful in reducing skin inflammation caused by acne.
Make a homemade strawberry facial cleanser by mashing up 5 ripe strawberries with their stems. Wash your face with warm water and mild soap. Apply the mashed up strawberries to damp skin in a circular motion, avoiding your eyes. Rinse well and pat dry. Your skin will be clean, hydrated, and oil free.
Now you can enjoy those delicious red berries, even more, knowing that they are providing you with exceptional beauty benefits in addition to the benefits to your overall health.
2. Let Your Skin Glow
The vitamin C and Alpha Hydroxy Acids present in strawberries will give your skin a deep cleansing and leave it bright and glowing.
To make a strawberry face mask, mash 2 ripe strawberries with a teaspoon of honey and 1 teaspoon of baking soda. Apply the combined mixture to your face and neck and rinse off after 10 minutes. Be sure to avoid your eyes.
3. Show Off Your Bright Smile
The Vitamin C and malic acid in strawberries help to break down plaque on your teeth and will thereby naturally whiten your smile.
Brush your teeth with strawberry paste. Grind 1-2 ripe strawberries into a paste combined with a teaspoon baking soda. Brush the paste onto your teeth and rinse after 30 seconds. As an alternative, you can simply rub a ripe strawberry back and forth over your teeth for 60 seconds and rinse.
4. Pucker Up with Plump Lips
The acids present in strawberries will plump up your lips after a quick exfoliation with a sugar scrub.
You can easily make a strawberry sugar scrub for your lips by combining 1 muddled ripe strawberry with 1 teaspoon of brown or white sugar. Rub onto lips for 1 minute and rinse after 3 minutes. The sugar will exfoliate while the fruit acids will simultaneously plump your kisser.
5. Reduce Under Eye Puffiness
The astringent properties of strawberries will reduce under eye puffiness the same way that cucumber slices do.
Simply place sliced strawberries over your closed eyes for 20 minutes.
6. Control Dandruff
The acids in strawberries not only exfoliate the scalp but they will also control the production of excess oils and prevent further flakiness from occurring.
Make a homemade dandruff treatment by blending together 5 ripe strawberries, 1 teaspoon of lemon juice, and 1 tablespoon of unsweetened Greek yogurt into a puree. Massage your scalp with this treatment and cover with a shower cap for 1 hour, rinse and shampoo as usual.
7. Get Silky, Shining Locks
First exfoliate your scalp with a strawberry puree (see number 5 above), then rinse your hair with strawberry juice after washing as normal.
Blend 1 cup of strawberries with a cup of water in a blender then strain to extract just the juice. Use the juice as a rinse on your hair and watch your locks shine.
8. Prevent Hair Loss
The Vitamin C provided by strawberries is essential in promoting hair growth and preventing split ends by encouraging efficient iron absorption.Strawberries are also rich in silica which promotes hair growth and prevents baldness.
Use a strawberry hair mask to reap all the hair benefits from this fruit. Make a paste with 2 ripe strawberries, 1 tablespoon of extra virgin coconut oil, and 1 tablespoon of honey. Apply to a clean scalp and leave on for 20 minutes before rinsing with cold water. The magnesium present in the strawberries will also prevent the formation of any fungal growth.
9. Soften Your Feet
The exfoliating and hydrating properties of strawberries will clean and soften dry, cracked feet.
Make a strawberry and sugar skin scrub by mixing 5 ripe strawberries with a cup of sugar and 3 teaspoons of olive oil. Massage your feet (and the rest of your skin) before taking a shower and come out feeling cleansed, soft, and hydrated.