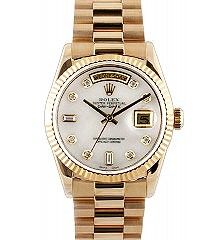 Rolex
A used Rolex watch possesses a certain air of success and dominance, especially when it is well crafted. However, these high quality accessories are expensive to purchase brand new. It is particularly the top brands that can burst the bank, especially for someone with an average budget. One way to be able to afford your dream watch for cheaper is through purchasing a used watch. Now due to technological developments, used Rolex watches are more accessible to purchase than ever before.
Purchasing Online
Used Rolex watches are available just about everywhere. One simple way to purchase a pre owned watch is online. Here are a few tips on how you can better shop for a watch online.
One great aspect about buying online is that it is open for 24hours for 365 days a year. This enables you to browse for your ideal watch when you want and how you want. Being able to look through the different watches from the comfort of your home allows you to pick and choose exactly which one you want.
Do make sure you look through the pictures carefully when you are buying a used Rolex watch online as it will highlight any scratches and prove its authenticity. If you are unsure of its condition or originality it would be advised to have the seller provide more pictures. It would also be wise to request more documents, a sale receipt and a manual/box just to ensure it is original.
How to care for a used Rolex watch
Caring for a pre owned watch is particularly important because you want to take care of your luxury item. Watches are renowned for being made of durable tough material however they are still vulnerable to becoming damaged. If you are going to wear your watch daily then it is advised not to purchase one with delicate straps. These are often damaged easily, it is known for Rolex to make some very tough durable watches that will last you for years to come.
These are some simple tips for caring of a pre owned watch:
·        Do not wear your watch during physical activity, as it is likely to become word and damaged.
·        Avoid wearing the watch during manual labor, this also causes scratching a dents.
·        Every few years you should get your watch cleaned a serviced, to ensure everything is clean and as it should be. 
Collectable Watches
There are many interesting collectable pre owned watches available for purchase. Those watches that are collectible become rare overtime. It is often limited edition watches are made to commemorate major sporting events. For example, the Olympic Games released many limited watches that may have great worth in years to come.
It is vitally important to take these factors into consideration when you are trying to buy a used Rolex watches online. However it is also important to look after the watch post purchase in case you want to sell it in the future.
Author Bio
This article was brought to you by BQ watches. They specialize in selling high quality watches to both the public and traders. For more information on how you can by a bespoke watch please see the link.