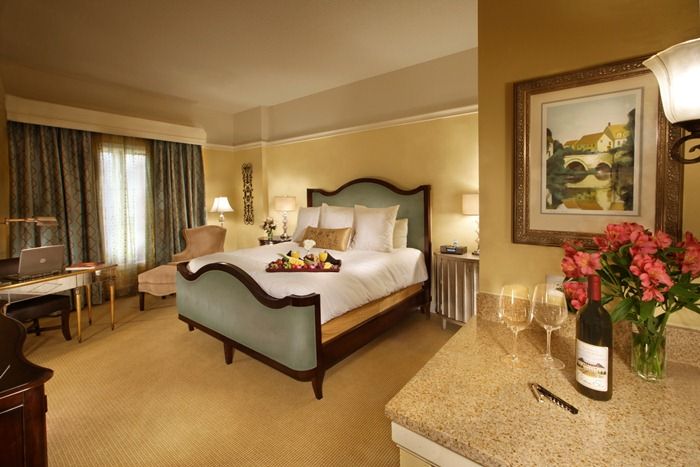 Chateau Elan
Chateau Elan in Braselton, Georgia, is the perfect retreat for people wishing to escape the hustle and bustle of the city. A retreat at Chateau Elan is similar to staying at a 16-Century-Style French Chateau while never leaving the United States. The rooms and suites at the Four Diamond Inn are lavish and comfortable, each with its own garden tub, separate shower, cozy bed, and ultra-soft robe.
The grounds of Chateau Elan are impeccable. On the grounds are Vinifera and French Hybrid grapes. Guests may purchase wine from the wine market, located inside the Chateau. Visitors may sample wine. Tours of the winery are also available.
A visit to Chateau Elan is not complete without a visit to the spa. The spa, located in a separate mansion on the property, has its own kitchen, and quaint dining area so guests may enjoy lunch before or after treatments. Guest suites are offered for visitors who opt to stay overnight near the spa. Massages, hydrotherapy baths, mud wraps, facials, manicures, pedicures, and hair styling are available. Spa guests can also enjoy the saunas steam rooms and exercise classes.
Many people visit Chateau Elan to play golf. There are 63-holes of golf, which have been ranked with 4 stars by Golf Digest. The Chateau course is a 71 par championship course. The Legends Course, a private club, also located on the resort's grounds, was designed by golfers Gene Sarazen, Sam Snead, and Kathy Whitworth. Beginners may want to try playing golf on the Executive Course, a 9-hole course designed for people who do not wish to play 18 holes.
The resort offers a plethora of dining options for its guests. The choices include:
Versailes Restaurant, a French-inspired restaurant in the lobby of the Inn also has Southern specialties.
Fleur-de-lis is a health-oriented restaurant with spa-inspired food.
Café Elan is a bistro with Mediterranean food. Wine is also sold in the restaurant.
Reservations are required to dine at the tiny Le Clos, a French restaurant with cuisine, prepared by chefs and paired with accompanying.
The Golf Grille
The Lauberge Lounge
The Carriage House, located 25 minutes north of the Inn is at 1235 Athens Street in Jefferson, Ga.

This article may not be copied without the permission of Claudine Williams. Her beauty and style videos are now on YouTube.
Chateau Elan
Vineyards
Chateau Elan
Gazebo and Lake