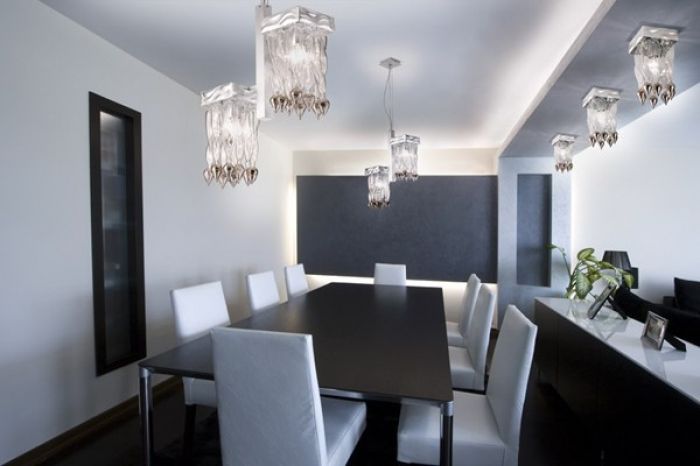 10
Anyone thatís interested in interior design will be the first to tell you that lighting is more than just lighting. For some, lighting is nothing more than a way to keep the house bright and to keep things visible, but they feel to realise the lighting is really much more than that. For one, lighting helps to create ambience and can play a huge part in the mood of a room; a dimmed light can contribute to a cosy, warm atmosphere whilst harsh, bright lights can render a room cold and clinical. Because of this, as well as the implications lighting can have on a personís emotional health, interior designers are sensitive to the placement and sorts of lighting that are needed for different rooms, and this includes decorative lighting.
One of the more popular types of decorative lighting is the chandelier, and itís not hard to see why. Chandeliers are a simple way to add a more classic aesthetic to your home if thatís what youíre looking for, and itís a neat way to liven up a standard looking ceiling light. Chandeliers come in various sizes and are made from either crystal or glass, with larger ones being more suitable for certain parts of the house. The hallway, for example, is a great place for a chandelier as it creates a strong initial impression on anyone visiting as well as looking elegant and glamorous. They are also ideal for living rooms and dining rooms; you could even have a smaller one installed in your bedroom for an added sense of romance and sophistication.
†
Alternatively, thereís an array of designs to be found in ceiling lights that can give your home a more modern touch. Ceiling lights are largely responsible for the atmosphere of a room as well as often acting as a roomís central focus, so many choose models that attract the eye and offer a striking aesthetic, including pendant lights or pronged, circuitous designs. Couple these lights with lower wattage bulbs, as high wattage bulbs tend to be too bright and can cause discomfort or displeasure. Remember what was said before about lighting having an effect on a personsí mood? The aim is to subtly light the room without hindering anyoneís visibility or allowing it to become too dim.†For many, the answer to this issue is to have a dimmer switch installed, allowing them control over the illumination so it suits them. Dimmers are always a good option and extremely popular, so itís definitely worth considering when looking at decorative lighting.
Fitting the home with decorative lighting doesnít have to be an expensive endeavour, either. There are plenty of companies, such as Litecraft, that offer well-designed and affordable lights that will add a little something special to your house. In fact, looking through websites such as these will help designers, especially amateur ones, to find any items on sale and help them to save money. Whatís important to remember is that there are the rights lights for the right rooms and every room has different requirements, purposes and functions.