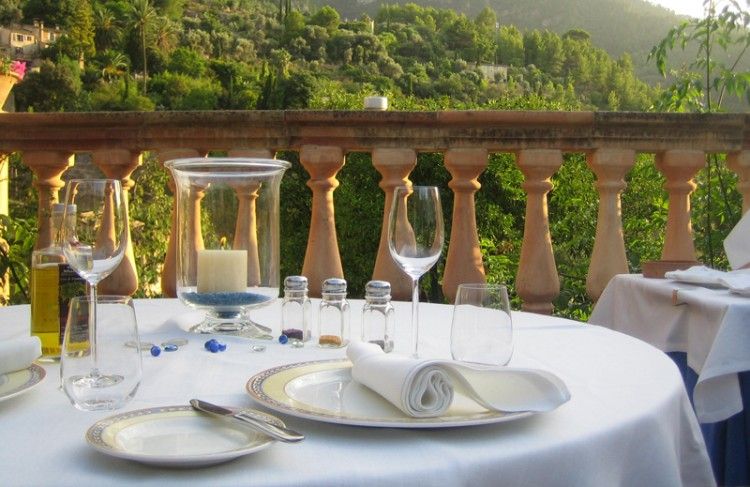 http://www.abc-mallorca.com/
Majorca is renowned for its fine dining, from local family run eateries to world class Michelin Star restaurants (the Island has an impressive five of them). So, if eating out in style is part of your plan for a perfect holiday, Majorca is the place of your dreams.
Plat d'Or - Son Vida
Chef Rafa Sanchez has been awarded a Michelin Star seven years consecutively. You will find him in the 5 star Sheraton Majorca where he creates a unique menu using both Mediterranean and Majorcan cuisine as his inspiration. Amongst the dishes he creates, using locally sourced, seasonal produce are Majorcan trampo and coca with cuttlefish. You can enjoy these either inside within a carefully created casually modern ambience, or outside on the terrace with a glass of red wine and a view of the Arabella Golf Course.
Es Raco des Teix - Deia
If you would prefer more panoramic views then pay a visit to Josef Sauerschell's family run restaurant. A completely different Michelin Star experience is to be found here, situated in the quaint coastal village of Deia. There are a wide range of dishes, from a salad of prawns, turbot and figs to entrecote and oxtail with balsamic vinegar and marrow.
Es Moli den Bou - Sa Coma
Don't be fooled by the deceptively simple menu here, every dish is a carefully constructed creation of complex contemporary art. Tomeu Caldentey gained his Michelin Star in 2004 and has been making an impression on the world of fine dining since, from the Hotel Protur, Sa Coma Playa. All his dishes are based on traditional Majorcan food, whilst adding a twist of his own. The seafood is a forte of this restaurant, but the veal cheek with pumpkin is to be recommended if you would like to try something completely different. If you are also looking for a great deal then check out the weekday express menu.
Read's Hotel - Carretera Santa Maria-Alaro
For a wonderfully atmospheric ambience the Bacchus restaurant is a must, located within a 16th Century room with frescoed walls and imposing stone arches. British celebrity chef Marc Fosh was awarded his Michelin Star in 2002 and he has created a broad and varied menu, including fillet of suckling pig with white asparagus, pumpkin and broad bean and pea ragout. If you would rather experience something more relaxed then try the Blues Bistro which is situated in the original 18th Century olive pressing room.
Tristan - Puerto Portals
If you would like to eat amongst the international celebrity set then this restaurant is for you. It is the place to see and be seen providing opulence and originality on a plate. It boasts a spectacular view of the Puerto Portals Harbour and the luxury yachts moored there. Chef Gerhard Schwaiger has two Michelin Stars and provides a menu to die for, including sea bass with truffle noodle and celery and quail egg. Be warned, however, that the food may be fabulous, but in this instance you get what you pay for and this experience does not come cheap.
Enjoy these fine dining experiences without the guilt by saving on your flight costs with cheapflights.co.uk. Got a tip on where to experience the best eats on the Spanish island? Let us know in the comments!