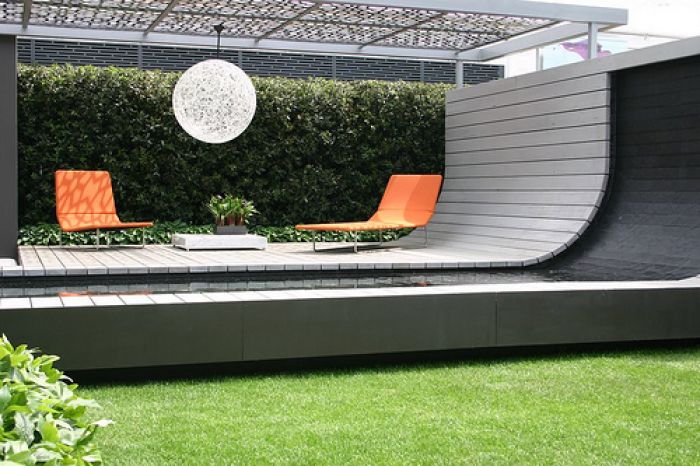 image by Crinklecrankle.com
Unlike a few years ago when all you were likely to find was an old wooden bench and a plastic table set, it's no longer unusual to walk into a friend's garden and be presented with a luxury lounge suite and matching contemporary sculpture. So what exactly has caused this shift from the garden being a place to enjoy getting a little bit muddy to somewhere you displays your most fashionable furniture?
Just Another Room In The House
The garden is becoming more and more of an extension of the home. We sit, eat and even sleep in our outdoor space and luxury garden furniture looks to increases the comfort of outdoor living, as well as ensuring we do it in style. Why go on holiday when you can stretch out on your rattan chairs and revel in the peace of your own garden?
While dining furniture has always had its place in our gardens, we now approach new sets with a certain vision in mind, rather than the practicality of whether it has detachable legs to prevent a fight every time we store it away in the shed.
Express Yourself
In the same way that the contents of our kitchen cupboards and the stacks of books in our studies say so much about us, the items with which we choose to populate our gardens are becoming another expression of how we live.
And it's not only whether we've gone for the sociable layout of sofas and chairs or the more secluded garden globes, but we also have to make a decision with the décor: do we select grand, elaborate sculptures or just scatter the space with delicate lighting?
Who Doesn't Love A Party?
Now that everyone's exhausted their typical kitchen dinner-parties, it's time to move it outside. With the expansive range of barbeques available, you can have an outdoor kitchen big enough to cook up a feast.
Oak gazebos are a popular choice for garden shelters, and they lend themselves perfectly to hosting evening or daytime parties. If you feel like pulling out all the stops, there is even an oak gazebo available that doubles up as a bar.
Thinking Practically
Of course, one possible cause of the recent rising trend of luxury garden furniture is the current conditions of the property market. With it becoming increasingly difficult to sell your house, we are encouraged to redo our gardens as well as our interiors. What better way to make your property stand out from the rest than with a garden that gives off that holiday feeling of ultimate relaxation.
Celebrity Influence
Our culture as a whole is celebrity-obsessed, so when our favourite film-star is photographed for a magazine in their garden inundated with luxury furniture suddenly we're all after it. Celebrities aren't just seen as style icons in the clothing sense, but now also influence us with their choice of interior and exterior design. All it takes is to lie down in your new chaise longue or rattan swing and you're living the life of luxury.
Not only does the rising trend in luxury garden furniture prevent us from neglecting our garden until it grows into an untameable wilderness, but it encourages us to spend quality time enjoying outdoor life.
What do you think: is this just a passing phase or is luxury garden furniture here to stay?