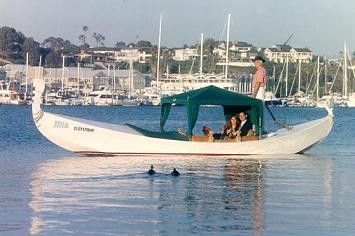 gondolaromance.com
Do you constantly try to think of new ways to impress that special person in your life? Here's one to think about. When your in Newport Beach you may just want to wander over to Gondola Romance, Newports original gondola company. Image cruising across the water after watching a magnificent sunet while listening to some soft romantic music in the background.
All of the gondolas are canopied for complete privacy. What a great way to enjoy a romantic brunch or dinner. Or may just pull up to one of your favorite waterfront restaurants in style. Every cruise includes a non-alchoholic beverage, chocolates, and cheese and crackers.
If you have a large party wanting to join you, then there is a 34' party boat available. This boat will provide you with some of the necessary items you may need while your cruising such as: cups, silverware, plates, music, and a cooler with ice.
You may also be interested in:
spreebird.com