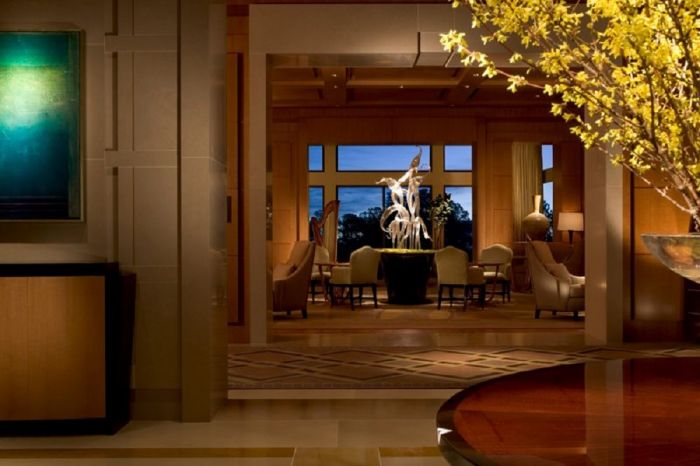 Photo Credit: The Umstead Hotel and Spa
Raleigh, North Carolina is best known for its vinegar-based barbecue, but luxury abounds if you look for it. At The Umstead Hotel and Spa, it's all about combining art with nature. When you walk into the main foyer, you will see a beautiful Chihuly hand-blown sculptural glass sculpture that will let you know you have arrived. The property is located about 20 minutes from downtown Raleigh and features an art collection that changes seasonally. There are 150 guestrooms, including 27 suites.
Photo Credit: The Umstead Hotel and Spa
When it comes to amenities, this hotel gets it right (think complimentary tea and coffee every morning served in the lobby, nightly live entertainment in the Lounge, afternoon tea with a harpist and transportation services by EcoStyle, a green transportation company). They have even thought of your pet while traveling and have a dedicated playground area for all canine guests.
Photo Credit: The Umstead Hotel and Spa
For a casual dining experience, head to the Bar & Lounge where you can snack on starters like beef carpaccio with roasted eggplant and pickled peppers or tuna tartare with spiced mustard, cilantro and cucumber before moving onto a southern style BLT made with fried green tomatoes, pimento cheese and truffles served on sourdough, the North Carolina flounder with polenta and summer succotash or a juicy New York strip served with baked mac and cheese and haricot vert served with house made steak sauce. The food here comes from 14 local farms, including their one-acre Culinary Plot-One Oak Farm.
If you are looking for a more formal dining experience, head over to the acclaimed Heron's where first course dishes include Japanese binchotan grilled quail, and foie gras with poached peach and toasted black oat granola. Standout main events feature halibut with green asparagus, spring onions, heirloom grits and buttered nage; pork loin and belly with black plum, purple yam, fennel, salted oats and braised walnut; and chicken served with Carolina gold rice, pickled peanuts, kohlrabi, red peas and spiced chorizo. Heron's also offers a three-, four- or eight-course tasting that can be paired with wine for the ultimate indulgence.
Photo Credit: Duke University
Nearby, you can visit the colleges of Duke University, North Carolina Central University in Durham and the University of North Carolina at Chapel Hill or check out the Research Triangle Park, one of the nation's largest and most prestigious R&D business parks. If you are interested in checking out some museums while you are in town, Raleigh has more than its fair share. Often called the "Smithsonian of the South," it features an abundance of historic attractions and educational institutions, including the North Carolina Museum of Natural Sciences, North Carolina Museum of History, North Carolina Museum of Art, Contemporary Art Museum and Marbles Kids Museum.
Photo Credit: The Pit
After an afternoon exploring Raleigh, be sure to stop by The Pit for some of the region's best barbecue. Best known for its smoked baby back ribs served with black eyed peas and collard greens, slow cooked beef brisket and juicy pit cooked chicken, the restaurant also offers some southern surprises like deviled eggs, fried green tomatoes, chopped barbecue turkey, potato fritters stuffed with bacon, white cheddar and scallions, and barbecue soul rolls filled with chopped pork, cabbage, collard greens and candied carrots.