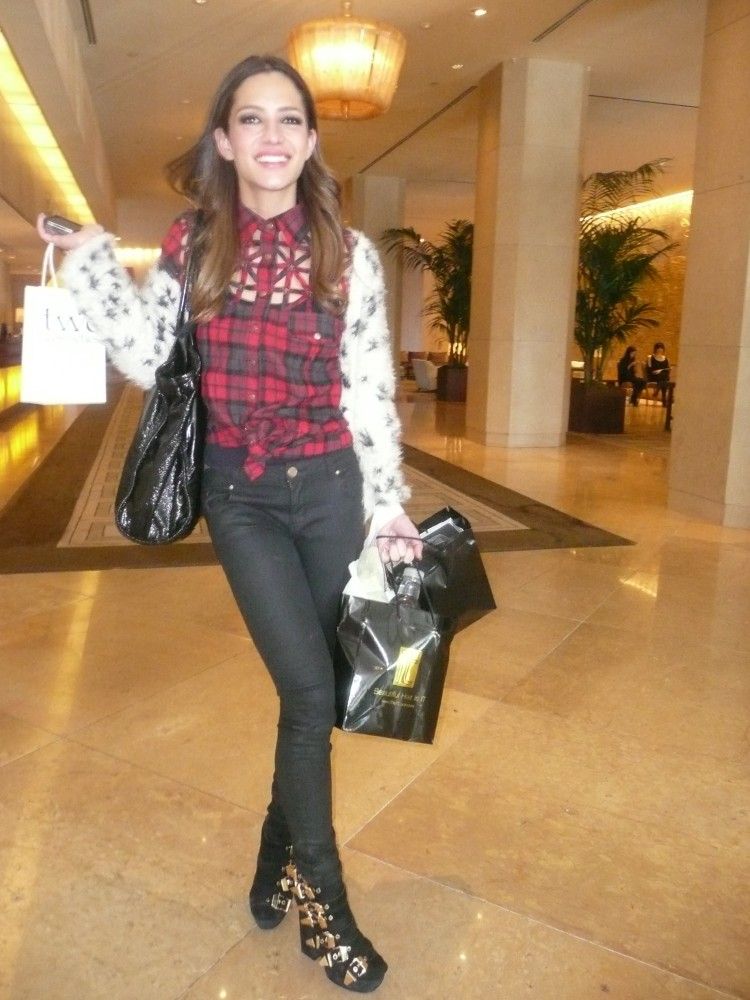 Photo Credit: Vicki Arkoff
Celebrity beauty doesn't just require good genes: it takes an army. That's what I discovered when I was the guest of actress Sandra Vergara at TMG International's VIPs-only beauty and luxury style event at the Beverly Hilton Hotel. Vergara is the Columbian bombshell from Fright Night, Theresa Corazon of The Bold and The Beautiful, and cousin to Modern Family's Sofia Vergara.

The exclusive event is one of the most secretive in town. Held behind closed doors in a series of interconnected penthouse suites, it requires guest list verification just to enter the elevator, two more check-in points and two escorts with pass-keys to enter the top-floor hallway and main suite entrance. I've seen more lenient security at LAX.

Inside, it quickly became clear that I was in for a luxe treat. We were assigned assistants for the day (thanks Brea and Darlyn-Feythe) to schedule beauty appointments, introduce us to luxury goods representatives, and carry our bags of product samples from presenters including Vivienne Westwood and Ingersoll watches from Zeon America. Vergara fell in love with the glam Vivienne Westwood Heart Brooch Watch; I crushed on the classic Ingersoll Mickey Mouse watch in white for summer. Nearby, Kevin Sorbo danced while demo'ing high-performance PowerForce headphones from Spider International, so we took in the show and waited our turn. "I never thought I would care about headphones," said Vergara, "but these are like truffles for my ears." We were especially wowed by the fidelity of Spider's upcoming Dolby Digital headphone amp, which was unveiled at the Consumer Electronics Show and will hit the market soon.
At the event, five beauty treatment rooms pampered the stars from head-to-toe and gave editors and stylists an inside look at what it takes to get red-carpet ready. In the corner suite – with its stunning birds-eye view of Beverly Hills – celebrity stylists were busy with pro blow-outs and premiere event up-dos, finalized with It Haircare's Illuminator Instant Shine and Finishing Spray for shine, repair and hold all in one. In an adjoining suite, cosmetologist Cathy Brenneman jazzed up nails with 18-carat gold-flecked "Man With The Golden Gun" polish from OPI's Skyfall line, layered over a neutral base. Pampering facials from Amina Esthetique, Montreal-based cosmetologists, left celebrities like Oscar-nominated filmmakers Jennifer Nelson Yuh and Melissa Cobb (Kung Fu Panda 2) relaxed and aglow.
Personal skincare consultations were given by Dr. Renaud, a Canadian dermatologist and the creator of Laboratoire Dr. Renaud products including the Pure Kronoxyl Eye Contour kit — my new packable must-have in day and night formulas — and InnovHyal Volumizing HydraSerum, the first topical wrinkle filler. To help guests flirt with extra va-va-voom, lash growth serum from Galaxy and It Lash Care was applied to promote eyelash and brow fullness and length. Two cosmeticians finished the look with their eye-shadows and pretty faux lashes, followed by a long-lasting liquid lip color from a rainbow selection by Sense Cosmetics' LipSense.
Between treatments, guests from Glee, The New Normal and The Young and The Restless had the difficult task of choosing from exquisite diamond jewelry loans by Anahita, an architect by trade, now known for her alluring 18k gold designs. Vergara tried on the crystal pendant with diamond pave curves – which looked gorgeous with her bird-motif sweater designed by her cousin Natalia Castillo of Violetta Rose, a knitwear collection. The piece de résistance was in the final room.
Behind the bar, pouring wines from Marc Mondavi's The Divining Rod label was Janice Mondavi herself. We sampled the 2010 Cabernet Sauvignon from Alexander Valley and the 2010 Chardonnay from Saint Lucia Highlands, while Mondavi charmed us with the story of how she became known as Mrs. Water Witch. (Hint: it has to do with the family's history of using divining rods in their vineyards.)
We emptied our glasses but I wasn't ready to go, so we loitered near the display of gorgeous crystal handbags by Kathrine Baumann. We found ourselves chatting with bona fide movie star Tippi Hedren about which of the heart, flower, camera, and Titanic-shaped purses she already had in her collection. I confessed that I've wanted one since seeing Paul Abdul's special Baumann clutch on X Factor, a glitzy, crystallized Pepsi can. For a final stop before leaving, Vergara and I lingered over parting snacks with Modern Family's adorable Aubrey Anderson-Emmons. Double dipping my shrimp in savory Saas Hot Sauce, I (not-so-secretly) wished I could steal a lifetime supply of their amazing Onion and Garlic sauce so I could use it to marinate everything I ever grill again. Really. Everything.
Ciao, TMG Luxury Suite, until we meet or eat again.
Photo Credit: Vicki Arkoff
It Haircare penthouse
Photo Credit: Vicki Arkoff
Ingersoll watches
Vicki Arkoff
Spider headphones
Vicki Arkoff
Mondavi Divining Rod wine
Vicki Arkoff
OPI manicure suite
Vicki Arkoff
Two Cosmetics
Vicki Arkoff
LipSense by SeneGence
Vicki Arkoff
Anahita jewelry
Vicki Arkoff
Tippi Hedren admiring Kathrine Baumann handbags