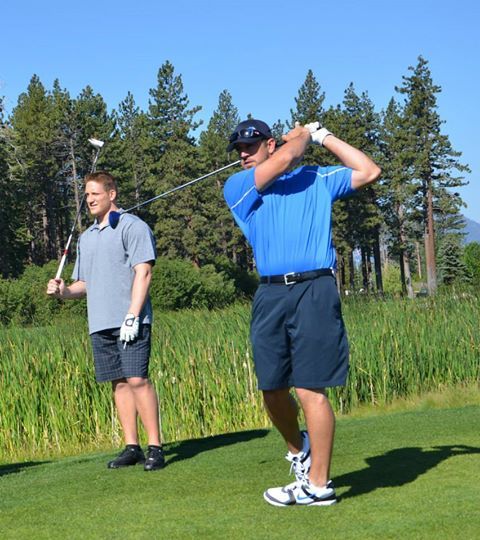 Photo © Sharon Gay
AJ Hawk and Aaron Rodgers Photo © Sharon Gay
A.J. Hawk and Aaron Rodgers @ American Century Lake Tahoe Golf Tournament
By Sharon Gay
Two of my very favorite sports celebs, Aaron Rodgers and AJ Hawk, superstar NFL football players for the Green Bay Packers, participate in the Lake Tahoe's American Century Celebrity Golf Championship aiming to with the Waterford trophy and grand prize purse!
Total Purse - $600,000
First Prize - $125,000
Second Prize - $50,000
Third Prize - $35,000
NFL All-Pro Green Bay Parker quarterback Aaron Rodgers is one of the most successful and highly paid NFL football players in history. Rodgers led the Green Bay Packers to a Super Bowl title in 2011 in a 31-25 win over the Pittsburgh Steelers. Named the Super Bowl MVP, Rodgers was also named the 2011 AP Athlete of the Year. Last season the Packers finished with an 11-5 record, first in the NFC North. Rogers finished first in passer rating (108.0) and touchdowns per attempt, second in touchdown passes (39), and third in completion percentage (67.2%). He was named to his third Pro Bowl and was a Second-team All-Pro…
A.J. Hawk sans ponytail, continues to be one of the NFL's best defensive players and a key to the Green Bay Packers powerful defense…A seven-year veteran, AJ played his best statistical season of his career in 2012…He was credited with 120 tackles and had three sacks…
A top do-not-miss Lake Tahoe summer event, the 2013 American Century Celebrity Golf Tournament, takes place at the stunning lakefront Edgewood Country Club in Stateline, Nevada.
The weather is perfectly warm again this year at the tournament. If you have the weekend free - $25 tickets are available online and at the entrance daily during the tournament. Tickets are also for sale at 127 Raley's, Nob Hill and BelAir locations throughout Northern California and Nevada.
Fans that turn out to watch the event are rewarded with a beautiful lake front venue at Edgewood Country Club. Edgewood Lake Tahoe offers great food and drinks at their award-winning 19th hole restaurant, Brooks Bar & Grill, great golf related shopping, and friendly autograph signing with some of the biggest names in sports and entertainment. Superstar musicians from Rascal Flats Band, comedian Ray Romano, The Cable Guy, mark Phelps and other actors and TV personalities will sign your souvenirs.
There are fourteen newcomers to the event, including 18-time Olympic gold medal swimmer Michael Phelps. The all-time favorite celebrity playing on the 6,875-yard layout is Charles Barkley, who has competed in all but one tournament since 1993.
Sharon Gay is a luxury travel, sports, and entertainment writer and photojournalist who divides her time between beautiful Lake Tahoe and the Northern California Wine Country.