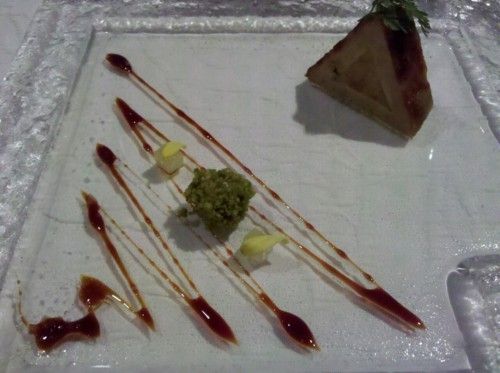 Steve Mirsky
Visitors to the small alpine village of Saas-Fee don't stumble upon the Waldhotel Fletschorn Hotel's restaurant by mistake. The journey to the village itself involves a spectacular 1.5 hour bus ride from Visp continually winding along hairpin curves inches away from the plunging abyss that ultimately cradles the River Vispa. Once in Saas-Fee, it takes either a 20 minute walk on their driveway winding through thick Swiss pines and sweeping alders, or a 5 minute taxi ride seemingly to nowhere until you arrive at their grand doorstep. As you're seated inside with a wine list nearly as thick as War and Peace, half of which is dedicated to local Valais wines, you immediately get the sense that you're in a legendary establishment…one that has in fact recently celebrated its 100 year anniversary.
The Legends
It just so happens that your intuition is correct. Not only does the dining room, bar, and large porthole window into the kitchen lend to an opulently comfortable gustatory setting, it's the unique and highly talented staff running the Fletschhorn that make the experience magical. You have head chef Markus Neff from Austria who fine tuned his craft in various restaurants before settling in here at age 19 back in 1983. Then there is Charlie Neumuller who not only co-manages the entire operation with his life partner Maren Muller but is chiefly responsible for stocking the Fletschhorn's vast 42,000 bottle/1200 label Wine Spectator awarded wine cellar. Each of their backgrounds conspire to bring them together like a sudden mountain lightning storm creating the perfect conditions for forging exquisitely experimental dishes using local staples like freshly harvested morrels, racks of Valais lamb, goats' cream cheese, and seasonally ripe apricots and asparagus.
The Food
During my visit, we had the privilege of experiencing their From Valley Low to Mountain High menu of the house while the dessert also included a Maracaibo chocolate mouse from their From Lake to Sea menu. After losing our way in the huge wine compendium, we opted to trust our sommelier's expertise in selecting two regional Valais wines for pairing with each dish. We sampled both and then picked our choice for accompanying each creation that was brought to our table. First it was a rich and hearty pumpkin soup paired with an Amigne Grand Cru de Vetroz. I detected a sharp cheese on the bouquet with a complex melange on the palate...extreme minerality with many flavor direction made it perfectly flexible to sip with this heart warming soup. Their foie gras with dates and poached pears was a delicate and flavorful combination showcasing this particular meat's exotic mouth feel in an entirely different light. With the Tortelloni stuffed with braised duck leg topped with black Périgord truffle shavings, I had a Les Claives Marsanne with an unmistakable liquor on the nose carrying over into sharp minerality that held up well to the dense waterfowl. My first red wine of the night, a Baton Rouge from Cave du Vidomne in St. Pierre de Clages had a velvety bramble berry that jousted well with the juicy tenderloin of bison served with delicate potatoes mousseline. As you can see, Chef Markus's presentation is unmuddled by artifice, but most notably, even the most colorful garnishes are all absolutely edible.
By the time Maren wheeled the mind-bogglingly extensive Swiss cheese trolley to our table, I simply abandoned my notes feeling that my efforts were cutting into the experience of savoring the interplay of flavors while fully enjoying the good company from nearby tables. And I heaped on a further justification…everybody's palate detects something slightly different even if they were to make the exact same pairings that we did. And the chances of this happening are extremely slim due to such a wide selection. But I'm trusting that when you do visit Sass-Fee, the Waldhotel Fletschhorn will be first on your list of must-dos complete with a Valais wine pairing of your own.
Coverage made possible by participating in a sponsored trip.
Steve Mirsky
Waldhotel Fletschorn's Massive Wine List
Steve Mirsky
Waldhotel Fletschorn Bison Steak
Steve Mirsky
Waldhotel Fletschorn's Cheese Trolley
Steve Mirsky
Tortelloni