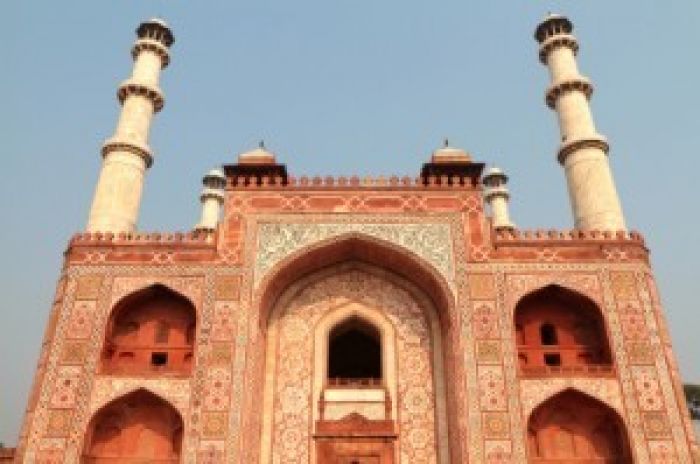 With a diverse array of culture, colors, experiences and landscapes, India is bound to inspire creativity in almost any visitor. Even if your only experience with art is from grade school, it's difficult to visit India and not want to pick up a paintbrush to capture everything you see. If you're an established artist, you already know that India holds a wealth of inspiration.
Whether you draw, paint, sculpt or create any other kind of art, India is an ideal destination. And thankfully, many hotels cater to artists, providing space to work, inspiration, and the opportunity to meet other creative souls from around the world.
Sanskriti Kendra         
Serious painters, writers and sculptors can join the artist residency program at this cultural center in New Delhi. For about $40 per day – which includes meals – artists can rent one of eight residential studios for 20 days or more, and work with Indian artists and craftspeople. Artists at Sanskriti Kendra also have access to three onsite museums. This hotel is designed for those who are established artists and want to develop their craft with the guidance of Indian masters – it's not for beginners or dabblers.
Swa Swara
Inexperienced artists, or those who want to add some art and culture to their Indian spa vacation, should look into Swa Swara in Gorka, located on one of India's famed beaches. Swa Swara is a spa-type resort, offering guests classes in yoga and meditation as well as ayurvedic treatments, in addition to arts experiences. The Swa Swara sponsors an artist in residence program, in which Indian artists come to the resort and interact with guests while leading classes and workshops in pottery, painting, poetry, writing and more.
The Art Escape
In the famed beach state of Goa, the Art Escape allows guests to stay in simple bamboo huts while experiencing workshops in a variety of artistic pursuits – all designed to bring out the "artist in everyone." With workshops in everything from African drumming to photography, The Art Escape is bound to inspire creativity in anyone – and for around 1400 rupees ($30) a night, including meals, it's a bargain for any budding artist.
The Art Inn, Jaipur
Writers and artists alike will appreciate Jaipur's Art Inn, a small, three-room inn offering workshops in pottery, textiles, jewelry making and more. Each room is based around a different theme. The Writer's Retreat, for example, overlooks lush gardens, while the Blue Factory Centre room pays homage to Jaipur's famous blue pottery. The inexpensive rooms –around $35 per night – include breakfast and airport transportation.
The Dune Ecovillage and Spa
Established artists will be inspired at the Dune Ecovillage and Spa, one of India's most eco-friendly getaways. The Dune provides several artist's studios, available at different points throughout the year, for the Artist in Residence program, where artists can both create and display their work. They can also work with and learn from some of India's most renowned artists and craftsmen.
La Sutra
For artists looking for inspiration – or those who just appreciate great art – the La Sutra hotel is one of India's first art hotels, inspired by the legendary art hotels around the world where starving artists like Picasso and Matisse offered original works in lieu of payment. The three story La Sutra is based on the three gunas – forms of energy – that make up all living things: Tamas, Rajas, and Sattvic. The hotel's décor and design are inspired by yoga, ayurveda, and Indian history and culture; for example, as you ride the elevator to the upper levels, you'll rise up through depictions of all seven chakras. The hotel exterior features a mural by the Australian filmmaker Baz Luhrmann – noted for films such as "Moulin Rouge" – featuring dancers, meant to symbolize a life lived free from fear.
No matter what type of art you want to pursue – or just appreciate – there is a place in India to do it. When planning your trip, consider one of the many arts-focused resorts or hotels, and enrich your experience. Who knows . . . what you create during your Indian adventure could end up being your life's masterpiece, or you could discover a new hobby or passion, along with lifelong friends from around the world.
This guest post article was written and provided by Erica Gustafson who is a freelance writer and digital media consultant. She spends her time traveling throughout India and the world writing about her experiences.