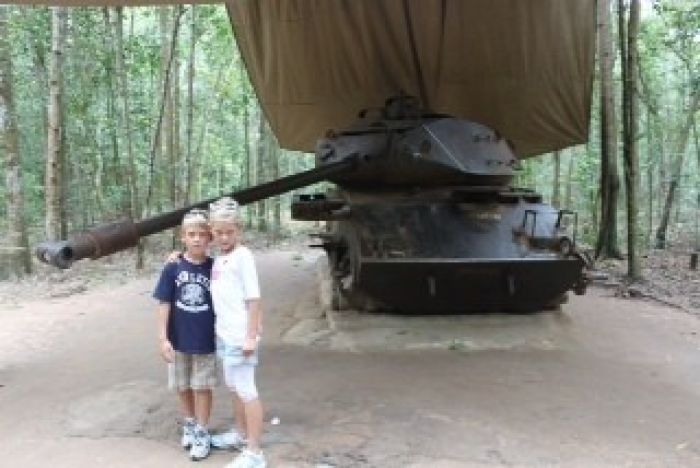 Day 1: Hanoi Arrival
Arriving at the Noi Bai international airport in Hanoi, you will be welcomed by our guide and transferred to your hotel in the city center. Check in your hotel and be free for refreshment after a long-haul flight. In the evening, you will enjoy a welcomed dinner with Vietnamese dish and traditional live music at a local restaurant. You will spend a night in Hanoi.
Day 2: Hanoi Orientation (B/L)
After breakfast, you will start your full day Hanoi orientation with the visit to Ho Chi Minh Complex including Ho Chi Minh's Mausoleum (viewed from outside on every Monday, Friday and afternoon as it's closed), his house on stilt where he lived and worked, his garden with thousand kinds of tree and fish pond. This complex also comprises the One Pillar Pagoda, whose origins date back to the foundation of city. After lunch, visit the Temple of Literature, the first university in Vietnam dating back to the 11th century. The gardens and well-preserved architecture offer a relaxing glimpse into Vietnam's past. Next, you will return to the bustling Old Quarter of Hanoi for a cyclo ride/electric car around 36 old streets which were named after the specific goods once offered for sale at these places. Stop at Hoan Kiem Lake to learn about legend of the lake and visit Ngoc Son Temple, followed by a Water Puppet show- a uniquely Northern Vietnamese art form depicting scenes from rural life and episodes of national history. Your overnight will be in Hanoi.
Day 3: Hanoi – Ninh Binh – Hoa Lu – Tam Coc – Bich Dong (B/L)
After breakfast at your hotel, you will depart to Ninh Binh where located Hoa Lu, the former capital of Vietnam in the 10th century. Visit Hoa Lu with the temples of King Le and Dinh before continuing your drive to Tam Coc (means three caves). A sampan are waiting for you there and row along small canals with rice and lotus field on both sides (especially in Summer time from May to July) and surrounded by limestone peaks. The sampan takes you thru three caves. The boat can also stop to visit some pagodas if you wish. Return to the harbor after a two-hour boat trip and lunch will be served at a local restaurant with Vietnamese food. After lunch, take a short bike/drive on country side peaceful road to Bich Dong cave, which was conferred by a King the title "Vietnam's second most beautiful grotto". You will climb up to the Truong Yen Mountain (Buddha's palm), charmed by the marvelous scenery offered by the mountains, rivers and pagodas. Overnight in Ninh Binh.
Optional visit in Ninh Binh: There are many interesting landscapes in Ninh Binh and our other suggestions are Bai Dinh Pagoda and Trang An Grottos.
Bai Dinh pagoda is endowed with both scenic beauty and historical value. It is considered the largest complex of Buddhist pagoda Vietnam, which is either old or new.
The old Bai Dinh Pagoda sits on a 200m high mountain, which has been recognized as a cultural and historical heritage site of Vietnam.
The new Bai Dinh Pagoda covers about 700 hectares, near the site of the old one. On the way to the old pagoda site, pilgrims have to climb stone steps to small ancient places of worship to pray for good luck and enjoy traditional ceremonial singing performed by local artists.
Through the gate into the new Bai Dinh Pagoda area, visitors will see 500 Arhat statues, each 2.4 m high and weighing about 4 tonnes, standing or sitting on both sides. The Bai Dinh Pagoda complex boasts having the biggest bronze Buddha statue in Southeast Asia, about 100 tonnes in weight, and three 50-tonne Buddha statues and two huge bronze bells. Every year, the Bai Dinh Pagoda Festival is held on the sixth day of the first lunar month, attracting tens of thousands of visitors.
Trang An grottos, a community of mountains, caves, river-valleys, woods and cultural and historical relics. This grotto is a gathering of 31 valleys, 50 cross-water caves, and home to 600 kinds of flora and over 200 kinds of fauna, many of them in the Red Book of Vietnam, according to the Vietnam News Agency. Each of the caves has its own beauty with many stalactites in a profusion of color. Some of the caves are Toi (Dark) Cave, a 315-meter deep and dark cave, Sang (Light) Cave, a 112 meters deep lighter cave. There is also a 260-meter Nau Ruou (wine brewing) Cave, which, according to legend, has water that makes a delicious wine. Ba Giot (Three Drops) Cave, according to legend, grants a wish to those who catch three drops of water. Unlike Tam Coc grotto, Trang An forms an "indoor" journey and visitors rowing through the cross-water caves get the sensation of a labyrinth. Visitors enter easily enough but need a local guide to find the exit.
Day 4: Hanoi – Ha Long Bay (B/L/D)
After breakfast at your hotel, you will drive to Ha Long Bay thru the vast green rice fields of the Red River Delta. The route takes around three hours and a half drive and around 30 kilometers to the bay, you can smell the salty and fishy air of the sea. Ha Long Bay, one of the World Natural Heritages recognized by UNESCO with over 3,000 spectacular limestone islands rising from the clear, emerald sea in the Gulf of Tonkin. Upon arrival, welcome aboard. Enjoy welcome drink before check in at your cabin. While the junk is passing many rocky islets, caves, floating villages and beaches, your lunch will be served on board with fresh seafood. In the afternoon, visit a floating fishing village by rowing boat. Meet and talk and take photos with the villagers. Late afternoon, your cruise will stop at a quiet lagoon for overnight where you can take time to swim, relax on sundeck or kayak (with extra charge of US$20 per double kayak). Followed the sunset, your dinner will be arranged in a warm atmosphere restaurant between gently lapping waves. Overnight on board.
Day 5: Ha Long Bay – Hanoi – Danang – Hoi An (B)
Breakfast is served while the junk cruises around Ha Long Bay, passes by many islets named by their shapes such as Dog, Incense Urn, Fighting Cock, Finger, etc. Stop for a while to explore Surprise Cave - one of the most beautiful caves of the bay. The junk then continues cruising towards the wharf. Check out your cruise at 10:00am. Our car/bus is ready there to pick you up towards Hanoi and then straight to the airport for a flight to Danang. Upon arrival, you will be welcomed by our guide and transfer to Hoi An town. Check in your hotel and spend the overnight in Hoi An.
Day 6: Hoi An – Tra Que Village (B/L)
After breakfast, you will enjoy a light walking tour along peaceful narrow streets of Hoi An with numerous boutique shops on both sides. You will stop to visit: a 400 years old Japanese Bridge, a 300 years old Chinese temple, a 200 years old Vietnamese former merchants' house. Lunch will be served at a local restaurant.
In the afternoon, you will ride a bicycle to Tra Que Vegetable Village, a charming little village on the edge of Hoi An. The village is famous for sweet scented and green vegetables that spice up on the daily meals of local people. Come here, you will have a chance to discover the art of cultivating and plant watering, cooking and tasting special local dishes. You will take a trip around the vegetable garden and join the farmers in preparing the land and fertilizing it with seaweed from the local lake. Continue doing some next steps such as: raking the ground, sowing, watering greens, picking greens and many more gardening activities. Then enjoy foot massage and spend the rest of the time to learn how to prepare 'Tam Huu' spring rolls & rice pancake with the host. Ride back to your hotel by bicycle. Your overnight will be in Hoi An.
Day 7: Hoi An – Hue (B)
In the morning, you will be free at leisure or spend the time for clothes tailoring. Tailors in Hoi An can satisfy the most demanding guests and the work can be completed within 24 hours with some additional cost!
In the afternoon, we will leave Hoi An to Hue with a stop in Danang to visit Cham museum where you will see the open air collection of Cham breathtaking sculptures. You will stop at Lang Co beach for swimming if you wish and take the panorama view of the centre coast of Vietnam from the top of the cloudy Hai Van Pass. Arrive in Hue, check in your hotel and be free for dinner. Overnight in Hue.
Day 8: Hue City Tour (B/L)
After breakfast, you will have a full day Hue city tour. The tour will start with the Imperial Citadel including the Citadel, including Flag Tower, Ngo Mon Gate, Nine Dynastic Urns, Nine Holy Cannons, Thai Hoa Palace, Forbidden Purple City (Tu Cam Thanh). Following a lunch with Vietnamese dishes, you will board a cruise upstream Perfume River with stop at Thien Mu Pagoda and the mausoleum of King Minh Mang. Drive to visit the mausoleum of king Tu Duc. You will do shopping at Dong Ba Market before returning to your hotel. Overnight in Hue.
Day 9: Hue – Ho Chi Minh City (B)
You will take the midday flight to Ho Chi Minh City. Pick up and transfer to your hotel. Check in your hotel and then take half day city tour including the War Museum, the Reunification Palace, the Old Center Post Office and the Notre Dame Cathedral. Your last visit today is Ben Thanh Market. Walk thru the market and try to bargain like a local resident. There are thousands of local products to choose including tropical fruit from the Mekong Delta. You will spend the night in Ho Chi Minh City.
Day 10: Ho Chi Minh City – Cao Dai Holy See and Cu Chi Tunnels (B/L)
In the morning, we drive to Tay Ninh to see the ornate temple of Cao Dai and attend the fantastic mid-day ceremony when the followers fill the hall wearing colored robes, a symbol of the extra combination of the Confucianism, Christianity, Taoism and Buddhism. After your lunch time, you will visit the Cu Chi Tunnels, which are 70 kilometers to the northwest of Ho Chi Minh City, created since 1948 to assist the Viet Minh to combat the French. This is an underground city with living areas, kitchens, storage, weapon shops, field hospitals, command centers. During the American War the entire area of Cu Chi was designated a fire free zone and was heavily bombarded. From 1988, two sections of the tunnels have been open for visitors. You will drive back to Saigon in the late afternoon. Your overnight will be in Ho Chi Minh City.
Day 11: Ho Chi Minh City – Mekong Delta – Vinh Long – Can Tho (B/L)
After breakfast at your hotel, you will leave the bustling Ho Chi Minh City to the Mekong Delta in a good time to observe the most crowded hours of Cai Be floating market. Unlike floating market in Thailand, there are bigger boats here full of coconuts, watermelon, potatoes and many other crops. These big boats came from the provinces along the Mekong River and this market serves as the trade area. The boats also serve as the people's home since it can take days or longer to cruise the Mekong River. Afterwards, you will local gardens and houses to see orchard and local daily life and so forth. Lunch will be served at a local restaurant with Mekong River fish and vegetables. After lunch, we drive to Vinh Long, passing lush canals and peaceful villages, the unique natural setting of Mekong Delta region. Stop at An Binh Islet to visit some of the famous fruit orchards. After crossing the Co Chien River, the excursion ends at Vinh Long Pier where our driver is waiting to take your further into the Mekong Delta. You will reach Can Tho in the late afternoon. Check in your hotel and overnight in Can Tho.
Day 12: Can Tho - Ho Chi Minh City (B/L)
After an early breakfast, you will cruise along the small and picturesque tributaries by a motor boat. Keep your camera ready for sunrise photos. We will see the Cai Rang floating market, one of the most beautiful floating markets in the Mekong Delta. See the beautiful scenery and daily activities of the locals. Walk around a village, visit a rice husking mill. Disembark at Ninh Kieu Wharf, visit an ancient house and Can Tho museum. Return to Ho Chi Minh City via My Tho town. Your overnight will be in Ho Chi Minh City.
Day 13: Ho Chi Minh City - Departure (B)
After breakfast, you will be free until our guide and driver comes to pick you up to the airport for your departure flight.