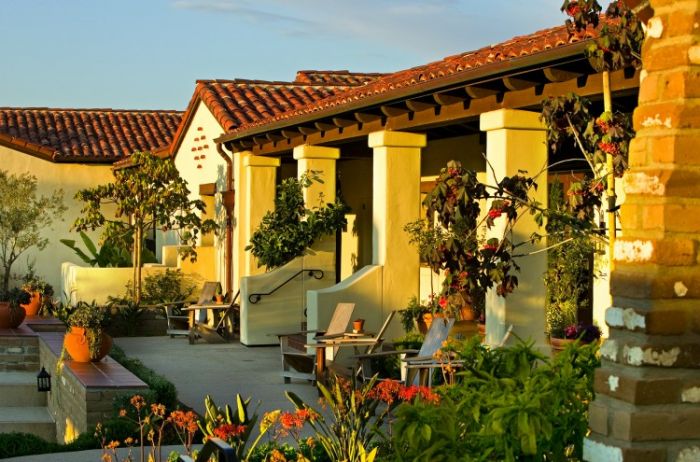 Estancia hotel and spa
Not many places can claim a location next to a nationally revered golf course, a world-renowned university, and an international paragliding destination. But Estancia La Jolla Hotel and Spa does make its 9.5 acre home next to Torrey Pines Golf Course, the University of California, San Diego (UCSD), and the Torrey Pines International Glider Point. The stunning property, formerly a horse stable, the quiet Estancia (or "estate") is one of Southern California's best positioned properties and one of its most inviting. What follows are a few reasons why this hotel is as captivating as its history, particularly this holiday season.
The Estate of Equestrian fame: The white-brick Hacienda style of Estancia La Jolla Hotel and Spa owes its design to the Black family, the 1880s era local elite who bred horses on the property. During the 1960s, the Blacks gifted UCSD with the property provided the land would be used as a hotel for the betterment of the La Jolla community. In 2004, after assistance from the Historical Society, Estancia La Jolla Hotel and Spa opened to the public. Three brick structures, tediously recreated from the original design of the stables, tack room, and caretaker's cottage, highlight the property's "Rancho" appeal. Terra Cotta tiling, mixed with smaller artisan Mexican Talavera tiles, line the entire lobby. A large iron pendant chandelier warms the room with a pale yellow hue. Exposed beams made with California native Douglas Fir form the fireplace mantle and awnings of the lobby, again evoking a timeless feel of the hotel's former ranch years. The detail of the gardens, handled by local landscape firm Burton Associates, are just as impressive as the hotel's interiors. Six hundred trees, from fig to orange, span the property, as well as 165 palms and numerous flowering bouquets.
Spa sensations: One of Estancia La Jolla Hotel and Spa's best features is its "California classic" spa, tucked behind the resort's 60-foot salt water pool and under voluminous bougainvillea vines. A small boutique fills the reception area, well-stocked with luxury fitness attire brands and international skincare lines. I checked in with an iPad before an attendant waltzed me to the women's facilities. I then enjoyed a eucalyptus steam before relaxing outdoors by the fire and warm terra cotta tiles. The spa has 11 treatment rooms (two outdoors), just enough to offer an array of specialized massages and facials but few enough to keep the spa intimate and tranquil. Feeling festive, I went for the seasonal Warm Ginger Pedicure completed in the spacious "Nail Bungalow." It's doesn't get more Christmas in California than a luxurious outdoor gingersnap scented pedicure in November. Ginger, known for its anti-inflammatory properties, is ideal for tired toes busy from the holiday's events. This pedicure includes a ginger-based Spa Cocktail and warm fireplace.
Cheers and holiday happenings: In addition to an exceptional spa, Estancia La Jolla Hotel and Spa is home to two restaurants I particularly enjoyed, Mustangs & Burros and Trinitas Cellars Wine Bar. My guests and I loved the hacienda-style vibe of Mustangs & Burros and spent a fall evening in front of the outdoor fireplace while savoring tacos and tequila. Our charming server told us to return soon, as the restaurant will be debuting its own ELJ Single Barrel Herradura Tequila. In case Southern California weather proves too chilly, locals and desert guests alike can warm up at the Trinitas Cellars Wine Bar with a single barrel Jack Daniels Whisky shot. Throughout the month of December, "Whisky 101" sessions will be hosted every Thursday by Danny Fancher, the hotel's Director of Food & Beverage, Sommelier, and aficionado of the hardy liquor. For New Years Eve, Adobe El Restaurante will host two seatings for a 4-course dinner at a quite reasonable $60 per person. Included is a champagne toast for either the midnight strike or the East Coast's ball drop.
Estancia hotel and spa
Estancia hotel and spa