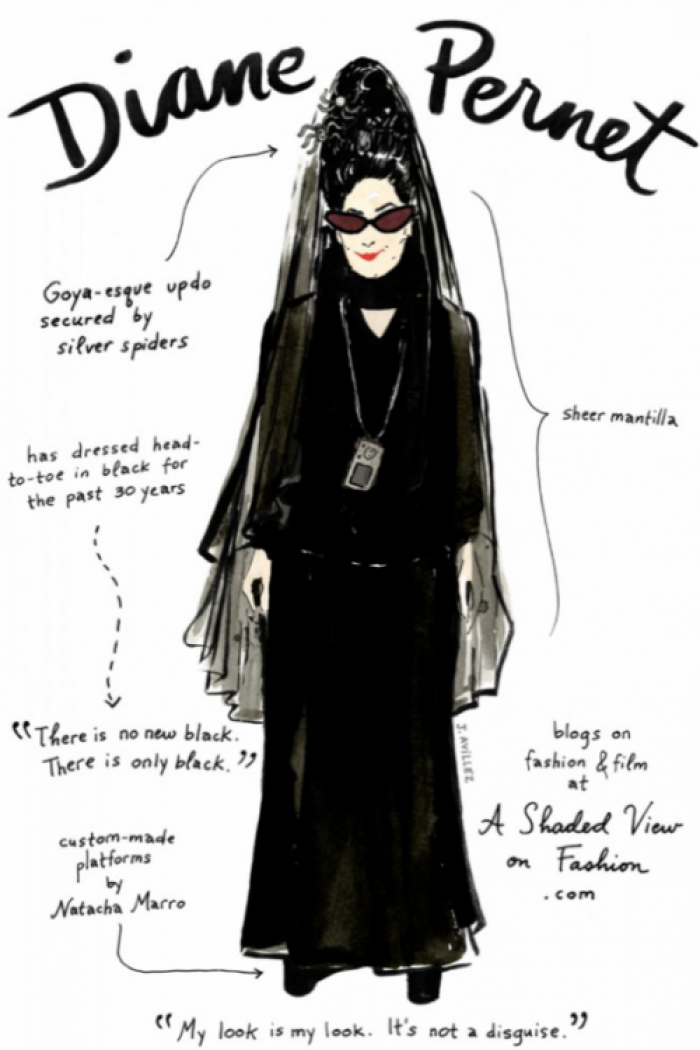 Refinery29
Prior to the 1970s, each society generally grasped on to one fashion trend at a time. The introduction of different trends came not just because of polarized political views, but also from the true beginning of mass production in clothing, often with inexpensive fabrics, such as polyester. Each subculture in society adopted its own style of dress, which we now consider to be a normal mode of self-expression. A punk's rebellious clothing, hairstyle, and piercings might seem different and daring, until you consider that he is dressed just like everyone else in his community. He is, in effect, a sheep following the crowd, albeit a less mainstream one.
As a whole, the fashion industry likes to think of itself as a sheepherder of sorts, creating and guiding trends for everyone else to follow. But the phenomenon of wanting to be different by being like everyone else is actually par for the course in the fashion industry, even when it comes to marketing.
A classic example of this herd mentality is the now-ubiquitous fashion film. Diane Pernet, founder of A Shaded View on Fashion (ASVOF) and one of the earliest fashion bloggers, was the first to really bring attention to digital fashion films in 2008. A respected member of the global fashion community, Diane Pernet has an impressive résumé and is currently a curator of art, fashion, and film exhibitions around the world. By 2009, "fashion films" became all the rage in the industry, and now, just a few years later, they are almost mandatory. However, brands shouldn't do a fashion film just because it's fashionable to do a fashion film, but because online videos are a crucial component to any brand's digital presence.
Fashion films that are extensions of the ad campaign are no-brainers. PPR Luxury Business Group's Yves Saint Laurent is particularly efficient about this. If you are hiring top-notch creatives like Inez Van Lamsweerde and Vinoodh Matadin, why not add in a little extra planning and film a fashion video during the print campaign shoot, since the incremental cost is nominal? Lanvin and Prada do a great job at hinting at video in their print campaigns, delivering a little viral something extra to seek out online, then completing the loop with complementary visual merchandising. Video marketing is today's version of the television commercial, but videos can be more in-depth and they reach a highly targeted audience. Even better, take it one step further and launch shoppable videos, which are the ultimate combination of current sales and marketing tools. It should be natural to consider video a part of any campaign these days, but that does not mean pulling together a huge budget for a fashion film just because it seems like everyone else is doing the same. True, practically everyone else is doing it—now there is even a Video Fashion Week on Style.com—but "me too" marketing without a true purpose will get lost among the crowds and is a waste of precious marketing budget.
Avoiding this "me-too" marketing applies to many other initiatives or new technology opportunities as well. Another example is attempting to capture mobile attention through an app (application), which is something that most every luxury brand seems to have. In the now very crowded app marketplace, studies show that many apps are downloaded but not necessarily used. A simple guiding principle for any of these types of initiatives is to keep the end user in mind at all times. Apps that are simply "look at us" brand homages do not really provide value to the target luxury consumer and are ineffective uses of the mobile marketing budget. An app needs to provide additional functions that cannot be done online or in-store in order to be truly useful and impactful. Whether the project is an app, fashion film, or collaboration, brands need to make sure first of all that it makes sense for its desired target audience and positioning. Will it really spread the brand's message, or is it just because everyone else is doing it too? Do not jump off the proverbial bridge unless it is a necessary societal shift (such as having a good website), it makes sense for your brand's DNA, and you can do it smarter and better than everyone else.
This article is an excerpt from the book "The Lure of Luxe: Climbing the Luxury Consumption Pyramid" by Jordan Phillips, available in mid-July 2012 on www.lureofluxe.com.