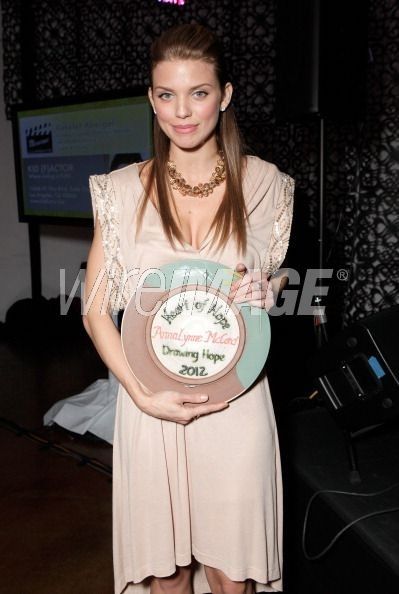 Wire Image
Pushing the limits of art, compassion and healing, celebrities AnnaLynne McCord, Laura Slade Wiggins, Ariel Winter, Shantel VanSanten, Dominic Purcell, Amy Paffrath, Jasmine Villegas, Mary Birdsong, Kyle and Chris Massey, Garrett Morris, came together on the red carpet at the Drawing Hope Gala to show their support for young rape and sexual abuse survivors on March 18, 2012 at The Mark in Los Angeles. Celebrity chef Kai Chase specially prepared the gala dinner, whose VIP clientele include the Obama's, Mary J. Blige and the late Michael Jackson.
Video: AnnaLynne McCord  
http://www.youtube.com/watch?v=hj4cUmNHhDI
Drawing Hope International is a global charity organization, who through Art, helps survivors connect with their own strength, see their beauty and embrace their freedom.
Modern Family's Ariel Winter, who affectionately calls AnnaLynne McCord her "big sister," graciously presented the "Heart of Hope" award to the CW's 90210 star, for inspiring tremendous hope, open-heartedly sharing her passion and time, and gracefully using her notoriety to spread awareness and encourage survivors. McCord's personal cause is the Somaly Mam Foundation, a nonprofit committed to ending sex-trafficking around the world. Upon receiving her award, McCord spoke passionately,  "to encourage sexual abuse survivors to share, with hope and not to be ashamed and to celebrate their courage."
McCord, was stunning in a breathtaking champagne, Cynthia Vincent dress, and made a glamorous couple with boyfriend Dominic Purcell, (Prison Break), as they walked the red carpet and mingled with guests. Ariel brought young, fresh Hollywood to the event wearing a black strapless cocktail dress with layers of ruffled organza.
Fellow actress, Rakefet Abergel presented the "Point of Courage Award" to honoree Laura Slade Wiggins from Showtime's new hit show Shameless, who was quite touched and spoke about how her character, the sex-addict 'Karen Jackson' is perceived on Shameless and how she was honored by Drawing Hope Int'l who awarded her for her realistic and complicated portrayal of the character.
As the celebrities approached the red carpet, they were introduced to celebrity artist and Drawing Hope co-founder, David Ilan, whose powerful project, Points with Purpose, uses a Pointillism technique, each dot representing one sexual abuse survivor; David's goal is that as the dots come together they will represent a survivor who feels confident, proud and beautiful. Ilan says,  "The dots take on a greater meaning by associating them with a real person who has been sexually abused.  My art encourages sexual abuse survivors to claim their inner beauty and strength." (www.pointswithpurpose.org)
TV Host Amy Paffrath known for E! News, MSN and MTV-After Hours was master of ceremonies keeping the mood compassionate, upbeat and fun. Acknowledging that although sexual abuse is a dark and heavy subject, she encouraged the crowd to keep the night's mood one of hope not dread.
Paffrath who got engaged just 2 days ago, showed off her new engagement ring and handsome fiancée, Drew Seely, (Another Cinderella Story) on the red carpet.
Recording artist Jasmine Villegas who is just off Justin Bieber's World Tour, headlined with a entertaining, hip performance while actress, Mary Birdsong, (Oscar nominated film The Descendants), enamored the crowd with both her stylish black cocktail dress and a show stopping musical number. Additional musical performances were given by Billboard awarded singer, Michelle Chappel and duo Sultadelix.   
Shantel VanSanten, star of One Tree Hill, (who epitomized old Hollywood glamour as she graced the red carpet and stage in a striking, sleeveless cream Rachel Roy gown), presented Pranaadhika Sinha, who arrived from India just to receive her "Point of Faith" award for her tireless sexual abuse awareness efforts and lend support to Drawing Hope.
A bidding war developed during the live auction between Days of Our Lives star Arianne Zucker, and the ever-hilarious SNL legend Garrett Morris and co-star of the new comedy hit 2 Broke Girls. Each were vying for an in-home personal gourmet cooking lesson and prepared meal by celebrity chef, Kai Chase, who graciously offered to donate her time and skills to both bidders thus doubling financial donation to Drawing Hope.  

Kyle Massey, (DWTS, That's So Raven) attended with brother Chris Massey, (Zoey 101) who read an inspiration poem by the iconic Maya Angelou to the supportive crowd.  Also lending support to Drawing Hope were Reid Ewing, (Modern Family's Dylan), Aisha Dee, (I Hate My Teenage Daughter), Laura Linda Bradley, (Step Up 2), Marabina Jaimes, (Desperate Housewives Espa?ol), model Barbara Pergament, and Jackie Christie from VH1's Basketball Wives who also interviewed special guests on the red carpet. 

Michelle Easter, co-founder of Drawing Hope thanked the evenings generous sponsors; Izea/Staree, (a world leader in social media sponsorship), Signorello Estate, (producing premium Napa Valley limited production wines), Todidoki Beauty, (Jasmine V's the face Todidoki) Made In Earth, (jewelers) and Photoboothless, each who helped make the night a grand success. Renowned Hollywood make-up artist Jasmine Nordanyan painted enchanting masks on guests who wanted to join the fun. Special thanks went out to VP Carla Domen and Gavin Keilly of GBK Productions who did an amazing job producing another stellar event.
The atmosphere at the Drawing Hope Int'l Masquerade Gala was both compassionate and festive. All of the wait staff bore fun, colorful face masks and the centerpieces dripped with strings of clear crystals which caught the light beautifully setting a warm, comforting mood on the entire evening.  The music was varied and upbeat, the food, a true culinary delight, the award winners, humble and gracious, the host, witting and engaging.  Overall, a triumph for their first Charity Gala, Drawing Hope, the guests and most of all for the survivors of sexual abuse.  www.drawinghope.org

PR/Media Contact: Nadine Jolson, Jolson Creative PR 310 614 3214 jolsoncreativePR@mac.com