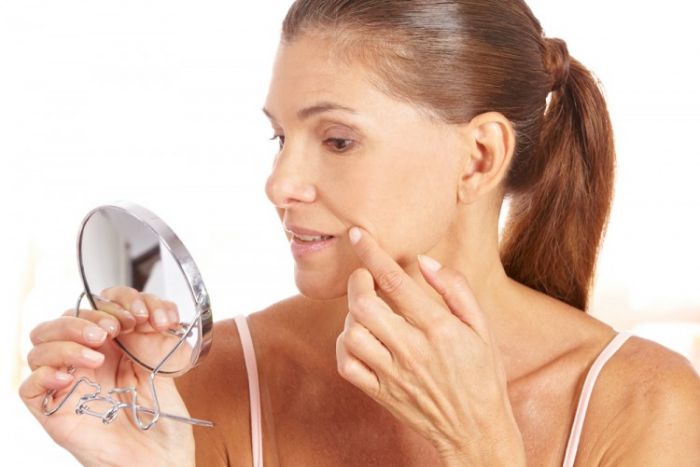 shutterstock
If you are in your 30's, 40's, 50's or beyond and are looking for a way to erase the past ten years in terms of wrinkles, sagging, and problem skin, there is definitely hope. In today's world of natural beauty, there are a variety of natural remedies that can literally erase past wrinkles and prevent future wrinkles from forming, and the best part is there is no surgery involved! By following a few simple steps and incorporating some natural wrinkle creams and serums into your daily skin care regime and making a few simple lifestyle changes, you will be truly amazed at how much younger you look and feel in just a short amount of time. Follow the tips below and watch those frustrating signs of aging disappear, allowing for beautiful and youthful skin.
Exfoliation is Key
As the skin ages, it becomes more prone to dryness and uneven skin tone. Exfoliation of the skin allows for fresh new skin cells to emerge, and by incorporating an exfoliation practice into your skin care regime one to two times a week, you can safely and effectively remove dead skin cells and smooth out imperfections. It is always a good idea to use an all natural exfoliant scrub that contains ingredients such as sugar, salt, apricot seeds, and pineapple enzyme. These natural ingredients are mild yet effective enough to gently remove the top layer of skin and allow fresh cells to emerge. Once you have completed the exfoliation process, the next step is to apply Vitamin E or grape seed oil. The oil will deeply penetrate the skin and lock in moisture for an extended period of time, allowing for optimal healing and renewal. Vitamin E oil is known for its healing properties, and grape seed oil works well to promote collagen production and improve elasticity.
All-Natural Anti-Wrinkle Creams
As the skin ages, it loses hyaluronic acid and collagen, and these substances are naturally produced by the body in order to ensure proper hydration and elasticity. All-natural wrinkle creams with these ingredients work well to bind with the natural skin cells and encourage new production of both collagen and hyaluronic acid, allowing for skin repair at a cellular level. In addition to hyaluronic acid and collagen, ingredients to look for in an all-natural wrinkle cream include Vitamin E, retinol, and shea butter. Vitamin E works to deeply hydrate the skin and repair sun damage, while shea butter works to plump up the skin and smooth out problem areas due to its high emollient content. Retinol is the purest form of Vitamin A, and this amazing nutrient not only hydrates the skin, it also gently exfoliates, allowing for protection against future wrinkles and minimizing of current wrinkles. Applying an all-natural wrinkle cream morning and night will help the skin to naturally repair and replenish itself.
Incorporate Super Foods Into Your Diet
Believe it or not, your diet plays a huge role when it comes to your skin. Super foods such as blueberries, avocado, almonds, blackberries, and even dark chocolate all contain high amounts of antioxidants, and when consumed on a daily basis, these amazing super foods work within the system to fight free radicals and reverse cell damage, and in turn, these fresh new cells will allow for beautiful and glowing skin. Adding a scoop of blueberries or almonds to your breakfast smoothie or topping your meals off with a beautiful slice of avocado can truly work wonders for your skin, and you will also have increased energy and a healthy boost to the immune system.
In Conclusion
There is no proven way to completely halt the aging process, and the reality is that aging is a natural part of life that must occur in everyone. While stopping the hands of time completely is impossible, reversing skin damage and minimizing the appearance of wrinkles is easy when you incorporate natural ingredients and treatments into your daily routine. By changing your skin care regime with weekly exfoliation and all-natural wrinkle treatments as well as adding some delicious and nutritious super foods to your diet, your skin will regain its natural luster and glow, and you will look and feel ten years younger!