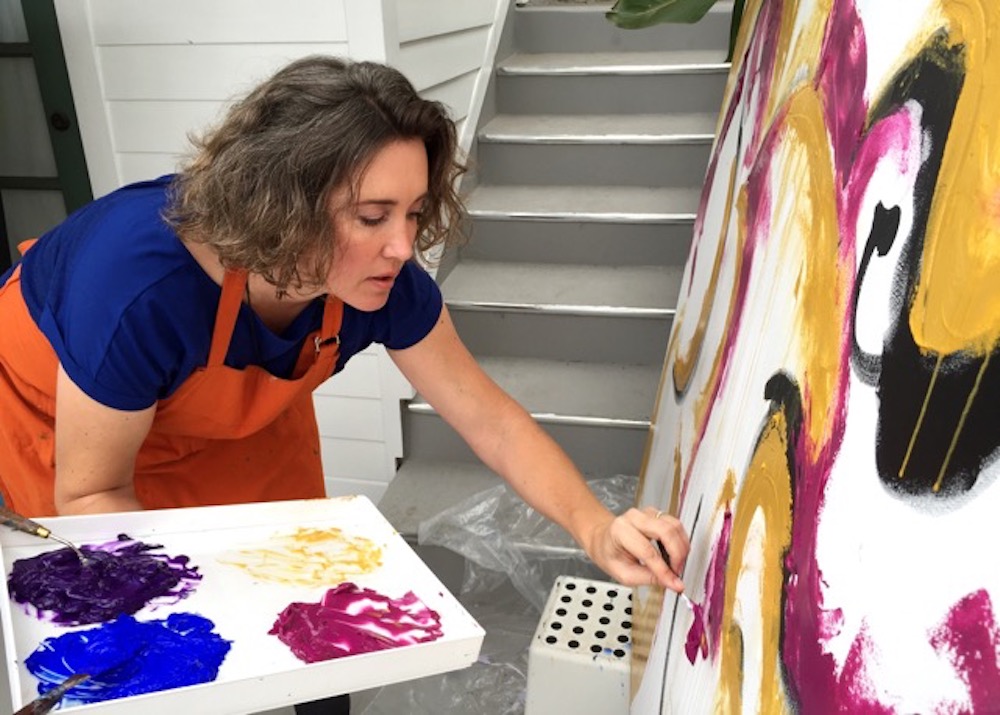 Photos Credit: Lyn Hiner
Lyn Hiner loves to share her love of art and her creative spirit with the world. She spent some time studying art as a student and would help others discover their creative outlet by offering classes in her luxurious Orange County art studio, where she provides the tools to let others explore their souls on canvas. Lyn suffered a serious freak accident after rock collecting on the beach, but throughout her painful recovery she never lost sight of her faith or belief that even in the darkest of times, there is always a light. Lyn creates abstract expressionist works that reflect her personal beliefs and is happy when working on her long-running series. Lyn tells JustLuxe about how her faith and love of beauty and art has helped her through the darkest times.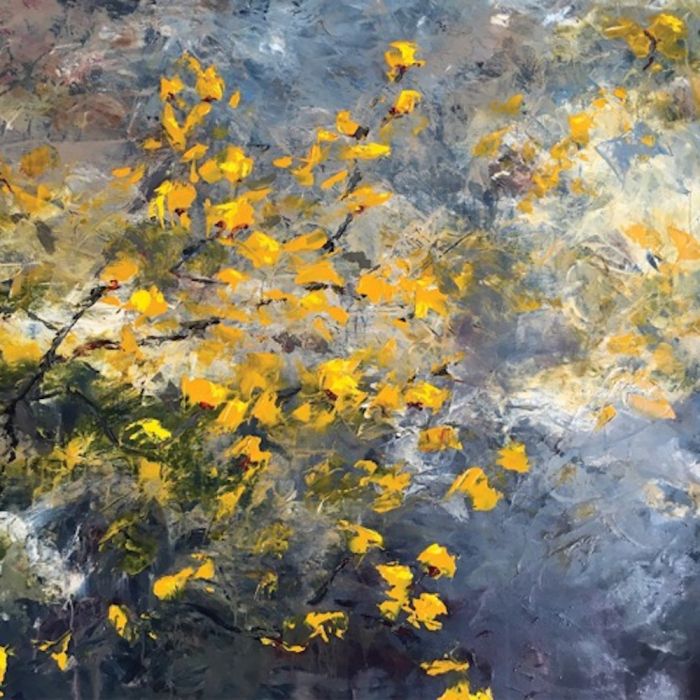 When did you begin working as a professional artist?
I've been a creative most of my life, but made it my career/profession about three years ago. Although I had been teaching art privately, it wasn't until a traumatic event and my full recovery that I rediscovered my love for creating art.
How would you define your work?
Stylistically, I'd say it falls within abstract expressionism. My goal is to extract the essence of my subject or emotion, which is a reflection of my own personal journey. What I want my artwork to evoke is "hope and beauty can be found in the chaos and confusion of life."
How do you feel your work has changed through the years?
I had some technical training in the arts in high school and then briefly at the Pratt Institute. Back then, my work was clearly representational and striving for photo-realism. But at the point when I felt called to make visual arts my profession (many years later), the transition from true representational work to expressive, even to the point of abstraction, progressed rather quickly.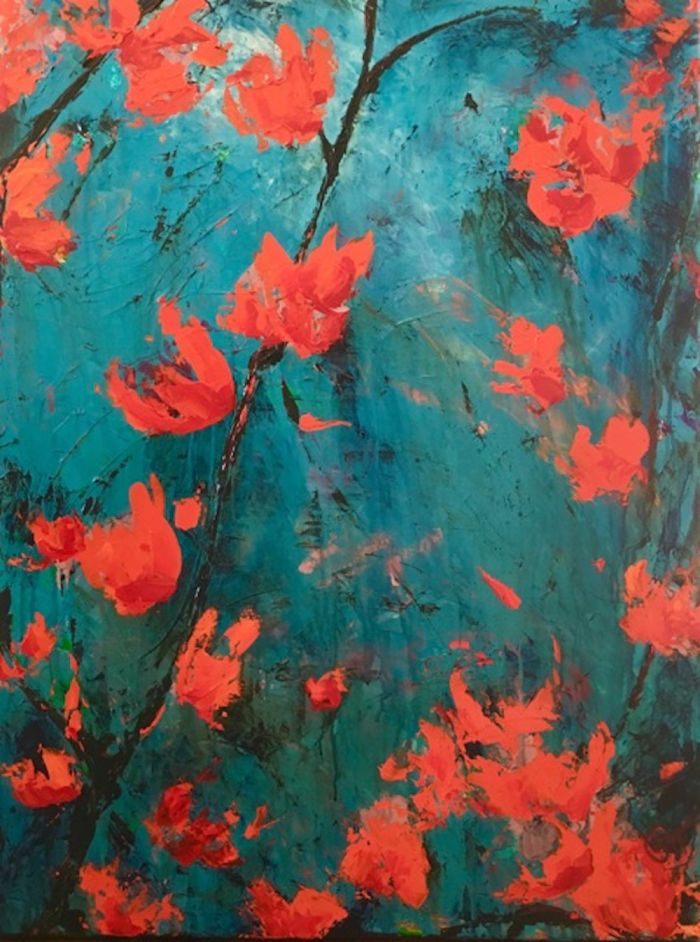 Do you feel your work has a specific narrative?
Painting is a deeply personal experience that draws me closer to my Creator. Trying to extract the essence of what I see helps me truly appreciate the beauty of creation while also giving the viewer a unique experience for themselves. Discovering simple beauty in complex and dark settings can encourage and inspire hope. At least that's what I've learned over the course of my life. Experiencing beauty in difficult times has brought me peace and hope while also enabling me to share beauty with others who may need encouragement as well.
Which artists have influenced you the most?
Oh my! I don't know how to answer that, there have been so many over the years! Georgia O'Keefe, Van Gogh, and Monet for beauty, color and boldness. Rothko for his use of layers to achieve a desired effect. Women artists, who fought to have a voice in an industry that refused to listen for so long, and for those titans who continue to break these ingrained stereotypes that men are better at creating. I don't think they're better, so much as they tend to have more bravado then most women. Having been exposed to museums and galleries throughout the U.S. and Europe, I've been privy to a vast array of genres. I imagine all have influenced me to some degree.
A few years ago, you had a pretty harrowing experience after picking up what you thought was a rock on the beach. Can you tell me a bit about it?
Wasn't that something? I was with my kids at the beach, enjoying a low tide hunt for rocks. I've done this since I was a kid, and I cultivated a love for discovering the details and beauty of rocks, seaglass and small shells in my children as well. There were a few stand-outs, but the highlight was what I thought to be a small piece of amber (I would later find out it was white phosphorous). Wet and hungry, we ate our picnic, played some more, then went home a couple of hours later.
Once home, I was discussing the evening plans with my husband when I felt a searing pain on the side of my right leg. It was as if a magnifying lens was burning a hole into my thigh, which I knew logically made no sense. What did make sense in that split second was a rather large bug must be biting me, so without looking or thinking much else I hit my leg with enough force to kill it. I looked down to view the dead bug, but instead a white-hot flame was shooting straight out from my cargo shorts, and chaos ensued. What I thought was a piece of amber turned out to be phosphorous.
Ten days and two surgeries later, I was released from the burn unit of the hospital, having primarily 3rd degree burns on my right hand and thigh and a few spots where phosphoric acid dripped on my left leg as well. Over the next year, there would be four more minor surgeries addressing scar tissue, plus occupational and physical therapy to battle the effects of the scars and regain use of my right index finger. There is no way to describe what large patches of deeply burned skin feels like while its going through the healing process. Due to the damage in our home, we were moved into a hotel for over two months while repairs were done. It was the very definition of upheaval and chaos. But here's the beauty: I was alive! My kids were unharmed! That phosphorous could have ignited at any time, but by God's grace, it didn't happen until we were home.
That year or so wasn't easy, by any stretch of the imagination! But in the five years since that crazy event, I have seen a variety of ways God has used this story. Not just personally, cherishing the love and time with those dearest to us, but also in the lives of others; a profound shift in my trusting God and letting go of the fear and what-if's. Prayerfully stepping into the unknown. It's been incredible, actually.
You had to deal with the physical trauma, along with being thrust in the limelight for something you would rather have never happened. How do you feel that impacted you as an artist, if indeed it did?
The media attention was unexpected, for sure! Hearing there were news vans parked outside my home, and in front of the hospital was surreal! Being on Good Morning America one day after my second surgery is hard to explain…I'm no different than anyone else. I prefer my personal life stay private. But it was a weird story, and we were given wise council by the hospital administrators and friends who were communications experts that we needed to "feed the beast, and it would go away so we could go back to healing." That was exactly what happened. It helps to have people around you who know how to proceed in a circumstance like that.
To be honest, the idea of being under scrutiny under the best of circumstances is trying. But suddenly being fodder for people who didn't know me, simply because there was a story running about me and the situation was exceedingly painful. However, I believe that was preparing me for my profession. The most important lesson in this is I don't let other people's opinion of my style/subject/etc. effect my work. I do me…you do you.
Do you feel that experience in any way affected your work or subject matter?
Absolutely! I believe life events have a way of affecting your narrative, whether you're cognizant of it, or not. This circumstance is no different. Once I worked through the transition of not creating for a long time, to creating what was familiar, to honing in on my personal style/voice, I found that the use of layers speaks to the seasons of life we have. High contrast, and use of dark backgrounds and vibrant subjects was an interpretation of painful circumstances, but that there's always hope – always light in the darkness. Using palette knives helps to deconstruct the details that can (and often do) get in the way of seeing the bigger picture. Regardless, those details are part of the broader perspective, so looking at the artwork from a distance gives you one view, just like moving closer helps you to see all the details that go into the depths of color and beauty. This is a reflection of life's journey, my journey, and it is my testimony expressed in the series, "Beauty From Ashes."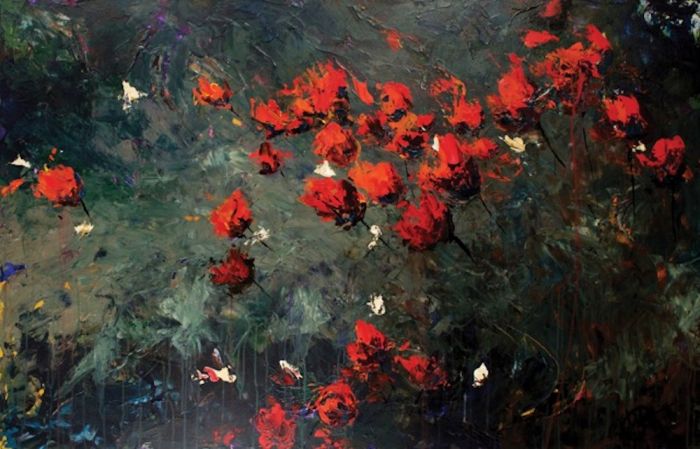 Do you have any current shows or exhibits?
I do! I currently have a handful of pieces from my "Beauty From Ashes" series at Forest & Ocean Gallery in Laguna Beach, CA, with an Artist Reception scheduled for some time in July. I also have a solo show at Anne's Boutique Wines in Costa Mesa, CA, now through early August. This event is like walking through my creative journey, as there are pieces from the beginning of my career, to works that haven't been published yet, 26 works in all.
What are you currently working on?
I continue to add to my expressionist botanical series "Beauty From Ashes," which I still find deeply satisfying, but I'm developing two new series, as well. I have about 10 pieces in an abstract series I am titling "Facades," as well as an automotive series I'm just beginning, which is a story! I grew up with my father racing Porsches, so my appreciation for this exquisite machine began early and grew into a fascination as a teenager. As it happened, and by God's providence, I began working for an auto racing publication and trade show through my 20's, which satisfied my itch to drive high-performance cars! It's also where I met my husband, who shares my love for high performance vehicles.
Fast forward to earlier this year: I created a painting for my husband's birthday of one of his favorites, and posted it on social media, which immediately garnered inquiries and requests for more, which I am more than happy to do. It's a departure from my primary work, but it's so fun to create! We'll see where it goes.
There are other ideas in my head; some long-term objectives, others are shelved indefinitely, but ultimately, I have been called to this profession and I will do it to the best of my ability, and for as long as I have voice to create and an audience who will receive it. Even then, I imagine I will still create, because that's who I am and what I was created to do.