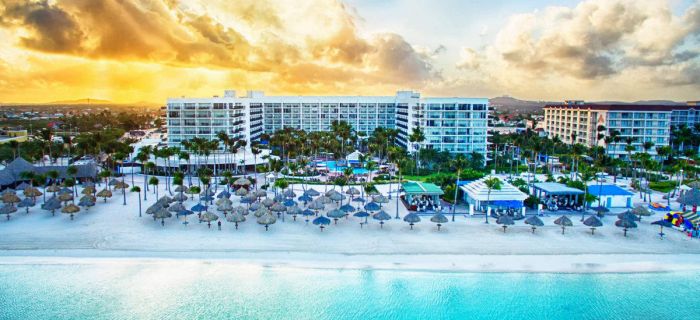 Photo Credit: Aruba Marriott Resort & Stellaris Casino
Aruba is a very popular destination for vacationers. Its sapphire waters are brilliant, its breezes calm, its people welcoming, and at its resorts, casinos abound. The Aruba Marriott Resort & Stellaris Casino is a perfect example. At Vela Adventures here, guest may rent kayaks or stand up paddle board with instructors. All along the beach, vendors and kiosks offer recreation, excursions and activities.
The executive chef offers a cooking class. Speaking of cuisine, nearby Pincho's Bar & Grill serves up fine fare on a floating candlelit pier. Try the Citrus Marinated Duck Breast, the Black Angus Filet Mignon in truffle butter sauce, or the Boursin and Apple Stuffed Pork Tenderloin.
Aruba's terrain varies widely. See the coast and the desert side-by-side, en route to Rancho Curazon, where forager, fisher and herbalist Frank Kelly explains local fauna and prepares a steamed natural lunch. De Palm Tours' UTV Cove Coast Island Tour brings drivers and passengers to off-road sites such as a historic chapel, a lighthouse, and the ruins of a gold mill, which you'll climb like a castle. Wear sunglasses, as there are no helmets or goggles, and it's a dusty, bumpy ride. Pelican Adventures catamaran cruises transports guests to snorkeling, with snacks aboard.
Aruba has many romantic restaurants, among them Papiamento. Savor seafood amid a garden, decorated trees and strung up lights. You'll love the sweet potato mash and the bouillabaisse with coconut and curry accents. Sunday vacationers must visit White Modern Cuisine for a classy brunch. Couples dine by sunset, then starlight and tiki lamps at Passions on the Beach. Order grouper and lobster thermidor, Retro Lamb, or The Ranch And Reef (lobster & filet mignon). Top the night off with key lime pie, Pineapple Sensation, or the very French Tarte Tatin. The beach restaurant has an instrumentalist performing lovely ballads. All this makes for "One Happy Island," Aruba's fitting nickname, as many happy tourists can attest.