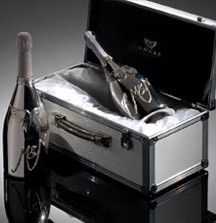 Angel Champagne
Question:
I have a friend in NYC. She's having her bachelorette party in Miami and her wedding in Turks. Do I still give a gift?
Taylor's Answer:
Simple answer: No. Your presence is the present. However, your friend may not see it that way. If you are being invited to a destination wedding, odds are the couple considers you to be a close friend. Although destination weddings are notoriously expensive for guests traveling to the destination due to all of the costs associated with doing so, it's also costly and time consuming for the couple too. When they made the decision as a couple to have a destination wedding, they did so knowing that not everyone they'd ideally like to be there will be able to attend because of the cost, scheduling conflicts, etc. While you are not obligated to give a gift you should and here's why as well as an alternative:
1) You're not obligated to attend: Regardless of your situation, attending your friend's wedding is still optional. You were invited and you've decided to go to Miami for her bachelorette party and her wedding in Turks & Caicos despite the cost. Unless she's forcing you, you made the decision to attend on your own. Besides, you're also getting an incredible trip out of it. You're benefiting from the experience, too.
2) Your friendship might be affected: Consider how close of a friend she is to you as well as your financial situation. If she's someone you've known for many years and buying a gift would break the bank, maybe you can speak to her about your situation. Be honest. If you can't afford it, you can't afford it. But if you're only second guessing buying a gift simply because you don't feel like spending additional money, realize that while it's okay to do so, no gift at all could create friendship issues later on. She may view your decision as being unsupportive of her marriage.
3) You'd standout from the rest: Destination weddings typically consists of a very small group of the couple's closest family and friends. If you're the only guest to not give the couple a gift, rest assured that everyone will notice. You will probably be one of very few people who opted to go that route. Also, the couple won't forget and it's not because they cared so much about the gift itself, but simply because you'd be the only one to do it.
4) Give something small or thoughtful: You don't have to purchase something expensive. As they say, it's the thought that counts. A tried and true inexpensive gift is a beautiful picture frame. You know for a fact that they will use it. Bed Bath & Beyond offers an affordable variety, and on top of that, you can also use their 20% off coupons.
5) Offer a service: If you're particularly good at something, offer to provide a service in lieu of a gift. If you're good at beauty services, offer to style the bridal party for hair, makeup, nails, etc. If you're musically inclined, offer to perform. The couple will appreciate the service(s) you offer especially since you'd be helping them to save money on those services they would have ordinarily spent on hiring someone.
6) Golden Rule: If the roles were reversed, ask yourself how you would feel if a dear friend of yours, who you were kind enough to invite to be a part of your special day, didn't think highly enough of you to spend that extra money on a wedding gift. Ask yourself if that is how you'd like your friend to remember you.
If you're struggling over whether or not to spend an extra $50 for a gift, you probably shouldn't be going to the wedding in the first place because you really can't afford it or because you aren't that close to the couple. If the trip will be a stretch for you, it shouldn't be a question of whether you get a gift, you just shouldn't go. The couple will understand.