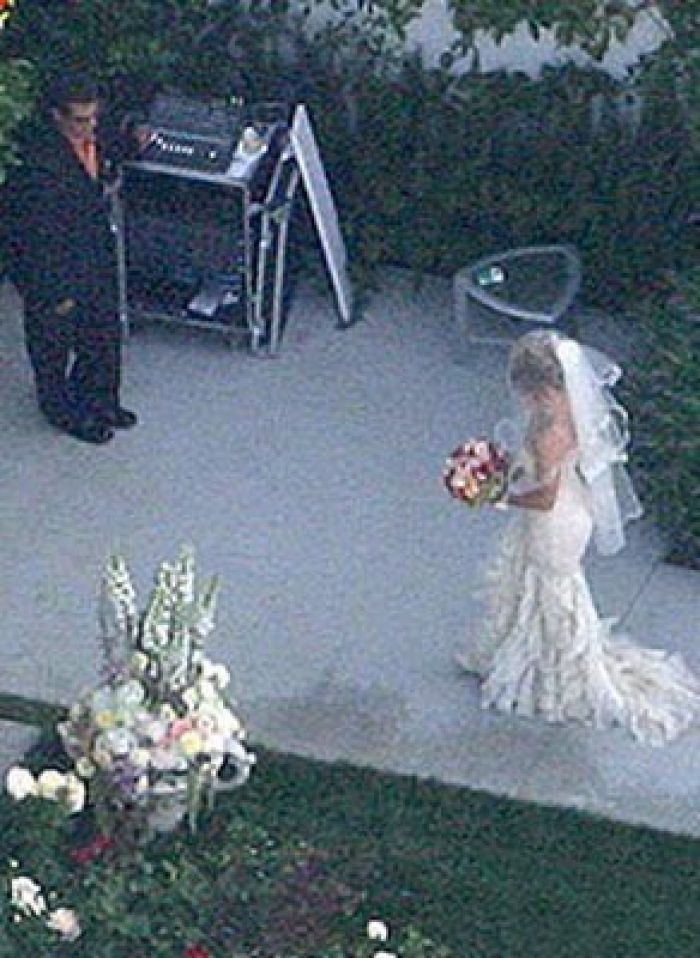 fanpop.com
Question:†
Any suggestions for a wedding gown design for a bride with a large bust, large bottom, wide hips and thick waist. Bride's prone to suddenly losing or gaining weight depending on stress/peace of mind!
†
Taylorís Answer:
Dear Miss Va-Va-Voom,
†
My first concern is your statement ďBride's prone to suddenly losing or gaining weight depending on stress/peace of mind!Ē Planning a wedding can become quite stressful due to the enormous amount of decisions to be made, dealing with the varying personalities of your bridesmaids and other members of your wedding party, and the dreaded guest list, among other things. When buying a wedding gown, itís typically bought six months or more in advance. Your fluctuating weight will only serve to further add to that stress. Here are a few tips to make the wedding dress shopping experience a little less stressful and my wedding dress style recommendation for your body type:
†
1.††††† Avoid costly gown alterations due to yo-yo dieting: Get your weight under control sooner than later as you plan your wedding. I assure you, the stress will come and as your wedding day approaches, youíll begin to feel that anxiety even more. Keep in mind that altering a gown can be costly, and if your weight keeps fluctuating throughout the planning progress, youíd constantly have to make changes to your gown during your various fittings so that it looks right on your body at whatever weight you happen to be at the time.
†
2.††††† Snack smarter while you browse for inspiration: Itís easy to grab junk food to munch on as youíre spending countless hours browsing online for wedding ideas and inspiration. Keep healthy snacks close by.
†
3.††††† Get lots of help: If you can, hire a professional wedding planner. Planning a wedding requires a lot of organization and can be very time consuming. If you happen to have a demanding profession, the wedding planning process can seem even more daunting and overwhelming. If youíre unable to hire a wedding planner, consider asking your bridal party for assistance. Delegate tasks to make your life a little easier.
†
4.††††† Accentuate your curvaceous figure: Select a gown that highlights your very best features. Remember that all eyes will be on you on your wedding day, and you certainly want to look your best. Even though you may have envisioned yourself walking down the aisle in a Cinderalla-type-princess-gown, if itís not flattering on your particular body frame, you wonít look or feel your best on your wedding day. The most beautiful bride is a confident bride who looks and feels beautiful.
†
5.††††† Mermaid-style wedding gowns flatters most body types. If you have an hour glass or pear shape, for instance, the mermaid-style wedding gown is a match made in heaven. It will cinch in your waist, hug your curves just right, and flair out at the bottom to highlight your frame with just a touch of a princess feel due to the short train. As an inspiration to you, Jennifer Lopez wore a mermaid-style wedding gown when she wed Marc Anthony. So did Beyonce when she wed Jay-Z.
†
6.††††† Focus on style and fit first, then price. I know this may seem a bit backwards as any professional within the bridal fashion industry would say to avoid falling in love with a gown you cannot afford. I agree wholeheartedly, however, itís most important to find a style that works for you. If youíre on a restricted budget, make an appointment at a high end bridal salon to allow yourself the fair advantage of knowing whatís out there in terms of style. Ask the sales associate to help you find the right gown that works best with your body type. Once you find the style that works for you, if youíre unable to afford the price tag, make a note of the style, and make another appointment at a more affordable salon that carries a similar gown within your price range. This way, youíll have the knowledge of what works for your body and what doesnít the second time around.
†
7.††††† Go to fittings with proper undergarments and shoes. It should go without saying, but if youíll be using Spanx or any other slimming undergarments on your wedding day, be sure to wear them while dress shopping as well, and to all subsequent fittings for proper measurements. Whatever shoe youíll be wearing, wear those as well so youíll see how the dress lays.
†
8.††††† Avoid a full belly. Itís easy to get discouraged when gown shopping. Donít drink too much water as youíll feel bloated, and avoid consuming a full meal prior to dress shopping so that your stomach isnít protruding more than normal. It obviously wonít look very good when you see yourself in the mirror, and you wonít feel very good about yourself either. Shopping for your wedding gown should be a wonderful experience, and you should feel as beautiful as you are.