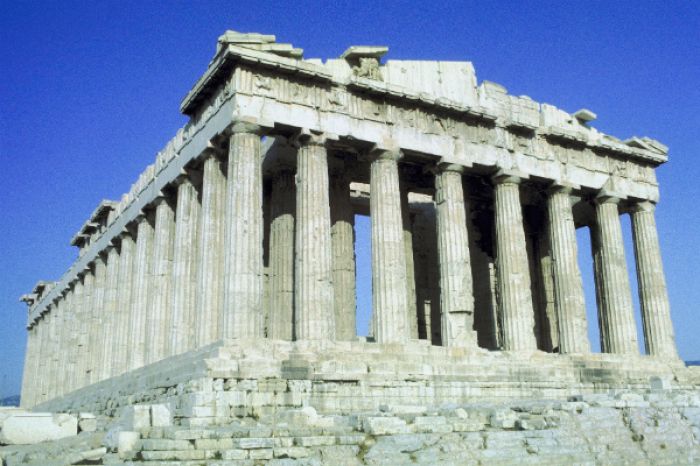 Photos.com
Imagine a place where you can luxuriate in a five-star hotel, immerse yourself in the latest designer fashions, and savor Michelin-star cuisine against a backdrop of marvelous ancient ruins and archaeological treasures. Thankfully, this utopia of euphoria does exist and its name is Athens.
Yes, step back in time and visit the birthplace of civilization--retracing the steps of ancient philosophers, innovative thinkers, and the fathers of democracy--without sacrificing a single amenity of the modern world.

Where To Stay

Athens boasts several five-star luxury hotels eager to meet your every need. Here is a mere sampling of the stellar accommodations that this city has on offer.

• The Margi: Located in the exclusive Athenian Riviera, this boutique hotel is ideally situated steps from the city's most stylish beach, equipped with water sports and scrumptious epicurean fare. With easy access to yachting excursions, a Par 72 Golf course, tennis courts, and an in-house fitness center, this truly is an accommodation worth considering.

• The Westin Athens Astir Palace Beach Resort: This seaside resort, also located in the Athens Riviera, boasts an Olympic-sized pool, on-site tennis courts, a private beach, and two fitness centers. With seven restaurants you will enjoy traditional Greek and Mediterranean cuisine, the Grill Room's wine cellar, and an assortment of lobby and poolside bars. If you desire, you may choose to become a VIP guest and enjoy a range of exclusive services including round-the-clock butler service, access to the VIP lounge, and top-designer amenities.

• The Divani Caravel Hotel Athens: If an accommodation in the heart of the city is your heart's desire, the highly refined Divani Caravel will meet your needs. Equipped with a state-of-the art fitness center, a rooftop swimming pool overlooking the city below, and a top-notch spa boasting over thirty different services, this is the perfect place to rest after a long day of sightseeing. And the exquisite Mediterranean cuisine at Brown's Bar will satisfy even the most discerning of foodies.
Where to Shop

Athens boasts a vast array of fashionable boutiques, high end jewellers, and unique artisans. Here are a few shops that will make you glad you brought an extra suitcase.

• Attica Department Store: Athens most exclusive retailer offers the hottest international designer labels and VIP personal shopping assistance all within a former Grecian mansion.

• Kolonaki: This elite shopping area houses an array of high end retail boutiques boasting both Greek and international clothiers.

• Golden Hall: As a winner of the European Shopping Center Award--yes, there is such a thing--this shopping center is renowned for its stellar customer service, stunning interior, and almost 450,000 square feet of consumer glee.

• The Local "Laiki": These outdoor farmers' markets are a great way to immerse yourself in authentic Greek life, while treating yourself to local fresh foods and other wares. Most regions of this great city have one once a week. Simply ask the locals for information on the next laiki near you.

• Diamond Club Danelian: If you are a firm believer in the adage, "diamonds are a girl's best friend," you may wish to add to your posse by paying a visit to this exclusive shop--the nation's largest diamond importer. With many celebrity clients, you may find yourself rubbing shoulders with Bill Gates or Naomi Campbell.

How to Take in The Sites

If schlepping from one attraction to another via taxi sounds like a nightmare, you may wish, instead, to hire a private tour guide like Best Travel or Private Greece Tours. With fleets including Mercedes Benz, you can leave the traffic headaches to your driver. Just check their online reputation before making any commitment. Don't be confined to the "crowd control" and staid offerings provided by large tour companies. With your own private chauffeur and local guide who knows the city like the back of their own hand, you will experience the splendor of popular sites and little known gems.

Whether you long to explore the Parthenon, navigate the winding streets of the Plaka, take in a few of the city's world famous museums, or trek to the top of the Acropolis, it is best to do it in style. With a host of world-class amenities, Athens truly is a city of wonders--old and new.

What was your favorite Athens experience?