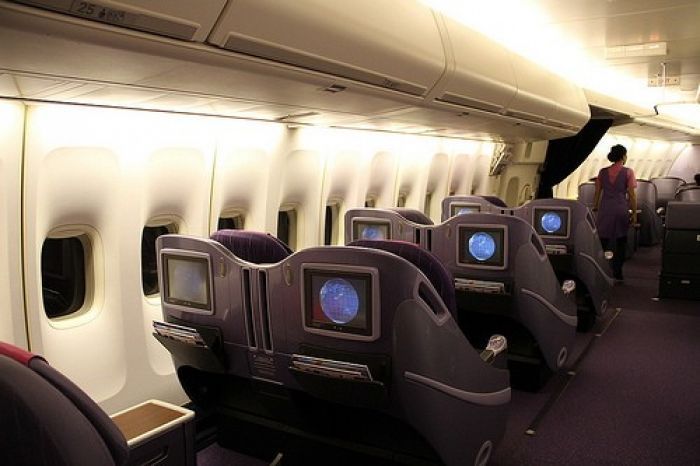 http://www.flickr.com/photos/1
While the cramped economy class and the exorbitant first class flight deals are becoming quite a bother for leisure travelers today business class flight deals, in this scenario, have safely secured a niche by juxtaposing the best of both worlds ---- the affordability of the Economy class and the much coveted comfort of First class. However, there are still some budding leisure travelers with not so deep pockets who have come to regard business class deals as an expensive option as they turn out costlier than the Economy Class deals. But a prudent research would actually aid you in properly estimating the advantages of business class flights, even at the cost shelling out a bit more. Listed below are some.
· Comfort is key with longer flights with the reclining flatbed seats making all the difference between sleepless nights and the soothing ones. Add to that, the great food served thats way better than what's available in the Economy class.
· Luxury holidays are now accessible to a lot many fliers out there with the introduction of budget flights. Upgrading your flight only makes sense here as you are promised superior services in terms of pre and post flight entertainment ( like chauffeur services, luxury lounge entry etc).
· Premium airlines are now increasingly offering lower fares in a bid to court leisure travelers as business traveling is on its decline. This is the most opportune moment to avail due services and make substantial savings.
· For those who think that luxury traveling is all about footing large bills, here is a bit of information for you. The premium flight tickets can be found at discounted rates as well. Chances, however, will be governed by the extent of advance booking of the tickets, connecting airplanes and stop-offs. If you are diligent enough to buy your tickets at least 21 days in advance, there are better chances of securing more impressive deals.
Some Of The Best Luxury Destinations To Head For In The Year Ahead
Now that you are duly ascertained about the obvious advantages of affordable business class flight deals, make sure you're making the most in this regard by heading off for one of these exotic US destinations this season without making a hole in your pocket.
San Franciso: Los Angeles's more sober northern cousin is a definite drawer of foodies, nature lovers and adventurous jet setters alike. Explore its diverse art scene or else its cosmopolitan colours (Golden Gate Bridge) or for that matter its breath taking natural landscape in a perfectly conducive weather.
Honululu: Oahu's capital city, Honululu, is among the many places of the United States that effortlessly juxtaposes the impeccable urban appeal and the much revered historic charm. Some of the must check-outs include
Sunset Beach
Waikiki Beach
Pearl Harbor and the USS Arizona Memorial
Aspen: Known to be the "crème-de-la-crème of extravagant retreats", this one presents an enthralling panorama beautiful mountain chalets flanked by the dramatic Colorado Rockies. A skier's paradise, this place has four leading skiing areas where one can unwind.
Author Bio: Sam Payn is a seasoned travel blogger And web content writer. Besides travel, he also writes about finance and SEO.