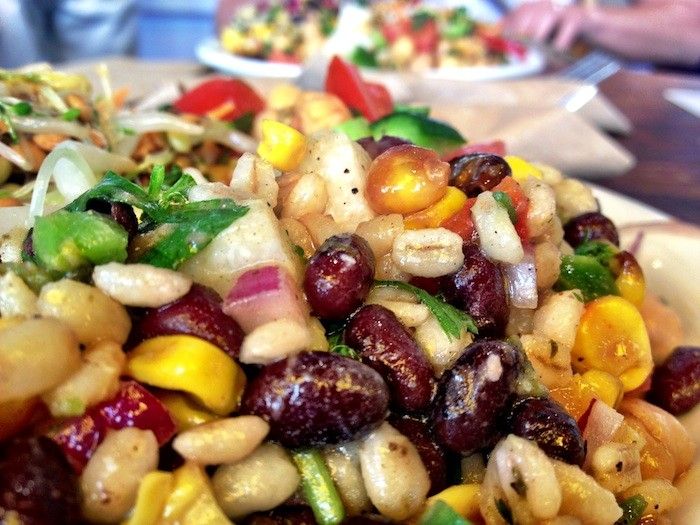 Photo Credit: 2Sense-Los Angeles
M Café, an LA concept restaurant operated by CHAYA, specializes in modern Macrobiotic eats served in a European style café and bakery. With two locations in Beverly Hills and Hollywood serving breakfast, lunch and dinner, the macro spot remains a busy go-to for those looking to eat seasonal foods without refined sugars, dairy, eggs, meat and poultry.
When perusing the large, often changing menu created by consulting Chef Lee Gross, "most diners go for the salads or the Big Macro [house-made whole grain brown rice and vegetable burger]," shares Hollywood manager, Andy.
Personally, we favor the Carolina-style BBQ Seitan Sandwich, ideal for a power lunch or gratifying dinner. The kitchen prepares it on a hearty house-baked whole wheat bun, piling on thinly sliced grilled seitan basted in zesty barbeque sauce and smothered in grilled onions, pickles and creamy coleslaw. Seriously satisfying a craving for pulled-pork, this sandwich is a vegan comfort food treat not to be missed.
And, should you go for the seitan sandwich or M's signature sweet potato fries with chili, sea salt and lime, begin with one of the new summer salad selections for an energizing and light start. Recently added to the menu for the warmer months, cold salads such as Green Papaya; Mango & Sea Palm; Mexican Black Bean & Barley; and Red Beet & Hijiki Salad were created to both cool down and rejuvenate the body. Additionally, wholesome soups, such as Tunisian Chickpea and Lotus Root & Sweet Corn Chowder round out the seasonal shift at M Café.
2Sense-Los Angeles
2Sense-Los Angeles
2Sense-Los Angeles