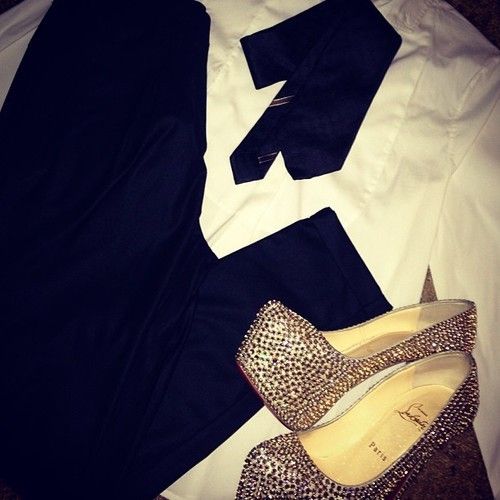 http://d-dior.tumblr.com
In preparation for a party, there are a multitude of things that need to be considered. Which dress will you wear? How will you style your hair? Should you go for a dark, vampy lip or go for nice 'n' neutral? No matter the occasion, we've got the tips that will ensure you look glowing and glamorous at your next RSVP.
Plan Your Outfit Ahead Of Time
There's no worse feeling than opening up your wardrobe to find no inspiration whatsoever; or even worse, nothing fits! Plan your outfit with plenty of time for a last-minute shopping trip. Getting the Christmas party dress right is an art. Aim for something classy, flattering, and simple that isn't too attention-grabbing. This is an opportunity to show your colleagues how you dress at your best, but the work do is no club – leave the skimpy numbers at home.
Sleep Well
Catch up on some shut-eye. Aim to get at least eight hours a day, and if possible, get extra rest on the morning of your Christmas party. It's called 'beauty sleep' for a reason.
Make sure you wash all your bedcovers and pillow cases regularly, as a build-up of oil and dirt can clog your pores, leading to breakouts. 
Allow For Calm Preparation
We know that getting ready for a night out takes a long time: it's a process! Keep Zen as you go through your routine and treat yourself to lots of vitamin-rich, healthy snacks throughout the day, such as fresh berries.
When you rush, you'll feel irritable and out of sorts. Put on some party music to get you in the mood and don't be a last minute lass.
Up Your Skin Routine
You should be maintaining a consistently thorough skin routine already. We can't stress just how important it is to remove all make-up before bed; easier said than done when you are absolutely shattered, we know, but for those moments when you are too drunk or too knackered to go through your normal skin care, at the very least, quickly take off all your make-up with a cleansing wipe.
Always cleanse and moisturise twice a day, and if you suffer from particularly oily skin, use a toner too. Once a week, treat your skin to a natural face mask. You can even make one at home with ingredients in your cupboards, such as avocado and honey. Beauty supplies are easily attainable online.
Beauty Starts Within
Swear off the foods you know are bad for you a week before the big night and eat grub high in the good stuff. With all the extra nutrients (and lack of greasy grub), your complexion will immediately improve. Some moderate exercise also doesn't go amiss, so slip on your running trainers and go for a jog. You'll notice a complete change in your energy levels and in how good you feel.