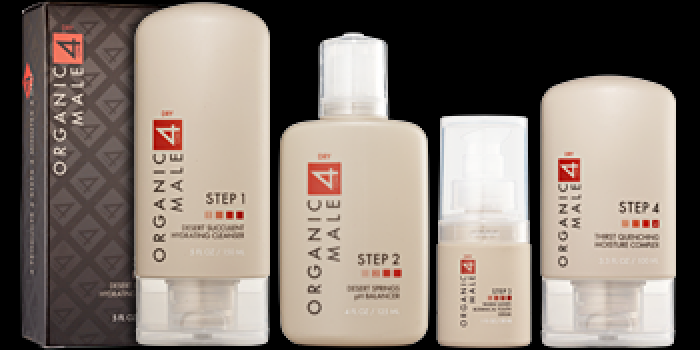 Organic Male OM4
With winter weather in full swing, it's time to make sure you are properly hydrated and moisturized.
Organic Male OM4 has the perfect solution for men – meet the Thirst Quenching Moisturizing Complex from the Dry Skin Collection. The product is designed for dry skin to provide extra hydration with its hydro vitalizing ingredients. Smooth some on your rugged face and you won't believe the results. After just one use, your dry dehydrated skin will appear more revitalized.
While most men don't spend nearly as much time getting prepared for a night on the town as women, it's just as important for men to take great care of their skin. Whether you have dry, normal or sensitive skin, Organic Male OM4 has a skin care line for your daily routine. We love the entire collections, which include a cleaner, ph balancer, serum and moisturizer.
Stylish hair starts with great genes then a fantastic haircut but if you weren't lucky enough to have either, Redken can help. Try the firm grasp texturizng clay that can help you create either a roughed-up look or sleek combed finish. At the end of the day, the product is easy to wash out and leaves no residue on the hair.
Even in the winter, we have thoughts of warmer sunnier days. Beach days to be exact. Now you can have the look of a fresh off the beach hairstyle with Organix Moroccan Sea Salt Spray and Surf Paste.
We love the Sea Salt Spray, a leave-in mist that will leave your tresses looking like a beach beauty. The addition of sea kelp helps to moisturize the hair while sea salt adds volume and Moroccan argan oil increases shine.
Organix