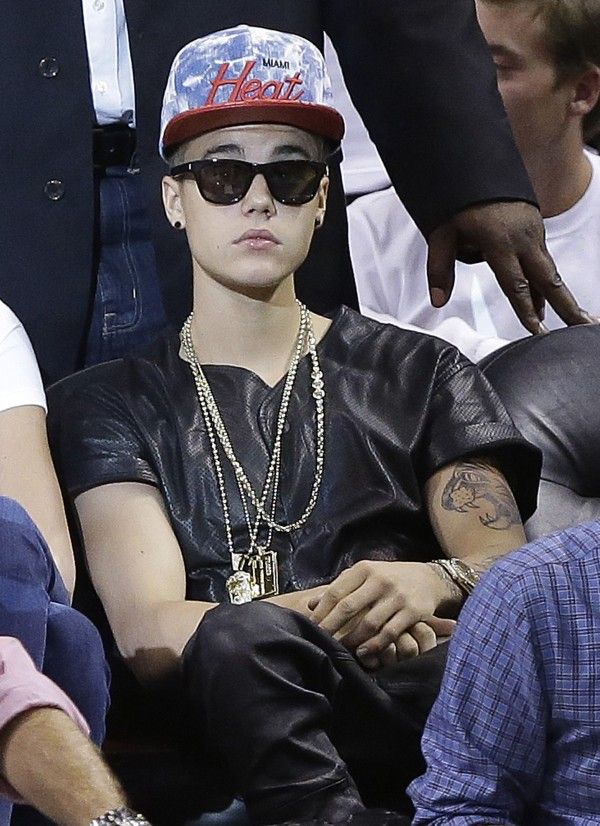 Photo by Lynne Sladky/AP Photo
Once again Justin Bieber has launched a noble endeavor to teach the next generation the ins-and-outs of fashion and style by providing the perfect example of what to avoid. Apparently trying for a bad-boy look, Bieber somehow managed to confuse pleather with actual leather, and hisover-sized hat for something that didn't make his head look comically conical.
Well, Biebs, you've done it again.
Justin Bieber pulled out all the stops tonight, rocking a memorable leather ensemble for Game 7 of the Heat-Pacers series. The outfit also came equipped with multiple gold chains and sunglasses, which were being worn indoors at a time when Justin was not, as far as we can judge, exposed to any direct sunlight. The pi?ce de résistance, however, was the Miami Heat hat Justin wore, which is a weird shade of blue (maybe cerulean?) and has some sort of water effect going on.
Speaking of water–turns out that Justin Bieber is one of those people who does not tip his head when he drinks from a water bottle. He tips the bottle. (Read More)