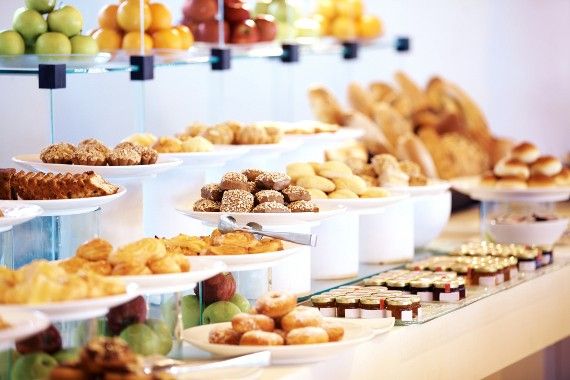 Shutterstock
When you stay in New York City you'll find that even a simple bagel and cup of juice, if you're ordering at an upscale hotel, will cost you an arm and a leg. These are the best complimentary continental breakfasts you'll find at some of the swankiest properties in the city. Simple and fresh, you'll find the breakfast spreads far tastier than the rubber eggs and microwaved bacon of many crowded breakfast buffets.
 The Franklin—Tucked in the Upper East Side of Manhattan, this luxe hotel is a stone's throw from Museum Mile, Madison Ave and Central Park. Its elegant yet contemporary vibe will make you feel like quite the jet setter. Breakfast offerings include a fresh spread of cereals, bagels with all the fixings, decadent pastries and in truly European fashion, artisanal cheeses and savory cured meats.
Casablanca Hotel—The Casablanca is located right in the bustle of Time's Square, the perfect spot from which to enjoy all of NYC's sights and sounds. Rick's Café is the onsite, 24-hour, free treat hot spot where you can always find a freshly baked cookie and a cuppa. Breakfast is also served here and it includes hard boiled eggs, hot oatmeal, fresh baked goods, in addition to fruit salad. Soy and gluten free options are even available! 
The Library Hotel—This stately property is located in Midtown where you'll be close to the New York Public Library and Grand Central. A European style breakfast is offered every morning with delicious croissants, scones and juices, but what is really remarkable is the classy wine and cheese tasting which takes place nightly, on the house! Prosecco, red and white varietals and imported cheeses are paired with tasty hors d'oeuvres in the sophisticated, book lined lounge.
Hotel Giraffe—This hotel is decked out in a unique 30's style Art Modern motif that just oozes sophistication. You'll love the location near the Empire State Building and Union Square. Breakfast is a decadent spread of danishes, muffins and other baked goods, eggs, fruit and berries and yogurt. Available 24/7 are coffee, tea, espresso, cappuccino and of course fresh baked cookies for your enjoyment—all complimentary!
Condor Hotel—This renowned Brooklyn property is removed from the chaos of "the city" and prides itself on its serene, luxurious ambiance. It is situated just off the Williamsburg Bridge so access to the action of Manhattan is only a leisurely stroll away. The Condor truly takes the breakfast standard up a notch with its lavish offerings, including French toast, omelets and eggs cooked to order, and Belgian waffles. Of course for lighter fare there are still the standard fruit, cereal, bagel options. Truly a treat to wake up to!
Noella Schink is a travel writer from Portland, Maine. She recommends Excellent Hotels for your hotel booking in New York and Auto Europe for your car rental in the UK, New York, Paris and beyond.