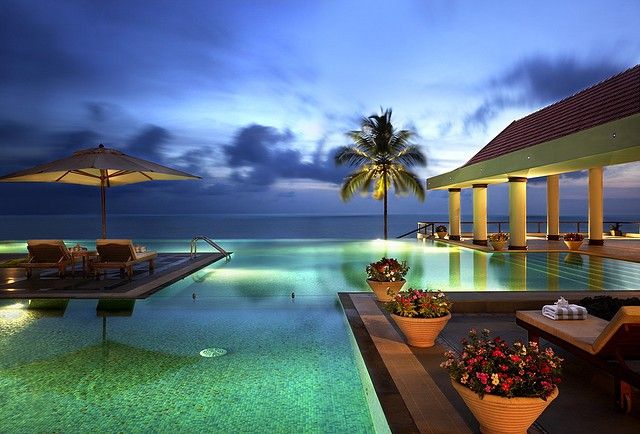 If you're thinking of heading to Kerala for vacation or for one of the famous Kerala Honeymoon Packages, there are various ultra premium luxury resorts along the best places to visit in Kerala that's well worth staying in.

The Leela Kempinski Kovalam
The Leela Kempinski Kovalam Beach is the most luxurious hotel in Kerala.Every room and every wing comes with complimentary sea views and sunsets in this Kovalam beach resort. With 182 rooms and suites dotted over many verdant acres, Kerala's largest beachside resort is cradled between two sweeping beaches. Perched on a rock-face, this 5 star deluxe resort offers the most panoramic views of the famed Kovalam shoreline. The Leela Kempinski Kovalam Beach, Kerala offers a range of services and facilities for leisure and pleasure including An exclusive beach , Ayurveda and Wellness Spa , Badminton , Beach Volleyball , Car parking and valet services , Currency exchange , Excursions and day picnics , Fitness centre ,Florist , Gift shop , Jogging track, Library , News stand ,Non Smoking rooms ,Snooker ,Table Tennis , Tennis and Yoga lessons.
Kumarakom Lake Resort
Kumarakom Lake Resort, one of the finest resorts in Kumarakom and a popular choice of Indian holiday destinations.Kumarakom Lake Resort is a heritage luxury retreat at the famed backwaters of Kerala with luxurious heritage villas, rooms and traditionally styled Kerala houseboats. Much coveted for its seamless blend of ultimate comforts and traditional architecture, Kumarakom Lake Resort ensures the creation of truly memorable experiences.
Marari Beach Resort
Marari Beach is an endless vista of sand and surf, but it is more. An authentic experience of the world of Kerala's traditional fishing villages, and a recreation of an ancient, harmonious way of life.A beach is a beach is a beach. Until you can seek out its living heart, the culture that calls it home.And so, Marari Beach Resort is a celebration of Kerala's coastal fishing villages. Inspired by this ancient way of life, Marari Beach Resort has captured its essence and create a new experience in sensitive travel for the modern-day visitor.Cottages are a fine balance between traditional form and modern function. The roof is palm thatch, but we've added a concrete base that keeps the air-conditioning in and the odd insect out. Bathrooms too, combine modern fixtures with the traditional Kerala open-roofed style. And the little taps outside each cottage are another local touch. The fisher folk use them to clean the sand off their feet, and you can do likewise.
Brunton Boatyard Hotel
Moored on a historic stretch of Cochin's famed harbour , The Brunton Boatyard Hotel was resurrected from the remains of a Victorian shipyard. Today, it gives the modern traveller a unique opportunity to dwell amidst the shadow plays of 19th century history.The Brunton Boatyard possesses a remarkable sense of scale, evident the moment you turn into the tiled forecourt. The lobby is a vault of sunlight and air, framed by arches and overhung with punkahs - enormous, old-fashioned fans of Indo-Portuguese origin.The hotel's nautical past seems to follow you around. On one wall, old Dutch maps, on another, a small navigation device, in the courtyard lawns, an ancient anchor. Walk further, turn a corner, and you find yourself outside the Armory Bar. Perhaps later, you could enjoy a sundowner here, with old Portuguese breastplates and musketry for company.Also near the pool is the hotel's jetty, and a word at the reception gets you a variety of cruising options to choose from. The heritage of Cochin is most evident around its enormous harbour, and this is a not-to-be-missed experience.
Spice Village, Thekkady
Imagine a resort where less is really more. No air-conditioning or television or nightclubs. Just a mirror, held up to an age old culture and a living harmony. This is the tribal village, reborn for the modern traveller. Spice Village Resort is a timeless experience in ecological living, recreated for the modern traveler. Cottages in spice village iss brick and log, the roof thatched with the same elephant grass used in tribal huts, woven in the same traditional techniques.The comforts of a modern hotel exist, but they never intrude. Modern plumbing, comfortable beds and hot showers find their place, but in a setting stripped down to its natural essence.Hewn stone replaces shag carpets. Birdsong takes the place of television. Air-conditioning? Unnecessary anyway in the fine mountain climate, and what would it do but mask the heady scents of spice forests?
Vasundhara Sarovar Premiere, Vayalar
Located on the serene backwaters of Vayalar, around half way between Kochi and Alleppey, the resort is spread over seven acres of land. It has a number of noteworthy features, particularly the way in which it showcases the traditional culture of Kerala. The lobby is decorated with artwork and the golden headgear that elephants wear during festivals. There's an open air amphitheater where arts and musical performances are held, including Kathakali dancing. In addition, you'll find books on the arts and traditions of Kerala, a temple, a garden with medicinal herbs on the premises.

The accommodations are also quite remarkable. The highlights are six floating cottages on a private lake (each with their own Jacuzzi) and heritage villas in a century old building. Of course, the hotel has a luxury houseboat (also with Jacuzzi) as well.

Kerala has boutique and chain hotels with luxury Hotels and Resorts and staying at these places itself is an experience. Finest Luxury Holidays in India at an affordable price through Kerala Luxury Holidays which offers exclusively designed luxury tours with high quality standards ensuring that your holiday is much more than a mere comfortable experience.