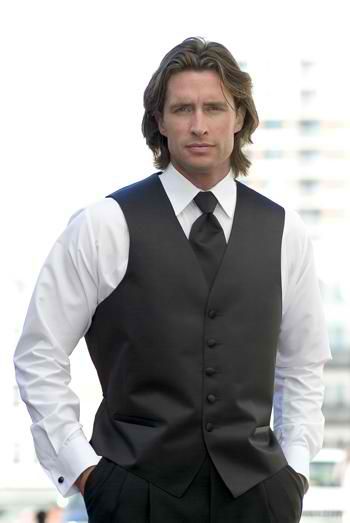 FineTuxedos.com
Black tie events are reserved for very special gatherings, generally among the elite of a specific group. Itís common for political balls to be black tie events, as it is for high-end charity fundraisers. While more and more events are moving toward a ďblack tie optionalĒ format, there are still those occasions when you need to go for the full black tie experience.
When youíre facing a black tie event on your calendar, there are some rules you need to know.
Black tie dress allows a certain degree of flexibility Ė at least, it offers more flexibility than white tie. There are some basic elements men need to wear for a black tie event:
Tuxedo jacket. The dinner jacket should have ribbed silk facings, and usually a peak lapel. Some men choose a notched lapel, although this is usually a less formal choice.
Trousers. The trousers should have either silk or satin as cover for their outer seams.
Dress shirt. The dress shirt should be white, use shirt studs instead of buttons, have cufflinks, and a turn-down collar or a wing collar that detaches.
Tie. The tie should be black silk and match the tuxedo lapel facings.
Socks. Black dress socks of either wool or silk are appropriate.
Shoes. Shoes should be black, well-polished, and either Oxfords or court shoes.
Those are your starting points. Youíve got some leeway for customization, particularly in the areas of jacket facings, cufflinks, shirt studs, and the dress shirt.
For the most part, youíll want to follow those elements fairly strictly. If you show up with a lounge suit, you wear a long tie, or you wear a colored tie, youíre going to stand out Ė and not in a good way.
Making good stand-out choices
There are three areas that you use to put yourself in the top tier at black tie events, in terms of your wardrobe. Today, many men either choose to ignore these traditional components to black tie dress, or they simply arenít aware of how much better theyíll look with them.
1.†
Your waist.
Your trouser waistband needs to be covered, period. You can do that via your waistcoat, your cummerbund, or with a double-breasted jacket. A waistcoat is the most standout option. To take it up a notch, you can choose a white waist cost. Itís less common, but more formal, and echoes a white tie event. Remembering to cover your waist will make you truly stand out, as today many men simply neglect this. 2.†
Your lapels.
You need to have peaked lapels rather than notched lapels for a black tie event. Both are acceptable, but to stand out keep the notched lapels for your day-to-day business suit. Your black tie ensemble should be unique. 3.†
Your shoes.
The shoes do make the man, and the right shoes will make your ensemble for your black tie event. The best-looking shoes are patent pumps with a grosgrain bow. Barring that, you should choose patent Oxfords.
Focus on these three areas and youíll look better than 90% of the other men at the event.
Knowing your event: variations on black tie
Before you attend an event, make sure you know whatís expected. There are some black tie variants you should be aware of:
Black tie optional.
You can wear a dark suit and tie to these events, or you can dress as if for a black tie event. They are slightly more casual than black tie events.
Creative black tie. These events leave a little bit more room for interpretation. You can wear a more modern-cut tux, switch out for a black shirt instead of white, and maybe even forego the tie.
Texas black tie. Themed events may build on the basic black tie idea; for example, you might wear cowboy boots with your tux for a Texas black tie event.
Be certain of the eventís parameters before you decide on your ensemble. You want to stand out in a good way; you donít want to stand out because you didnít follow the rules.
Looking good, all the time
Regardless of the particular kind of event, you need to make sure youíre choosing quality, stylish clothes. Pick your formal wear from a reputable manufacturer. Donít skimp on the fitting and alternations; the right tailoring can make even a budget suit look good, while a, expensive tuxedo that hasnít properly been fitted can make you look disheveled and harried.
Finally, make sure to spend some time choosing the right accessories to go with your black tie event. Cufflinks, shirt studs, and shoes are all ways to express your own style while still fitting into the confines of a black tie event.