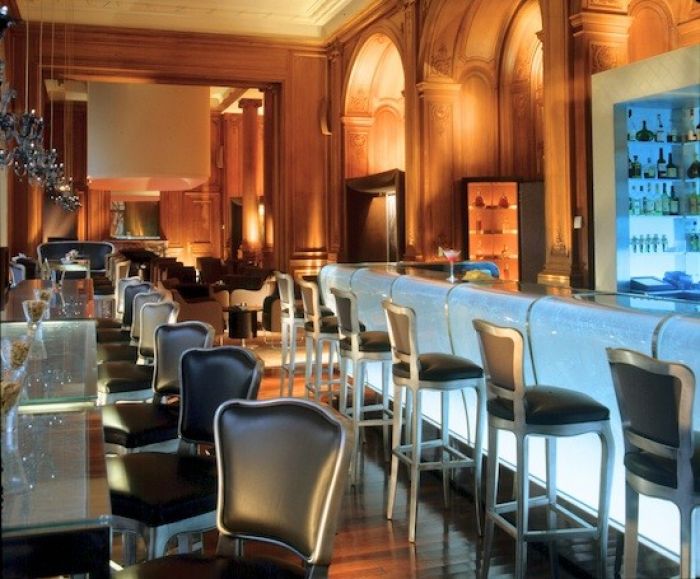 Hotel Plaza Athenee
Before the red and blue stripes on the French flag became national emblems of the republic, they were originally the traditional colors of Paris (worn proudly by the soldiers who stormed the Bastille during the French Revolution). Très appropriate, I'd say, since today the city is a collision of passion (red) and cool (blue). Some of the grandest hotels are kitted out in either crimson velvet or blue Toile de Jouy motifs; you can get your cultural fix at the scarlett Moulin Rouge or the culinary Le Cordon Bleu.
But if you want to experience both the red and blue essences of Paris all in one spot, head to Le Bar du Plaza Athénée, ensconced in the glamorous Hôtel Plaza Athénée. It skips the usual antique-laden atmosphere of most Parisian hotel bars in favor of a colorful split-identity concept. Everyday 6:00pm-10:00pm (later on Sundays through Wednesdays), you can stop in for "blue hours," when the bar is tinted with azure light and the music is down-tempo cool. Then, Thursday through Saturday nights beginning at 10:00pm, the bar transforms for "red hours," when ruby lights and electro-rock music give the bar a new and even sexier visual identity.
The space itself is fit for fashion plates. During a revamp, the design team said au revoir Belle Époque grandeur, hello funky ice sculpture-esque glass bar. Jetsetters perch on New York-style bar stools sipping equally design-conscious cocktails and "concept drinks," which range from jelly shots to alco-popsicles and even "sushi coladas" (though the "Black Collection" cocktails, I'll admit, are a little creepy).You can either pick the color that suits your mood or get two great "tastes" in one–perfect if you can't be bothered to move on later in the evening but still want to get your dance on. Whichever approach you take, you'll be sure to find a high-profile, international crowd of 20- to 30-something fashion insiders, media types, and wealthy society kids. In her prime, Princess Grace was known to get her drink on here alongside the likes of Valentino and Yvès St. Laurent; today, you might spot Madonna or Mary Kate Olsen. But if you're here during Fashion Week, good luck getting in–the model set makes Le Bar its de facto clubhouse.
Despite its swanky address, the door policy is surprisingly relaxed, but do dress appropriately. You don't need to bust out pearls and heels–trendy smart casual will suffice. I'd wear the coolest designer duds in my suitcase, like a funky McQueen cocktail dress and eye-catching shoes. And as for the color of your ensemble? Dare to be bold: red and blue are the new black.
Rachel Levin contributed to this story.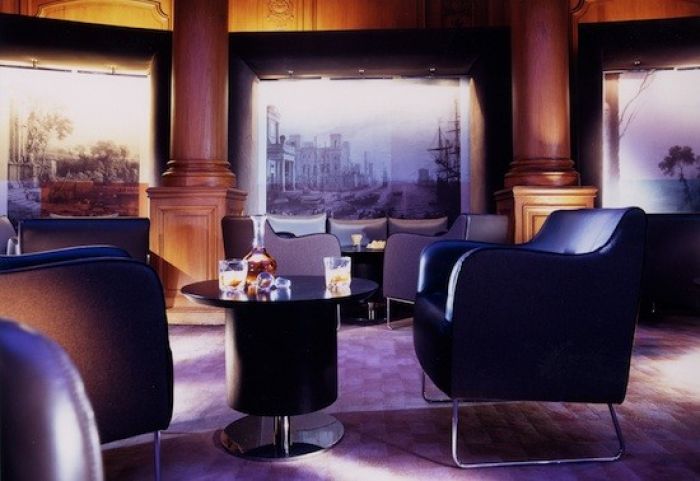 Hotel Plaza Athenee
Le Bar du Plaza Athenee