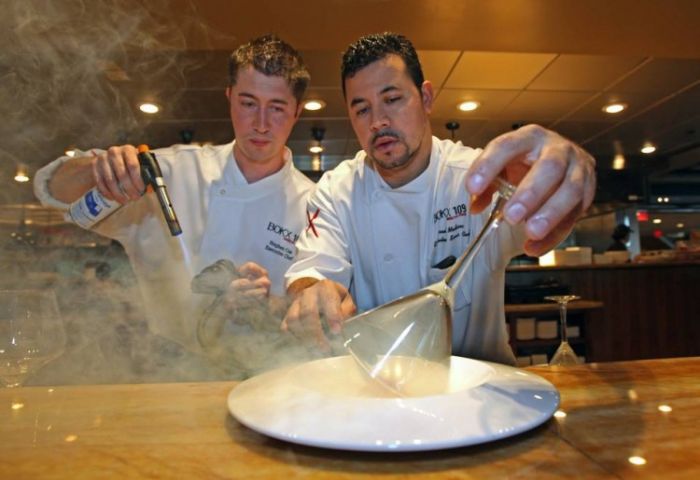 Bokx 109
At first mention of a steakhouse, images of dark wood interiors, serious servers, starched tablecloths and tomahawk cuts of beef quickly come to mind. Executive Chef Stephen Coe has a totally different idea of what a steakhouse should be.
Meet BOKX 109. Located at the Hotel Indigo in Newton (about a 20 minute drive west of Boston) lies a new take on the classic steakhouse. Here, you won't find a stuffy atmosphere but you will find a bright open dining room with some great steaks.
We recently visited the not-your-average restaurant in a hotel for dinner and got started with a nice strong Devin's ultimate martini complemented by prosciutto wrapped blue cheese stuffed olives before sharing a bottle of Daou cabernet.
The beef duo of carpaccio and tartar was one of the best we have ever had topped with truffle, arugula and shaved parmesan. We loved the sesame tuna nacho, a plate of fresh tuna with seaweed salad, spicy sriracha sour cream, a side of crispy wontons and pickled ginger. Just in time for fall, Chef Coe has also added the pear and mascarpone sacchetti to the menu. Moving right along, the smoky watermelon salad was a nice surprise to see on the fall menu – again, Chef Coe's unique fun take on the traditional salad but with the tasty addition of balsamic "caviar", fresh burrata, fried basil and honey powder.
For main events, we recommend the steaks here – whether in the form of tenderloin, boneless ribeye or bone-in New York strip, you can never go wrong. The cowboy ribeye is one of our favorites - an enormous juicy bone-in ribeye cooked to a medium rare perfection and encrusted with horseradish. The sirloin tips were cooked a little more towards the medium well side instead of our requested medium rare but were deliciously tender. Steaks here are served a la carte so be sure to order up some sides that are large enough to share for the table. The grilled asparagus still had a little crunch to it, just the way we like, and the ultimate baked potato was really just that – overloaded with every topping imaginable.
If you didn't save room for dessert, don't worry; your server will bring out a complimentary plate of cotton candy. During the summer, the restaurant offers a white-hot poolside experience. BOKX 109 is located at 399 Grove Street at the Hotel Indigo in Newton, Mass. For reservations or more information, call (617) 454-3399 or visit them online at www.newtonbokx.com.
Bokx 109
Bokx 109
Bokx 109
Bokx 109